Babylon 5 Wars - Agents of Gaming


Showdowns ~ Variants ~ Fleet Action ~ GROPOS


Up One: Babylon 5 Component Game System ~ The Babylon Project

BROWSE MY BABYLON 5 ITEMS CURRENTLY IN STOCK






Babylon 5 Wars

"Making a television series like BABYLON 5 requires that you think like an Irish border collie: you have to be detail-oriented, maniacally obsessive, tightly focused and utterly relentless. The massive and intertwined plots and stories aside, there are a million tiny details that you have to get right. How does the centrifugal force work inside B5 to create gravity? How can a Starfury fly backwards while firing forward? What is the gravity on Mars?

You know why you have to get them right? Because if you don't, you get letters. ("No, no, it should be centripedal, not centrifugal, you idiot. And by the way, can I have an autographed picture so I can hang it in the basement of my Mom's house where I'm living while finishing up my third PhD in quantum mechanics?")

Sometimes it's difficult to make licensees understand the importance of getting the details right. For a show like B5, this is massively important. As Michelangelo said, "Trifles make perfection, and perfection is no trifle."

So you will understand how wonderful the experience of working with Agents of Gaming has been throughout the history of B5. They were not only among the first to come aboard and license B5, they instantly understood our desire to Get Things Right in the smallest detail, and even took it a step further, becoming even more rigorous than we were.

How rigorous, you ask?

When other licensees needed information on ship configurations or weapons capabilities, we referred them to the Agents of Gaming books (such as the one you are now holding in your hands). When we were in production and engaged in the writing of episodes or the mapping out of sets, if I was not available to answer a specific question on a technical area covered by AoG... the people involved were directed to go to the AoG books. Whenever AoG's miniatures showed up on set, there was always a feeding frenzy of the sort usually associated with an unlucky cow falling into a river filled with piranha.

What I'm saying, in this roundabout way, is that if you want the Real Deal, if you want accuracy, canonical authority, and the best of the best when it comes to BABYLON 5 licensing and gaming... you've come to the right place.

Enjoy."

J. Michael Straczynski
--Creator/Writer/Executive Producer BABYLON 5
...from the foreward to B5Wars Rules Compendium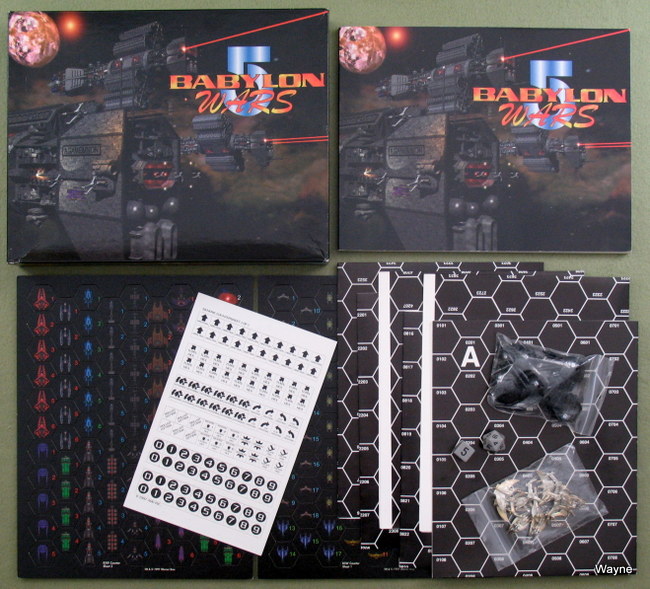 Babylon 5 Wars [BOX SET]


This set was also released as a boxless package, contents the same, except the miniatures & dice omitted. Product code BW-100.

-Wayne

"Babylon 5 Wars recreates the many epic struggles between the various races and factions which make up J. Michael Straczynski's Babylon 5 universe. The rules within this box allow for engagements as small as a few fighters on each side to large fleets battling for control of a planet.

In this box:
• 96 page rulebook with rules and background material
• Ship Control Sheets covering ships and fighters from the four main races of Babylon 5: Earth Alliance ... Centauri Republic ... Narn Regime ... Minbari Federation
• Two full-color counter sheets
• 12 high quality pewter miniatures"

1997 ... BW 101 ... Agents of Gaming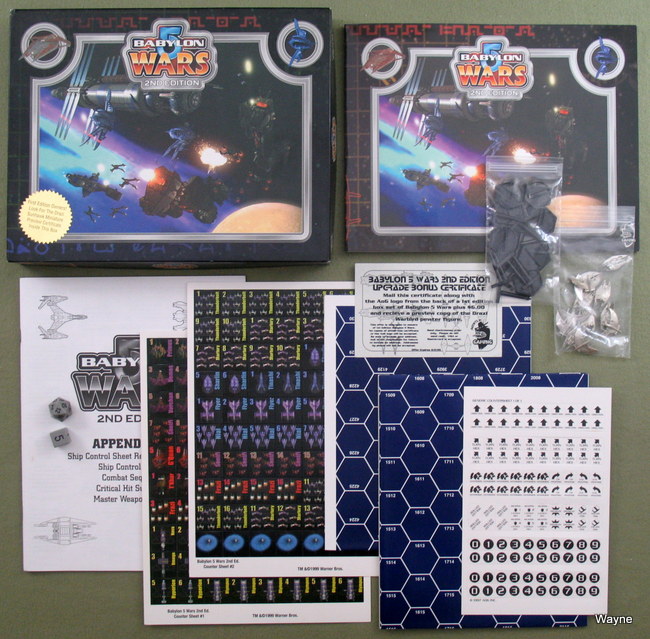 Babylon 5 Wars (2nd Edition) [BOX SET]


This set was also released as a boxless package, contents the same, except the miniatures & dice omitted. Product code BW-150.

-Wayne

"The main screen shows the situation. Three rebel Omega Destroyers and two old Hyperion Heavy Cruisers stand firm against your advance. Your fleet of four Omegas should be able to deal with the rebel fleet.

On the screen, things change rapidly. New targets pour from the three Destroyers ... six squadrons of Starfuries. With a wave of your hand, the order is passed: Launch All Fighters! Ninety-six Thunderbolts leave your ships behind...

Dozens of fighters close at high speed with each other. As the range closes, missiles leap from the T-Bolts towards the enemy fighters. Ships of the line follow, opening up with heavy lasers and pulse cannons. This battle will be yours...

Babylon 5 Wars recreates the many epic struggles between the various races and factions which make up J. Michael Straczynski's Babylon 5 Universe. The rules in this box allow for squadrons of starships and their fighters to battle for control of space."

Set Includes:
• A 96-page color rulebook with rules and background material.
• Ship control sheets covering ships and fighters from the four main races of Babylon 5: Earth Alliance ... Centauri Republic ... Narn Regime ... Minbari Federation.
• Two full color countersheets, 1 misc. counter sheet
• 12 high quality pewter miniatures: 6 Centauri Sentri medium fighters ... 6 Narn Frazi heavy fighters.
• One set of dice, including one D20 and one D6

1999 ... BW-150/BW-151

BW-150 (no box):
Buy at Amazon

BW-151 (box set):
Buy at Amazon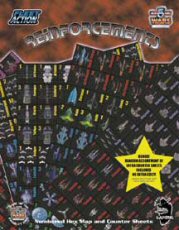 Reinforcements: Numbered Hex Map and Counter Sheets
"This product contains one set of maps for use in Babylon 5 Wars or Fleet Action (2 blue sheets, total hex grid 42x30) and five countersheets:
• Core Ships: Counters for the basic ships in the game, such as the Earth Omega Destroyer, Minbari Sharlin Warcruiser, Centauri Primus Battlecruiser, and Narn G'Quan Heavy Cruiser!
• Core Fighters: Counters for the fighters used by the major races, such as the Earth Starfury, Minbari Nial, Centauri Sentri, and Narn Frazi! These are arranged in flight format, with six fighters on each counter. Also included: a row of jump points for use in jump-intensive scenarios!
• Earth/Minbari War: This sheet adds counters for the new ships presented in the Earth Wars supplement. For the Earth Alliance, you'll find the Sagittarius Missile Cruiser, Artemis Heavy Frigate, Oracle Scout, Tethys Gunboat, and more! The Minbari section has the infamous White Star, plus other warships like the Neshatan Gunship, Morshin Carrier, and Shargoti Heavy Battlecruiser!
• League of Non-Aligned Worlds: This countersheet includes units from the five largest races of the League-1 product: Abbai, Brakiri, Drazi, Pak'ma'ra, and Vree!
• Narn-Centauri War: This brand-new sheet includes all the units from the original War of Retribution supplement, now available in Second Edition format! Units like the Centauri Octurian Battleship and Narn Bin'Tak Dreadnought are now available on square color counters for the first time!"

2000 ... BW-152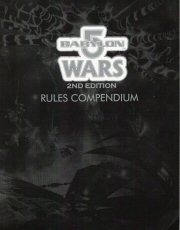 Rules Compendium (Babylon 5 Wars, 2nd Edition)
"Earth Alliance, Minbari Federation, Narn Regime, Centauri Republic, Drazi Freehold, Abbai Matriarchate, Brakiri Syndicracy, Gaim Intelligence, Pak'Ma'Ra, Vree Conglomerate, Shadows and Vorlons all In one place!

THIS BOOK IS A COMPILATION OF ALL THE RULES FROM THE FOLLOWING BABYLON 5 WARS PRODUCTS:
* THE CORE RULES [BW-150]
* ATLAS OF EARTH ALLIANCE WARS [BW-104]
* LEAGUE OF NON-ALIGNED WORLDS-1 [BW-102]
* COMING OF THE SHADOWS [BW-106]
* SHOWDOWNS-1 AND 2 [BW-110, BW-111]
* VARIANTS-1 AND 2 [BW-157, BW-158]

IMAGINE... ALL THESE RULES IN ONE PLACE, PERFECTLY ORGANIZED AND INTEGRATED, WITH AN INDEX FOR EASY SEARCHING. NO MORE HUNTING THROUGH YOUR SUPPLEMENTS FOR THE ITEM YOU NEED!"

2000 ... 256 pages ... BW-121 ... ISBN 0970062834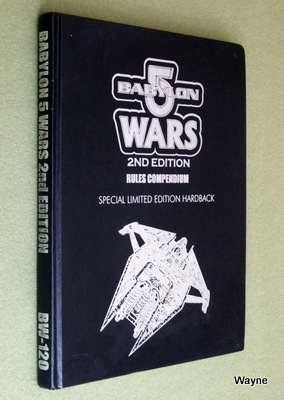 Babylon 5 Wars 2nd Edition Rules Compendium (Special Limited Edition Hardback)
2000 ... 256 pages ... BW-120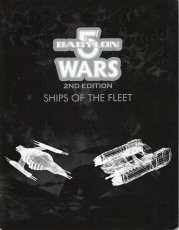 Ships of the Fleet (Babylon 5 Wars, 2nd Edition)
"Earth Alliance, Minbari Federation, Narn Regime, Centauri Republic, Drazi Freehold Abbai Patriarchate, Brakiri Syndicracy, Gaim Intelligence, Pak'Ma'Ra, Vree Conglomerate, Shadows and Vorlons all in one place!

THIS BOOK IS A COMPILATION OF ALL THE SHIPS FROM THE FOLLOWING BABYLON 5 WARS PRODUCTS:
* THE CORE RULES [BW-15O]
* ATLAS OF EARTH ALLIANCE WARS [BW-1O4]
* LEAGUE OF NON-ALIGNED WORLDS-1 [BW-1O2]
* COMING OF THE SHADOWS [BW-1O6]
* SHOWDOWNS-1 AND 2 [BW-11O, BW-111]
* VARIANTS-1 AND 2 [BW-157, BW-158]

OVER 240 SHIPS IN ALL!

SPECIAL BONUS!
INCLUDES ALL THE SHIP CONTROL SHEETS IN PDF FORMAT ON A CD-ROM!"

2000 ... BW-122 ... ISBN 0970062835 (Invalid ISBN)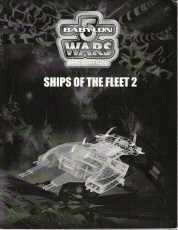 Ships of the Fleet 2 (Babylon 5 Wars, 2nd Edition)
"Abbai Matriarchate, Alacan Republic, Balosian Underdwellers, Belt Alliance, Brakiri Syndicracy, Centauri Republic, Civilians, Corillani Theocracy, Descari Committees, Dilgar Imperium, Drazi Freehold, Earth Alliance, Gaim Intelligence, Kirishiac Lords, Llort Scavengers, Markab Theocracy, Minbari Federation, Mindriders, Mitoc Democracy, Narn Regime, Pak'ma'ra, Raiders and Privateers, Shadows, Streib, Torvalus Speculators, Triad, Vorlon Empire, Walkers of Sigma 957, Vree Trading Guilds.

THIS BOOK IS A COMPILATION OF SHIP CONTROL SHEETS FROM THE FOLLOWING BABYLON 5 WARS PRODUCTS:
· BW-103 THE DILGAR INVASION
· BW-109 RAIDERS AND PRIVATEERS
· BW-112 SHOWDOWNS-3
· BW-113 SHOWDOWNS-4
· BW-114 SHOWDOWNS-5
· BW-115 SHOWDOWNS-6
· BW-159 VARIANTS-3
· BW-170 TACTICS GUIDE
· BW-113 WARS OF THE ANCIENTS

OVER 250 SHIPS IN ALL!
INCLUDES ALL THE SHIP CONTROL SHEETS IN PDF FORMAT ON A CD-ROM!"

2000(?) ... ?? pages ... BW-123 ... ISBN 193183007X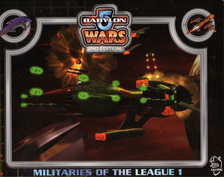 Militaries of the League 1
"THE MINOR RACES THAT MAKE UP THE LEAGUE OF NON-ALIGNED WORLDS SEEM WEAK INDIVIDUALLY, BUT TOGETHER THEY WIELD A POWER AS GREAT AS ANY MAJOR EMPIRE IN THE KNOWN GALAXY. WHEN THEY STAND TOGETHER, THEY CANNOT BE IGNORED.

THIS PRODUCT PROVIDES RULES AND SHIPS FOR THE SIX LARGEST RACES OF THE LEAGUE OF NON-ALIGNED WORLDS. THESE ARE:
* THE ABBAI - AN AQUATIC RACE DOMINATED BY A FEMALE HIERARCHY, THEY VALUE PEACE AND OPERATE DEFENSIVE-ORIENTED SHIPS.
* THE BRAKIRI - A SURPRISINGLY ADVANCED, SUPERSTITIOUS PEOPLE WITH A PENCHANT FOR GRAVITIC TECHNOLOGIES.
* THE DRAZI - AN AGGRESSIVE, SINGLE-MINDED LOT WHO USE COMBAT TO DETERMINE THEIR LEADERS. THEIR SHIPS ARE SMALL BUT POWERFUL.
* THE GAIM - THIS NEW, INSECTOID RACE SEEKS TO JOIN THE GALACTIC COMMUNITY. THEY USE SHIPS AND TECHNOLOGY PURCHASED FROM OTHERS.
* THE PAK'MA'RA - EATING HABITS ASIDE, THESE LOGISTICS SPECIALISTS OPERATE POWERFUL, IF SHORT-RANGED STARSHIPS.
* THE VREE - THE SAUCERS USED BY THIS RACE OF TRADERS ARE HIGHLY MANEUVERABLE AND PACK A SERIOUS ANTIMATTER PUNCH."

1999 ... 80 pages + ship forms booklet + counter sheet ... BW-102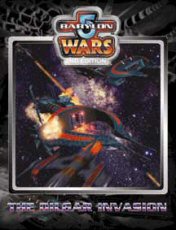 The Dilgar Invasion
"In February 2228, the Dilgar Imperium attacked and defeated the Alacans, a weak minor race struggling to make a place for itself in the Galaxy. This began almost five years of terror and war as the Dilgar swarmed through the League of Non-Aligned Worlds, conquering the weak and bombing those homeworlds they could not control. Only the intervention of the Earth Alliance turned the tide of battle and saved the Galaxy from the Dilgar menace. Read the complete history of the war, and fight the vicious Dilgar using the ships in this product! Also included are several new races not seen before - the Alacan Republic, Balosian Underdwellers, and Markab Theocracy - plus Dilgar war era ships for the Earth Alliance! This long-awaited product is a must have for all fans of Babylon 5! Includes full color rulebook, separate ship book, and color countersheet."

2000 ... main book + accessory booklet + counter sheet ... BW-103 ... ISBN 0970062869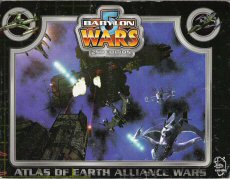 Atlas of Earth Alliance Wars
"This product details the major wars of Earth in the latter half of the 22nd century, specifically the disastrous Earth-Minbari War and the Earth Civil War. Included are new ships and fighters for the Earth Alliance and Minbari Federation, as well as scenarios detailing these great struggles and the fight for freedom undertaken by Babylon 5."

1999 ... Bruce Graw ... 96 pages + ship forms booklet + counter sheet ... BW-104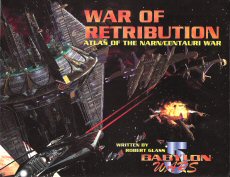 War of Retribution: Atlas of the Narn/Centauri War
"AFTER YEARS OF TENSION, MISTRUST AND SKIRMISHES THE WAR BETWEEN THE NARN REGIME AND CENTAURI REPUBLIC FINALLY ERUPTS. WITHIN THIS BOOK YOU WILL FIND A WEALTH OF INFORMATION DETAILING THE WAR AND SHIPS USED TO FIGHT IT. INSIDE YOU WILL FIND:
• MAPS DETAILING FLEET MOVEMENTS DURING THE WAR
• STATISTICS FOR 36 SHIPS, FIGHTERS AND BASES
NEW RULES COVERING:
• SPACE STATIONS
• SKIN DANCING
• MINIATURE RULES
• ELINT (ELECTRONIC INTELLIGENCE) VESSELS"

1998 ... Robert Glass ... 85 pages + sheet of counters ... BW-105 ... Agents of Gaming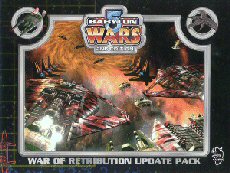 War of Retribution Update Pack
This book updates BW-105 War of Retribution 1st edition book.

1999 ... BW-156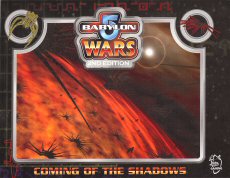 Coming of Shadows (Babylon 5 Wars, 2nd Edition)
The Coming of Shadows set has the coolest counters in the game: Vorlon and Shadow vessels of various sizes; the classic "squid" ship of the Vorlons and the Shadow "battlecrab," but also others. In addition, there are White Stars, Earth Shadow Omega destroyers, and even ships of the independent First Ones: The Traveler, The Lordship, Triumviron, Thoughtforce, and the Dark Knife.

"WHAT DO YOU WANT?
WITH THIS SIMPLE QUESTION THE SHADOW WAR BEGINS.
QUICKLY IT BUILDS ON ITSELF, GROWING IN SIZE AND SCOPE AS IT OVERWHELMS THE YOUNGER RACES. SOON THE LEAGUE OF NON-ALIGNED WORLDS, ALONG WITH THEIR ALLIES AMONG THE RANGERS, MINBARI, AND BABYLON 5, FIND THEMSELVES THRUST INTO A CONFLICT THAT HAS RAGED FOR EONS. THE SHADOWS, AGENTS OF CHAOS, STIR UP THEIR ANCIENT WAR AGAINST THE FORCES OF ORDER REPRESENTED BY THE VORLONS... IN A BATTLE TO THE FINISH!

CAN THE YOUNGER RACES SURVIVE?

INCLUDED HEREIN YOU WILL FIND:
* A COMPLETE HISTORY OF THE SHADOW WAR IN SCENARIOS, ALLOWING YOU TO COMPLETELY REPLAY THE ENTIRE WAR FROM START TO FINISH!
* RULES FOR VORLONS AND SHADOWS, INCLUDING UNIQUE WEAPONS AND SYSTEMS SUCH AS LIGHTNING CANNONS, SLICER BEAMS, ENERGY DIFFUSERS, POWER CAPACITORS, VORTEX DISRUPTORS, AND DISCHARGE GUNS!
* BACKGROUND AND HISTORY OF THE ANCIENT ONES, INCLUDING ALL THE RULES NEEDED TO PLAY THEIR UNIQUE AND POWERFUL SHIPS: THE TRAVELER, THE TRIUMVIRON, THE DARK KNIFE, THE LORDSHIP, AND THOUGHTFORCE!
* DETAILS ON THE PARTICIPATION OF THE YOUNGER RACES IN THE SHADOW WAR, INCLUDING SPECIAL RULES FOR WHITE STAR COMMAND SHIPS AND THE MUCH-DEMANDED EARTH ALLIANCE SHADOW OMEGA!"

2000 ... Bruce Graw & Richard Dakan ... 112 pages + appendices booklet + sheet of counters ... Agents of Gaming BW-106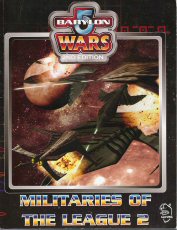 Militaries of the League 2 (Babylon 5 Wars, 2nd Edition)
"THE LEAGUE OF NON-ALIGNED WORLDS CONTAINS MANY STRANGE AND UNIQUE RACES, SEVEN OF WHICH ARE PRESENTED IN THIS BOOK.

* THE HYACH: ELDERS OF THE LEAGUE, THEY OPERATE POWERFUL COMPUTERS AND LASER WEAPONS.
* THE CASCOR: THIS ADVENTUROUS RACE EMPLOYS NUMEROUS FIGHTER AND CARRIER DESIGNS.
* THE IPSHA: EXTREMELY ALIEN, THEIR SHIPS USE SINGULARITIES FOR POWER.
* THE KOR-LYANS: A PAIR OF RACES IN SYMBIOSIS,
THEY SPECIALIZE IN BALLISTIC WEAPONS.
* THE TORATA: THEIR ACCELERATOR WEAPONS ARE AMONG THE MOST FLEXIBLE IN KNOWN SPACE.
* THE GROME: MATTER WEAPON SPECIALISTS, THEIR SHIPS ARE HUGE, BUT POORLY CONSTRUCTED.
* THE HURR: A WEAK RACE, THEY SURVIVE ONLY BY USING MANY SHIP VARIANTS."

1999 ... ?? pages + 2 detachable color countersheets ... Agents of Gaming BW-107 ... ISBN 1931830029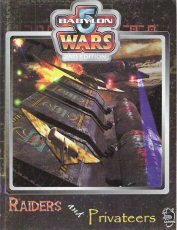 Raiders and Privateers
"RAIDERS AND PRIVATEERS brings a new element to your Babylon 5 Wars game! From commerce raiders to hired mercenaries, the pirates of the B5 Universe add a variety of new threats and challenges! This product includes rules and background for all of the following:
THE RAIDERS: Pirates, mercenaries, privateers, and other lowlife scum of the galaxy!
CIVILIANS AND POLICE: The best ways to defend against those pesky Raiders!
THE BELT ALLIANCE: An independent shipping organization with its own ships and technology!
THE LLORT: This "pirate race" thinks possession is ten-tenths of the law!
SCENARIOS: Ten scenarios introduce the Raiders and other new races to your B5 Wars game!
INCLUDES OVER 50 NEW SHIPS!"

2000 ... 96 pages ... BW-109 ... ISBN 0970062818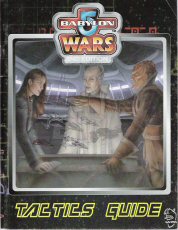 Tactics Guide
"BABYLON 5 WARS REQUIRES A VARIETY OF TACTICS AND CHOICES. FROM DESIGNING YOUR FLEET TO MANEUVERING AGAINST AN ENEMY, THIS BOOK WILL TEACH YOU THE SKILLS YOU NEED TO SECURE VICTORY.

WRITTEN ENTIRELY BY EXPERT PLAYERS, THE TACTICS GUIDE COVERS EVERYTHING FROM ANALYZING RISKS AND TAKING CHANCES THROUGH THE PROS AND CONS OF SPECIFIC SHIPS.

INCLUDES TACTICAL ESSAYS AND SHIP COMMENTARY FOR THE FOLLOWING RACES:
* EARTH ALLIANCE
* MINBARI FEDERATION
* CENTAURI REPUBLIC
* NARN REGIME
* LEAGUE OF NON-ALIGNED WORLDS
* FIRST ONES (VORLONS & SHADOWS)
* DILGAR IMPERIUM

WHETHER YOU ARE A NEW PLAYER OR AGED VETERAN THIS BOOK IS FOR YOU!"

2001 ... Bruce Graw ... 64 pages ... BW-170 ... ISBN 0970062885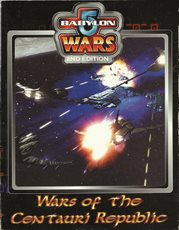 Wars of the Centauri Republic
"THIS BOOK FOCUSES ON THE CORE OF THE ORIENI WAR. IT DETAILS THE MAIN CAMPAIGNS THE TWO NATIONS FOUGHT DURING THE PERIOD 2001-2010 WHILE PROVIDING HISTORICAL INFORMATION ABOUT THE ANCILLARY THEATERS.

THE PROGRESSION OF THE WAR IS SHOWN, A NEW MAP OF KNOWN SPACE IN 2000 IS PROVIDED, AND RULES ARE INCLUDED TO REPRESENT THE SITUATIONS PRESENTED. THESE INCLUDE RULES FOR THE ORIENI HUNTER-KILLER RAMMING FIGHTERS, AND UNPROFESSIONAL SQUADRONS TO REPRESENT THE EARLY CENTAURI HOUSE FORCES.

44 SHIPS, FIGHTERS AND BASES ARE IN THS PRODUCT, MOST USING A NEW UPGRADE SYSTEM ALLOWING SEVERAL GENERATIONS OF SHIP TO BE REPRESENTED ON THE SAME CONTROL SHEET."

2001(?) ... 92 pages ... BW-172 ... ISBN 1931830061 ISBN recycled with Variants 5.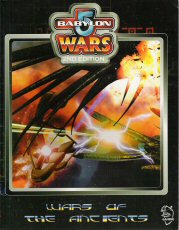 Wars of the Ancients
"THIS BOOK FOCUSES ON THE FIVE ANCIENT RACES AND THE SHIPS THEY OPERATED THROUGHOUT THE AGES...
• THE WALKERS OF SIGMA 957: THE ULTIMATE EXPLORERS, THEY OPERATE SENSOR EQUIPMENT SO POWERFUL IT CAN BE USED AS A WEAPON.
• THE KIRISHIAC LORDS: THIS WARLIKE RACE TRIED TO CONQUER THE GALAXY... INCLUDING THE OTHER ANCIENTS.
• THE TORVALUS SPECULATORS: MASTERS OF STEALTH, THEY CAN ATTACK WITHOUT WARNING AND BE GONE BEFORE ANYONE CAN REACT.
• THE MINDRIDERS: THIS RACE OF SCIENTISTS HAS MASTERED MENTAL ENERGY, AND CAN DEFEAT AN OPPONENT WITH THE POWER OF THOUGHT.
• THE TRIAD: THE THREE ASPECTS OF THE TRIAD CAN CONSTRUCT THEIR SHIPS FROM THE ENERGY OF THE UNIVERSE.
• ALSO INCLUDES NEW SHADOW AND VORLON SHIPS!"

2001 ... 96 pages ... BW-173






Showdowns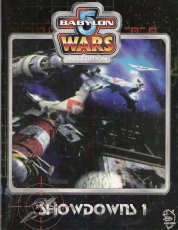 Showdowns 1 (Babylon 5 Wars, 2nd edition)
"Another first in the B5 Wars universe, Showdowns-1 presents dozens of new scenarios to play out to the bitter end, as well as new civilian and Raider ships, Narn and Centauri orbital satellites, unique weapons, elite officers and more! Includes: Rules and options for mine warfare, a preview of Raider ships & fighters, enhancements (for ships, fighters, officers, and crew), and a variety of miscellaneous rules (such as cargo holds, C&C recovery, fighter critical hits, etc.) and terrains (asteroids, planets, moons, gravity wells, hyperspace whirlpools, and more)."

1999 ... BW-110 ... Agents of Gaming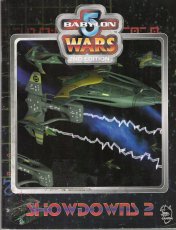 Showdowns 2 (Babylon 5 Wars, 2nd edition)
"The second in the Showdowns series, Number Two contains new rules, options and control sheets for plenty of League fighters, breaching pods, legendary officers, ships, satellites, weapons, bases, mines, armed shuttlecraft and a whole lot more! Also includes the following new rules: shield projectors, gravitic lances, grav cannons, ranged fusers, jumping into combat, assigned fighter missions, partial turn initiative penalties, debris, and opportunity fire!"

1999 ... BW-111 ... Agents of Gaming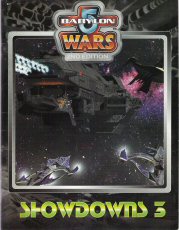 Showdowns 3 (Babylon 5 Wars, 2nd edition)
"THIS SUPPLEMENT PROVIDES RULES FOR THE EARTH ALLIANCE'S NEW WARLOCK ADVANCED DESTROYER, PLUS SEVERAL OTHER NEW EA SHIPS DEVELOPED AFTER THE EARTH CIVIL WAR. ALSO INCLUDED ARE:

* THE STREIB: MYSTERIOUS ALIENS WHO COLLECT ANI EXAMINE SPECIMENS FROM OTHER RACES.

* THE PROTECTORATE WAR: RULES, SHIPS AND SCENARIOS FROM THE BATTLES FOUGHT BY THE MINBARI PROTECTORATE AGAINST A MAJOR ASSAULT BY THE RAIDER GROUP KNOWN AS THE IMPERIAL STAR LEGION!

* THE KIRISHIAC: MORE RULES AND SHIPS FOR THIS WARLIKE ANCIENT RACE FIRST SEEN IN COMING OF THE SHADOWS!

AND MUCH, MUCH MORE!"

2000 ... Agents of Gaming BW-112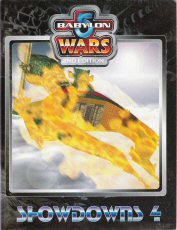 Showdowns 4 (Babylon 5 Wars, 2nd Edition)
"THIS SUPPLEMENT FOCUSES ON THE SHIPS AND BATTLES OF THE DILGAR WAR. INSIDE YOU WILL FIND:
* OVER TWENTY NEW SHIPS FROM THE DILGAR WAR ERA, INCLUDING VESSELS USED BY THE DILGAR, MARKAB, ABBAI, BRAKIRI, LLORT, AND OTHERS!
*AN ENTIRELY NEW RACE FROM THE DILGAR INVASION, THE DESCARI COMMITTEES!
* A COMPLETE HISTORY OF THE DILGAR WAR IN SCENARIOS. FROM THE OPENING MOVES AT ALACA, TO THE BLITZ THROUGH LEAGUE SPACE, TO THE COUNTERATTACK BY THE EARTH ALLIANCE, ALL THE WAY TO THE FINAL BATTLE AT OMELOS. THE ENTIRE DILGAR WAR IS AT YOUR FINGERTIPS!
* AND MUCH, MUCH MORE!"

2001 ... BW-113 ... ISBN 0970062877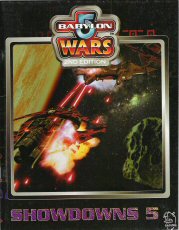 Showdowns 5 (Babylon 5 Wars, 2nd Edition)
"THIS BOOK FOCUSES ON THE MANY BATTLES OF THE WAR OF RETRIBUTION. FROM EARLY VICTORIES TO ULTIMATE DEFEAT, THE PROGRESS OF THE NARNS ACROSS CENTAURI SPACE IS TRACKED IN INTENSE DETAIL. SEE THE HISTORY OF THIS WAR AS NEVER BEFORE, THEN PLAY IT OUT IN SCENARIOS!

DURlNG THE WAR OF RETRIBUTION, A SMALL RACE CALLED THE CORILLANI ATTEMPTED TO STRIKE THEIR FORMER MASTERS IN THE REPUBLIC. THE HISTORY AND MILITARY OF THIS RACE IS ALSO DETAILED IN THIS SUPPLEMENT, INCLUDING SUCH SHIPS AS THE MOLLANTA HEAVY CRUISER AND NOLLITA TACTICAL FRIGATE.

ALSO INCLUDED ARE A VARIETY OF NEW NARN AND CENTAURI SHIPS, SUCH AS THE NARN HEAVY THENTUS AND CENTAURI UPGRADED CENTAURUM BATTLESHIP."

2001 ... BW-170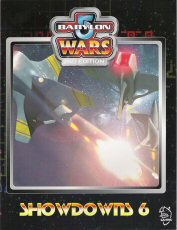 Showdowns 6 (Babylon 5 Wars, 2nd Edition)
"In the 2250s, the Gaim were new to space. As they explored, they discovered they were surrounded by strange and potentially hostile neighbors. One of these, the Descari, blocked access to trade routes and stymied all Gaim attepts to move beyond their home system. The Queens debated, and a decision was reached.

For the good of the Hives, the Descari must be eliminated...

Meanwhile, in another part of space, the Drazi are on the move. Incited by the Shadows to take what hey want, they set their eyes on poorly defended Balosian and Brakiri holdings, and move to the attack.

So begin the League Wars..."

2001 ... BW-115 ... ISBN 1931830010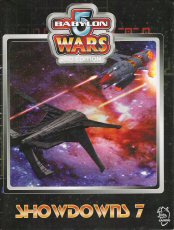 Showdowns 7 (Babylon 5 Wars, 2nd edition)
"THIS BOOK IS AN IDEAL COMPANION TO THE LEAGUE OF NON-ALIGNED WORLDS 2 SUPPLEMENT. IT INCLUDES NEW SHIPS, RULES, OFFICERS, IMPROVEMENTS, TECHNOLOGY AND SCENARIOS FOR THE RACES IN LEAGUE-2, PLUS AN ENTIRELY NEW RACE NEVER BEFORE PUBLISHED: THE YOLU!

NEW RULES AND SYSTEMS
* New Hyach Specialists
* Special Railgun Shells
* Elite Officers for over a dozen races
29 NEW SHIPS AND UNITS
* Hyach Irokai Kar Strike Cruiser
* Cascor Qoccata Supercarrier
* Ipsha Scout Wheel
* Kor-Lyan Raklavi Carrier
* Bases and OSATs for every League-2 race
THE YOLU THEOCRACY
* Highly advanced, the Yolu avoided the previous Shadow War. They are slow to anger, but dangerous when provoked.
LEAGUE-2 SCENARIOS
* Fifteen scenarios involving the Yolu and the ships of League-2
AND MUCH MORE!"

2002(?) ... BW-116 ... ISBN 1931830053






Showdowns 8 (Babylon 5 Wars, 2nd edition)
"THIS BOOK IS AN IDEAL COMPANION TO THE WARS OF THE CENTAURI REPUBLIC SUPPLEMENT. IT INCLUDES NEW SHIPS, RULES, TECHNOLOGY, AND SCENARIOS FOR THE RACES IN THAT PRODUCT, PLUS TWO NEW RACES NEVER BEFORE SEEN: THE USUUTH AND ROGOLONS!

IN THIS BOOK YOU WILL FIND:
OVER 30 DIFFERENT ORIENI WAR SCENARIOS!
* Base assaults, convoy raids, ambushes, suicide runs, pursuit battles, and more!
NEW SHIPS FOR THE RACES OF THE ORIENI ERA
* The Abbai Matriarchate (5 units) * The Centauri Republic (3 units) * The Drazi Freehold (7 units) * The Orieni Imperium (3 units) * The Raiders (4 units) * The Rogolon Dynasty (7 units) * The Usuuth Coalition (6 units)
RULES AND BACKGROUND FOR TWO NEW RACES
* The Rogolon Dynasty * The Usuuth Coalition ...AND MUCH MORE!"

2003(?) ... Agents of Gaming BW-117 ... ISBN 193183010X






Variants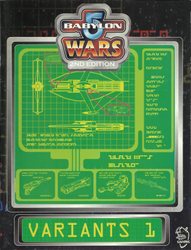 Variants 1 (Babylon 5 Wars, 2nd edition)
"The first compilation of ship variants suggested by players and fans around the world! 37 variations on existing hulls, dozens of new rules and options, strange new weapons systems and much more, all crammed into a handy 48-page package. Variants-1 is the first in a series of essential tools to help make B5 Wars the most exciting space combat game ever!"

1999 ... BW-157 ... Agents of Gaming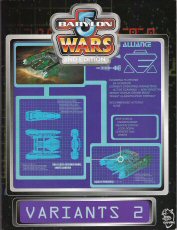 Variants 2 (Babylon 5 Wars, 2nd edition)
"The second in a series, Variants-2 focuses on the ships of the League of Non-aligned Worlds. In addition to variants of ships found in the League-1 supplement, a number of totally new designs are included, as well as special rules for graviton mines, grappling claws, and antimatter torpedoes!
This product is an ideal companion to Militaries of the League (part 1) [BW-102], available separately."

2000 ... BW-158 ... Agents of Gaming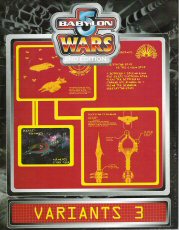 Variants 3 (Babylon 5 Wars, 2nd edition)
"THIRD IN A SERIES, VARIANTS-3 FOCUSES ON THE SHIPS SEEN DURING THE DILGAR WAR. IN ADDITION TO VARIANTS OF SHIPS FOUND IN THE DILGAR INVASION SUPPLEMENT, A NUMBER OF TOTALLY NEW DESIGNS ARE INCLUDED, AS WELL AS SPECIAL RULES FOR ROCKET-BOMBS, FIGHTER-BOMBERS, VARIANT TRADING, AND MORE!
THIS PRODUCT IS AN IDEAL COMPANION TO THE DILGAR INVASION SUPPLEMENT [BW-103], AVAILABLE SEPARATELY."

2001 ... BW-159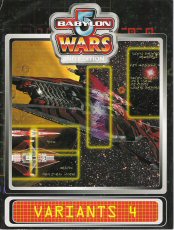 Variants 4 (Babylon 5 Wars, 2nd edition)
"THIS BOOK INCLUDES A VARIETY OF DIFFERENT TYPES OF UNITS, INCLUDING COMMAND SHIPS, SCOUTS, LIGHT COMBAT VESSELS, STRIKE CRUISERS, CARRIERS, ESCORTS, PATROL SHIPS, ASSAULT TRANSPORTS, BASES, DEFENSE SATELLITES, FIGHTERS, AND MORE! SOME EXAMPLES:

COMMAND VESSELS
• Abbai Nakarsa Command Cruiser • Centauri Primus Maximus Command Cruiser • Drazi Firefalcon Command Cruiser
LIGHT COMBAT VESSELS
• Centauri Lupa Attack Boats • Narn D'Tarn Light Gunboats
SCOUT AND SURVEY SHIPS
• Balosian Athasa Scout • Brakiri Halos Heavy Scout
STARBASES
• Earth Upgraded Orion Starbase • Vree Tyllz Sector Trading Post
CARRIERS
• Dilgar Garasoch-D Command Carrier • Pak'ma'ra Pshul'tau Heavy Carrier

BONUS! INCLUDES A COMPLETE HISTORY OF HYPERION DEVELOPMENT!
38 NEW SHIPS IN ALL!"

2001 ... BW-160 ... ISBN 1931830045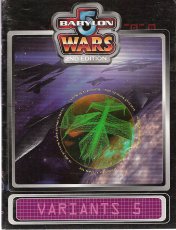 Variants 5 (Babylon 5 Wars, 2nd edition)
"Variants-5 completes the League-2 project with at least five new ships for each of the seven races from BW-107 (League of Non-Aligned Worlds, Part 2):

• The Hyach Gerontocracy - Includes special stealth units, such as assault infiltrators and stealth fighters.
• The Cascor Commonwealth - Explorers, Gunships and Fighters are added to their carrier-heavy fleet.
• The Ipsha Baronies - Variants are provided for Several Baronies, including the Essan, Oer and Eethan.
• The Kor-Lyan Kingdoms - New ballistic units include a proximity cruiser and torpedo frigate.
• The Torata Regency - Strike cruisers, escorts and an improved scout round out this flexible fleet.
• The Grome Autocracy - They operate several powerful, but unreliable, variants such as their huge command ship.
• The Hurr Republic - Several Variants include their first forays into foreign technology."

2002 ... BW-161 ... Agents of Gaming ... ISBN 1931830061






Fleet Action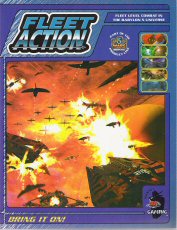 Fleet Action: Bring It On! (Babylon 5 Wars)
"Fleet Action is a fast-paced game of starship combat on a fleet scale. No longer are you simply concerned with the actions of just one or two warships. Now you must guide the actions of three dozen at once!

Fleet Action features:
• Design your fleet using point and command limits.
• Fast, simple squadron movement system.
• Order your fighters into a Superiority, Strike, or Escort role.
• Fast-play system allows for battles between dozens of ships and hundreds of fighters simultaneously."

2000 ... 112 pages + sheet of markers ... FA-1010 ... ISBN 097006280X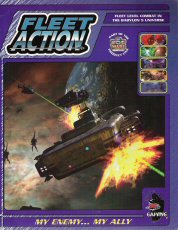 Fleet Action: My Enemy, My Ally (Babylon 5 Wars)
"Inside this book you will find new ships, bases, D-Sats and fighters for both the Earth Alliance and Minbari Federation. In addition, colorful maps of both their territories, information on their fleet composition and
additional rules expand the Fleet Action rules system.

My Enemy, My Ally Features:
• Tactical Intelligence - 3 levels to suit your game play style.
• A basic campaign framework to fight short campaigns.
• Expanded missile rules and types.
• Field massive starbases or dozens of orbital satellites in defense of a star system.
• More information about the Earth Alliance and Minbari Federation."

2000 ... 140 pages + sheet of markers ... FA-1011 ... ISBN 0970062842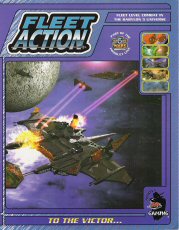 Fleet Action: To the Victor (Babylon 5 Wars)
"Inside this book you'll find a detailed history of the Narn Regime and Centauri Republic. Full color maps show the state of their nations as of 2265 as well as a number of new rules, ships, fighters and bases to expand your Fleet Action games.

TO THE VICTOR features:
• Mine Warfare - Use these passive defenses to channel your enemy to you or soften him up as he closes
• Space is not empty. Now you can fight in a variety of terrain types such as asteroid fields and vast, foggy nebulas.
• New Command Abilities.
• A new movement option: Semi-Platted Movement. If you prefer to be able to react to your opponent's move, this system is for you!"

2000 ... 128 pages + sheet of markers ... Agents of Gaming FA-1012 ... ISBN 0970062850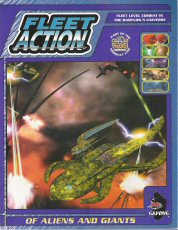 Fleet Action: Of Aliens and Giants (Babylon 5 Wars)
"The First Ones operate some of the most powerful ships and fighters in the Galaxy. Can you survive the Shadow molecular slicer beam? Or take on the Vorlons with their massive lightning cannons!

ALIENS AND GIANTS features:
• Rules and ships for the Vorlans & Shadows
• Deadly new super-heavy fighters
• Three major League races who participated In the Shadow War: Brakiri Syndicracy * Drazi Freehold * Vree Trading Guilds
• Over 80 new ships, fighters and bases"

2001 ... FA-1013 ... ISBN 0970062893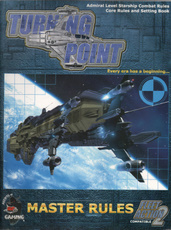 Fleet Action 2: Turning Point Master Rules
"It seemed like only a few hours since the ENS Horan had backed out of the docking arm at
Saturn Base. In truth, it had been several days, each intervening day filled with frantic activity as the crew prepared for the upcoming battle. Now that battle was upon them. On the plot, two fleets could be seen closing on one another. As the captain of the Horan watched, flanking forces detached
themeselves first from the European fleet, quickly followed by matched elements from the Union fleet. These elements would attempt to get around the heavy screens to the key units the escorts were protecting, the flagship and carriers.
Soon the battle would truly be joined...

What you hold in your hands is the Master
Rules to the Fleet Action 2 combat system
as well as the introductory information to the epic Turning Point Universe. These rules will allow you to fight massive battles involving potentially dozens of ships and even more fighters. If that's not enough, a highly robust and flexible design system will allow you to create the fleet of your dreams, whether it be from your favorite sci-fi epic or concocted from the deepest realms of your imagination.

Highlights of the Fleet Action 2 combat system...
* Modular design allows for easier expansion
* Combined arms mechanics encouraging the use of speciality ships such as escorts and carriers
* A myriad of types of weapons, each with their own strengths & weaknesses
* Streamlined combat rules allowing for large numbers of warships
* Simple but flexible fighter rules make large numbers of fighters simple to wield
* Powerful and robust custom design rules allow for the design of new weapons, ships, ammunition types and fighters"

2002 ... Agents of Gaming 501101 ... ISBN 1931830118






GROPOS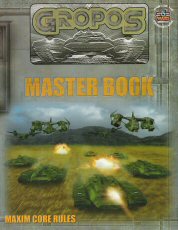 GROPOS Master Book: Maxim Core Rules
"GROPOS is a complete science-fiction miniatures game system set in the Babylon 5 Universe. It is also the core rules to the Maxim Battle System, a fast-paced miniatures rules set designed to support armies of virtually any type. While designed with 10mm (N-Scale) miniatures in mind, virtually any scale will work with these rules. Among some of the many features of this game you will find:
• Alternating Platoon-Based Activation
• Fast-Paced, Single Die-Roll Combat Resolutions
• Full Rules for Artillery, Air Strikes and Orbital Bombardments
• As your platoons loose morale, they become less effective in combat
• Rules for Urban Zones - dense urban areas that are normally hard to represent on a map
• Advanced rules for spotting, command and control and more
• Four basic army lists designed to let you easily learn the rules of the game."

2001 ... 128 pages + cardstock counter sheet ... Agents of Gaming GP-5010 ... ISBN 1930015992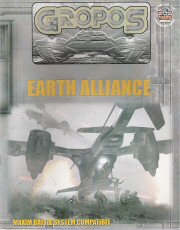 GROPOS - Earth Alliance (Babylon 5 Wars)
"The Earth Alliance grew to power rapidly after defeating the Dilgar. This growth, however, has not been without its share of pain. Some years after the Dilgar War, a misunderstanding led to the near destruction of the Earth Alliance at the hands of the Minbari. More recently, the Aliiance was ravaged by the most vicious civil war in their history. This book brings to life the people of the Earth Alliance and the machines of war they employ. Inside you will find:
• New Infantry types, including the elite Special Forces
• VTOLs such as the Magni Heavy Lifter and Valkyrie Gunship
• The Frey MRLS, a vicious artillery piece that can lay waste to large areas
• Compny organization charts for armor, air cav, Special Forces and more
• Pre-designed companies utilizing the new army lists.
• In depth history on the evolution of the EA ground forces."

2001 ... 48 pages ... GP-5011 ... ISBN 1931830002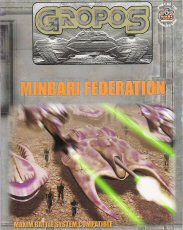 GROPOS - Minbari Federation (Babylon 5 Wars)
"The Minbari Federation has been a major galactic power since before humans entered their industrial age. Utilizing advanced technologies and harnessing the power of gravity itself, the Minbari ground forces are more than a match for whatever enemies they may face. Leading the core of their armies are the massive heavy assault tanks - vehicles unmatched by any other nation. These massive vehicles can take on an entire platoon of enemy units.
• Many new vehicles for the Minbari forces
• 2 army lists - the armor heavy Windswords and Infantry heavy Star Riders
• Orbital and air support data
• New weapons such as the Molecular Pulse Cannon
• A sample company utilizing these rules
• Background on the Minbari Federation"

2001 ... 48 pages ... GP-5012 ... ISBN 1931830037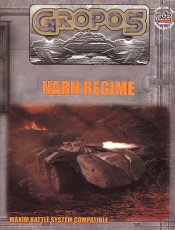 GROPOS - Narn Regime (Babylon 5 Wars)
"For many decades the Narn people knew nothing but slavery under the yoke of the Centauri Republic. However, greed and complacency provided the Narn the opportunity they need to win their freedom. Now, they defend their freedom using any measures they deem necessary. While one of the youngest of the star nations in the known galaxy, they quickly claimed their space and became a major force no one angered lightly.
• New vehicles and infantry for the Narn Regime
• Orbital and air support data
• New weapons systems
• Four sample companies
• Background on the Narn Regime"

2002 ... 46 pages ... GP-5013 ... ISBN 1931830037 Error, a duplicate from the earlier Minbari GROPOS book.








---
| d20 Babylon 5 | Babylon 5 Wars | Babylon 5 Episodes |
---
| 2300 AD | 7th Sea | AD&D | Aftermath! | Albedo | Aliens | Arduin | Alternity | Amazing Engine | Amber Diceless | Ars Magica | Atlantis | Babylon 5 | Battletech | Boardgames / Wargames - Other | Boot Hill | Buck Rogers | Bushido | Call of Cthulhu | Castle Falkenstein | Chill | Chivalry & Sorcery | Conan | Cyberpunk | Cyborg Commando | Dark Conspiracy | DC Heroes | Deadlands | Doctor Who | DragonQuest | Dream Park | Dune | Dungeons & Dragons | Dying Earth | Earthdawn | Elfquest | Elric / Stormbringer | Everway | The Fantasy Trip | Foreign Language Roleplaying Games | Game of Thrones | Gamma World | GangBusters | Gear Krieg | Ghostbusters | GURPS | Harn | High Fantasy | Indiana Jones | James Bond | Jorune | Judge Dredd | Justifiers | Living Steel | Lords of Creation | Man, Myth & Magic | Marvel Super Heroes | Middle Earth Role Playing | Midkemia | Military Roleplaying Stockpile | Millennium's End | Miscellanea | Morrow Project | Mythus - Dangerous Journeys | Nightlife | Pendragon | Phoenix Command | Powers & Perils | Red Sonja | Renegade Legion | Riddle of Steel | Ringworld | Robotech | Rolemaster | Runequest | Shadowrun | Shatterzone | Sovereign Stone | Space 1889 | Space Master | Space Opera - Other Suns | Star Ace | Star Frontiers | Star Trek | Star Wars | Super Hero RPGs | Talislanta | Talisman | Tekumel | Terminator 2 | Thieves' World | Timemaster | Top Secret | Traveller | Tribe 8 | Tunnels & Trolls | Twilight: 2000 | Villains & Vigilantes | Warhammer | Whispering Vault | Willow | Witchcraft | Ysgarth | CAMPAIGN BUILDING | RPG MAGAZINES | Avalanche Press | Avalon Hill | Bard | Chaosium | Columbia Games | Dream Pod 9 | Fantasy Games Unlimited (FGU) | FASA | Flying Buffalo | Game Designers Workshop (GDW) | Gamelords | Gamescience | Games Workshop | Judges Guild | Leading Edge Games | Mayfair Games | Metagaming | Pacesetter | Palladium | SPI | Steve Jackson Games | Tri Tac | TSR | Victory Games | West End Games | White Wolf | Wizards of the Coast | Yaquinto Publications |
---
| Return Home | What's New | Contact WaynesBooks.com |