Dragon Magazine - TSR Hobbies


Best of Dragon, Strategic Review and other related publications (like Finieous Treasury) ~ Dungeon Magazine

BROWSE MY DRAGON MAGAZINES CURRENTLY IN STOCK






Dragon Magazine: The Early Years

In the early days of the hobby, we FRPGers had a magazine we could call our own: Dragon. Sure, there were numerous fanzines and minor publications, but Dragon was professional in both look and content. Before the Internet, what kept the gaming community together? Periodicals and Conventions! It is easy to forget that fact.

My very first issue, bought off the stand, was #79. I'd seen them before, but this Dragon was mine, and I was "hooked" quickly. I started collecting the back issues and amassed quite a collection. I thought they'd be pretty valuable someday, but I didn't see the computer revolution coming. With the advent of the CD-ROM collection, only the earliest issues retain collectible value.

My favorites are what I deem the "Golden Age" of Dragon Magazine: Issues ranging in the 50s and 60s. They had some of the most inspired writing, including great essays by Gary Gygax, examinations of the Planes, the whole range of demi-human articles and deities, and so much more!

-Wayne

Here's a photo of me with the first 7 Dragon Magazines at our game blog.




Dragon Magazine Title Font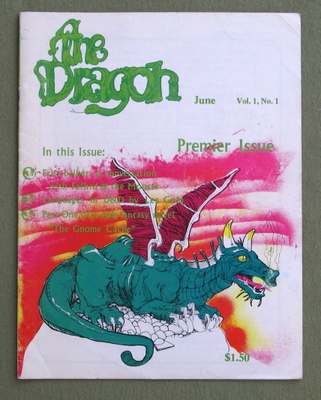 The Dragon Magazine, Issue 1
PREMIER ISSUE
ARTICLES: Dragon Rumbles; Fafhrd & The Mouser Say Their Say; In the Cauldron; The Battle of Five Armies in Miniature; Dirt (comic); How to Use Non-Prime-Requisite Character Attributes; Magic & Science (James M. Ward); Languages or, Could you repeat that in Auld Wormish?; The Search for the Forbidden Chamber; The Bulette (land shark); Hints for D & D Judges Part 2: Wilderness; Four new spell levels (11-14th) for the Illusionist in Dungeons & Dragons; Royal Armies of the Hyborean Age Additions; Hobbits and Thieves in the DUNGEON boardgame.

eBay auction results I've seen over the years:
A copy in Good+ condition sold for $172.50 on 5/12/11.
A VG sold for $212 on 1/29/2012.
A VG sold for $262 on 6/04/2014.
A VG sold for $620 on 6/25/2018.
A Good+ sold for $520 on 8/8/2018

June 1976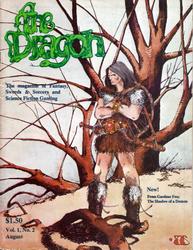 The Dragon Magazine, Issue 2
ARTICLES: Monkish Combat in the Arena of Promotion (D&D); Gnome Cache, ch. 2 (fiction); Gen Con IX Update; Hints for D&D Judges - Part 3: The Dungeons; Shadow of a Demon (Niall fiction) by Gardner F. Fox; Feathered Serpent (Quetzalcoatl); Creature Features - The Remorhaz; D&D Character Class - The Alchemist; D&D Option - Weapon Damage; more.

August 1976 ... 31 pages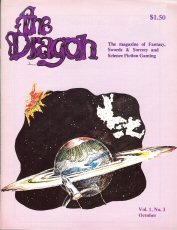 The Dragon Magazine, Issue 3
CONTENTS: War of the Empires; Women & Magic - Ladies in D&D; Search for the Gnome Cache; Birth Tables for D&D; Wargaming World; Mapping the Dungeons; Out on a Limb (letters); Plethora of Obscure Subclasses; A New View of Dwarves; Two Penultimate Sub-Classes; Strategist's Clubs Awards for '75; more.

October 1976 ... Timothy J. Kask (editor) & Dave Sutherland (staff artist) ... 31 pages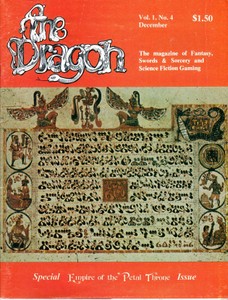 The Dragon Magazine, Issue 4
Special Empire of the Petal Throne Issue. Reports Submitted to the Petal Throne - News from Tekumel; The Battle for the Temple of Chanis: 2020 A.S.; Jakalla Encounters; Two creatures for Empire of the Petal Throne: The Mihalli and the Vriyagga; Roads From Jakalla (Tekumel fiction); EPT "Eye" Matrix; Notes on the Androids on The Starship Warden (Metamorphosis Alpha); Finieous Fingers.

December 1976 ... 34 pages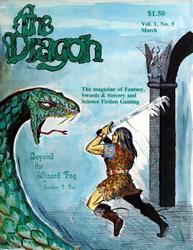 The Dragon Magazine, Issue 5
ARTICLES: Witchcraft Supplement for D&D; More on Metamorphosis Alpha; Featured Creature - The Anhkheg; Out on a Limb Letters; How Green Was My Mutant (M.A.); Beyond the Wizard Fog (fiction) by Gardner F. Fox; Wizard Research Rules; Gandalf was only a Level 5 M.U.; Gnome Cache, ch. 5 (fiction); more.

March 1977 ... 31 pages ... TSR Periodicals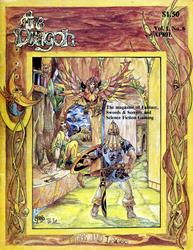 The Dragon Magazine, Issue 6
ARTICLES: Clone Bank Alpha - Alternate Background for Metamorphosis Alpha; Sea Trade in D&D; Legions of the Petal Throne Painting Guide; Forest of Flame (fiction); M.A. Additions and Clarifications; Optional Psionic Determination in D&D; Morale in D&D; Featured Creature - Death Angel; more.

April 1977 ... 31 pages ... Timothy J. Kask (editor)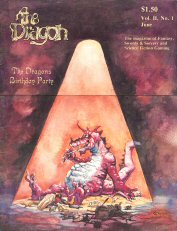 The Dragon Magazine, Issue 7
ARTICLES: Origins of D&D, by Gary Gygax; Mapping the Dungeon; The Journey Most Alone, by Morno; Military Formations of Tekumel, by M.A.R. Barker; more.

Vol. II, No. 1.

June 1977 ... 31 pages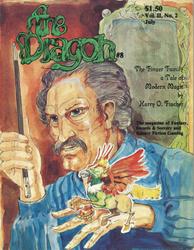 The Dragon Magazine, Issue 8
ARTICLES: Planes - Spatial, Temporal & Physical Relationships in D&D by Gary Gygax; Development of Towns in D&D; The Finzer Family - A Tale of Modern Magic; Sneak Preview - Gamma World; A Re-Evaluation of Gems & Jewelry in D&D; Realism in D&D; Featured Creature Contest #1; Still More Additions to Metamorphosis Alpha; Floating in Timeless Space (cartoon).

July 1977 ... 31 pages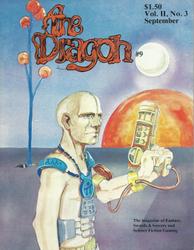 The Dragon Magazine, Issue 9
ARTICLES: DM's Brew (Mixing Alignments in D&D) by Gary Gygax; The Finzer Family (concluding a tale of Modern Magic) by H.O. Fischer; From the Fantasy Forge (new figures reviewed); Seal of the Imperium (Empire of the Petal Throne) by M.A.R. Barker; Fastest Guns That Never Lived, pt. 2 (adding movie greats to Boot Hill); Tombs & Crypts (preparing those "special" hoards in D&D) by Jim Ward; Comix Cache (humor section); more.

September 1977 ... 31 pages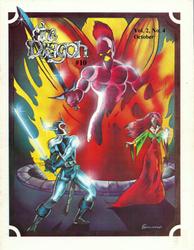 The Dragon Magazine, Issue 10
ARTICLES: GenCon X Report; Snit Smashing; The Diplomatic Stellar Conquest Player; Final Exam (Wargame Design 202); Fantasy Forge (phigure photos); Orgies, Inc. (burning up excess loot); Random Monsters (defeating the encyclopedic PC's); Weights, Measures, Physical Appearance, etc; Gaining a New Experience Level; Unique Wilderness Encounters; Rational Dungeon Design; Finieous Fingers, Wormy; more.

October 1977 ... 31 pages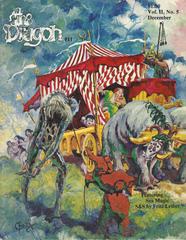 The Dragon Magazine, Issue 11
ARTICLES: Snit's Revenge; A guest editorial on TSR policies and critics by Gary Gygax; Metagaming's OGRE - tactics, tips, etc; Sea Magic - the newest Fafhrd & Gray Mouser tale by Fritz Leiber; Brawling - D&D variant; more.

December 1977 ... 31 pages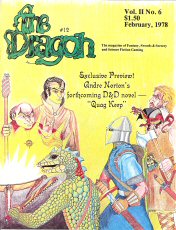 The Dragon Magazine, Issue 12
ARTICLES: The Humorous Side of D&D; The Druids - historical background; Quag Keep - D&D/Greyhawk fantasy novel by Andre Norton; A New Look at Illusionists; Persian Mythos; Ship's Cargo; Lovecraftian Mythos in Dungeons & Dragons by Rob Kuntz; more.

February 1978 ... T.J. Kask (editor) ... 31 pages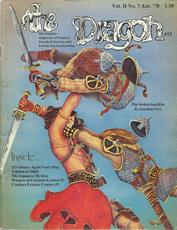 The Dragon Magazine, Issue 13
ARTICLES: How Heavy Is My Giant - Common-sense physics for D&D; Creature Feature Contest #2; Stolen Sacrifice - fiction by Gardner Fox; Bionic Supplement - cyborgs in Metamorphosis Alpha; Demon Generation - fooling players who've memorized Gods, Demi-Gods, and Heroes; Sorceror's Scroll - Tolkien in D&D; Finieous Fingers; more.

April 1978 ... 31 pages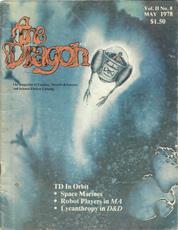 The Dragon Magazine, Issue 14
ARTICLES: Lycanthropy - The Progress of the Disease; Robots as Players in Metamorphosis Alpha; Nomad Gods (review); Space Marines - designer's notes; Cthulhu Mythos Revisited; The Total Person in MA; Wormy; Finieous Fingers; more.

May 1978 ... 32 pages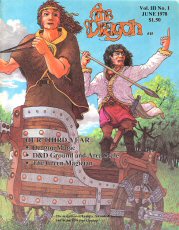 The Dragon Magazine, Issue 15
ARTICLES: Dragon Magic; The Green Magician, pt. 1 (by L. Sprague de Camp); Pits; Random Events; Weather in the Wilderness; Random Events in Boot Hill; Sorcerer's Scroll - ground scales & areas of effect; more.

June 1978 ... 32 pages + centerfold insert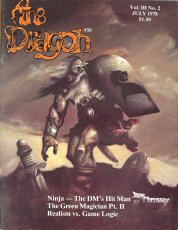 The Dragon Magazine, Issue 16
ARTICLES: Ninja - The Ultimate NPC; The Green Magician, pt 2; Near Eastern Mythos; Metamorphosis Alpha; Sorcerer's Scroll (Gygax on Realism vs. Game Logic); Wormy; Finieous Fingers; more.

July 1978 ... 36 pages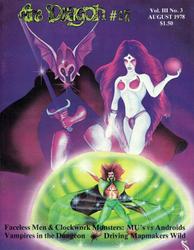 The Dragon Magazine, Issue 17
ARTICLES: Vampires in the Dungeon; Faceless Men & Clockwork Monsters - Mixing D&D with Metamorphosis Alpha; Tesseracts; Jousting in D&D; A Wizard with a Difference; The Monk & Bard in Dungeon!; Angels in D&D; more.

August 1978 ... 36 pages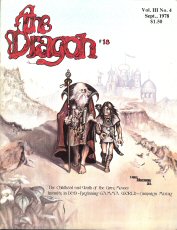 The Dragon Magazine, Issue 18
ARTICLES: Traveller: The Strategy of Survival; The Childhood & Youth of The Gray Mouser (by Harry O Fischer - intro by Fritz Leiber); Insanity: A method for madness; New Spells in D&D; Chamber of the Godgame; Monkish Weapons; Effective Use of Poison; NPC Characteristics: greed, ego, & pride; more.

September 1978 ... 32 pages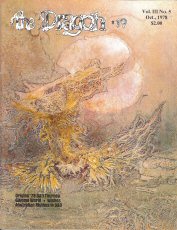 The Dragon Magazine, Issue 19
ARTICLES: The Battle for Snurre's Hall: Origins '78 D&D Tournament; Gamma World: New Treasures; The Fastest Guns That Never Lived: TV Heroes for Boot Hill; Mythos of Australia for D&D; Spell Determination for Hostile MU's; Sorcerer's Scroll: Gamma World; more.

October 1978 ... 32 pages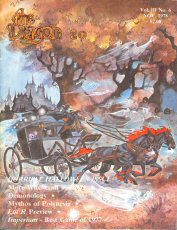 The Dragon Magazine, Issue 20
ARTICLES: A New Look at Witches in D&D; GenCon Photo Album; Imperium Clarifications & Addenda; D&D Death Stats; Mythos of Polynesia in D&D; Demonology in D&D; Demonic Possession in D&D; more.

November 1978 ... 32 pages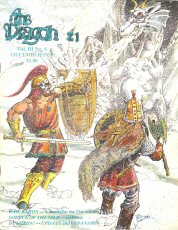 The Dragon Magazine, Issue 21
ARTICLES: Search for the Nile Revisited; The Hall of Mystery (D&D module); Rail Baron review; Finieous Fingers; The Other Humorous Side of D&D (Killer DMs); What Do You Call a 25th Level M-U? (level titles); Encounters With Personality; Inflation in D&D; Boot Hill Encounters; Sensible Sorcery (limits on spell research); more.

Cover by Paul Jaquays.

December 1978 ... 28 pages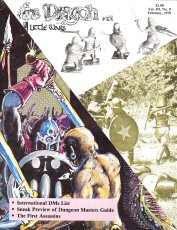 The Dragon Magazine, Issue 22 (Featuring: Little Wars, Issue 13)
ARTICLES: The First Assassins by James E. Brunner; The Irresistible Force by Gary Gygax; Armies of the Renaissance; Mapping the Dungeon; Dungeons and Dragons - What it is and Where it's Going by Gary Gygax; 4th Dimension by Allen Hammack; AD&D Sneak Preview; Stalemate at Kassasa; Nomenclature of Polearms by Gary Gygax; more.

February 1979 ... 54 pages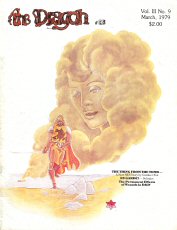 The Dragon Magazine, Issue 23
ARTICLES: Sorcerer's Scroll, by Gary Gygax; Dungeons and Prisons; The Thing From The Tomb, by Gardner F. Fox; Weight; En Garde! in Solitaire; Mind Wrestling (psionics); Water Adventures on the Starship Warden (Metamorphosis Alpha); Damage Permanency, by James Ward; more.

March 1979 ... 30 pages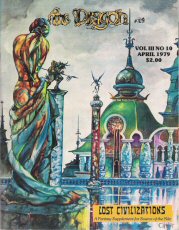 The Dragon Magazine, Issue 24
ARTICLES: Lost Civilizations - Fantasy variant for Source of the Nile; A Viking Campaign in the Caspian Sea - New battlegrounds for miniatures; Society for Creative Anachronism; Keeping the Magic-User in his place - Game balance in roleplaying; Roman Military Organization - Classic Warfare updated; Chinese Dragons; Lyncanthropy; Psionics; Naming things in EPT (Empire of the Petal Throne - Tekumel); Disease.

1979 ... 46 pages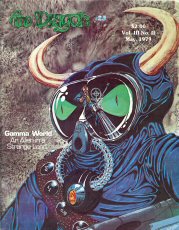 The Dragon Magazine, Issue 25
This issue has a nifty B&W referee's version of the classic Gamma World map of post-holocaust US, with cities labeled and locations of cryptic alliances noted. I have never seen it reprinted elsewhere.

-Wayne

ARTICLES: A Part of Gamma World Revisited by Jim Ward; Judging and You; Social Class in D&D by Gary Gygax; 20th Century Primitive by Gary Jacquet; Gamma World Artifact Use Chart; To Select a Mythos; Gamma World Pull-out map; Traveller Navy; Vampires; more.

May 1979 ... 46 pages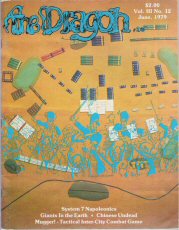 The Dragon Magazine, Issue 26
Articles: System 7 Napoleonics - system analysis; Giants in the Earth - fictitious heroes; How to Make a Lich; And What of the Skinnies - Starship Troopers variant; Chinese Undead; Boot Hill - additions, revisions and trivia; Alignment; Deck of Fate - the Tarot deck in D&D; EPT Birth Tables (Empire of the Petal Throne - Tekumel); System 7 - Designer's comments and Q&A; Lords and wizards - placement of castles; Solo Berserker for William the Conqueror 1066; Hirelings have feelings too; The Thief - a deadly annoyance.

June 1979 ... 48 pages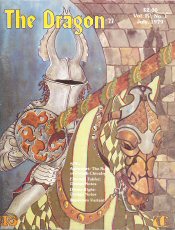 The Dragon Magazine, Issue 27
ARTICLES: A Quick Look at Dwarves; Giants in the Earth; Elementals and the Philosopher's Stone; Tesseracts in Traveller; Star System Generation in Traveller; Expanding Imperium; African Mythos in D&D; Divine Right design notes; more.

July 1979 ... 48 pages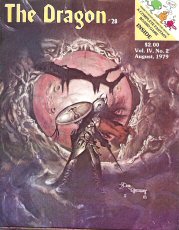 The Dragon Magazine, Issue 28
ARTICLES: Politics of Hell; Short Course in D&D; Simulating the Cavalry Plain; Sorcerer's Scroll; Six Guns and Sorcery; Elvish Tactics; Awful Green Things From Outer Space; Bazaar of the Bizarre; Giants in the Earth; Dragon's Bestiary; more.

August 1979 ... 52 pages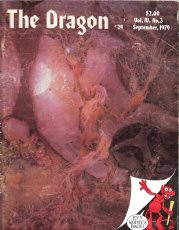 The Dragon Magazine, Issue 29
ARTICLES: Divine Intervention; Source of the Nile Flowcharts; Half-Ogres by Gary Gygax; Curses; Giants in the Earth (Roger Zelazny's Shadowjack; Jack Vance's Iucounu, The Laughing Magician); Rewarding Heroism in D&D; Inns & Taverns; Air War - North Vietnam by J.D. Webster; Smaller Than Man-Sized Weapons Table; Anatomy of an S.C.A. Battle - The Sleep War; Origins of the Norse Pantheon; The Mythos of Oceania in D&D; more.

September 1979 ... 52 pages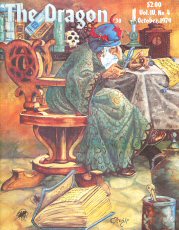 The Dragon Magazine, Issue 30
ARTICLES: GenCon XII report; Leomund's Tiny Hut; Sorcerer's Scroll; Standardization vs. Playability, by Bob Bledsaw; Giants in the Earth; New, Improved Ninja; Boot Hill; Wormy; Finieous; Lankhmar - How Fafhrd & The Mouser met; Armies of the Renaissance - Eastern Europe; more.

October 1979 ... 44 pages ... TSR Periodicals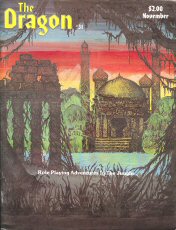 The Dragon 31
ARTICLES: Trollshead - fiction by J. Eric Holmes; Jungle Fever - Jungles in D&D - 2 articles; How tall is a giant?; Surefire strategy for Third Reich; Can Jason destroy the Dragonship?; Spicing up Stellar Conquest; A New Profession for EPT - Adventurer (Empire of the Petal Throne - Tekumel).

1979 ... 82 pages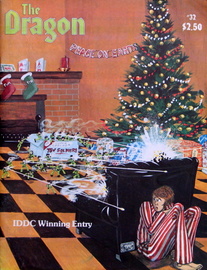 The Dragon 32
ARTICLES: Sorcerer's Scroll (Gary Gygax); Sage Advice; Leomund's Tiny Hut (Lenard Lakofka); Druid in Fact and Fantasy; The Fell Pass (centerfold AD&D module); Fantasysmith's Notebook; Dragon's Bestiary (Crawling Claw); Poisons from AA to XX; Aquatic Encounters with Megaflora; Spells for the Very Smart Sorcerer; The Traveller Politician; more.

December 1979 ... 44 pages + 16-page adventure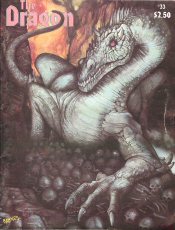 The Dragon 33
ARTICLES: Eyes of Mavis Deval, by Gardner F. Fox; Sorcerer's Scroll, by Gary Gygax; Leomund's Tiny Hut, by Lenard Lakofka; 1980 International DM's List (Special Feature); Bazaar of the Bizarre - Magical Oils; Clerics & Swords; Wormy; Finieous Fingers; more.

January 1980 ... 60 pages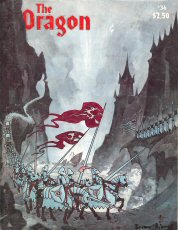 The Dragon 34
CONTENTS: Centerfold module Doomkeep; Special Divine Right Section (7 articles); Tekumel Test; Hammer's Slammers review, by E. Gary Gygax; more.

February 1980 ... 52 pages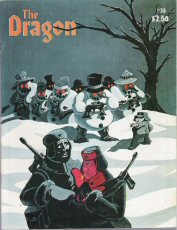 The Dragon 35
Articles: The Official AD&D Errata - All 3 books; Oasis; Angels in D&D; Giants in the Earth; Dastardly Deeds & Devious Devices; AD&D National Player Rating System; Mystery of the Bow; Traveller - 5 articles.

March 1980 ... 60 pages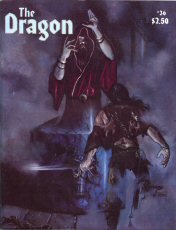 The Dragon 36
ARTICLES: The Cube from Beyond — Gardner F. Fox; Giants in the Earth; Stellar Conquest for Two; Squad Leader Scenario #1; The Fastest Guns That Never Lived, Pts. I-IV (Boot Hill); The Mongols; more.

April 1980 ... 68 pages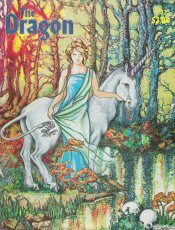 The Dragon 37
ARTICLES: The Pit of The Oracle (AD&D centerfold module); From The City of Brass to Dead Orc Pass — Ed Greenwood; Step-by-step urban encounters; Cities help make characters "real"; Sorcerer's Scroll — Gary Gygax on Greyhawk; The History of Elfland — G. Arthur Rahman; Giants in The Earth; Squad Leader scenario #2; Spell research, the hard way; Libraries; Lankhmar: Combat in the compromise game; Armies of the Renaissance; more.

May 1980 ... 50 pages






The Dragon 38
ARTICLES: RINGSIDE: A boxing game by Brian Blume (centerfold game); The Cup of Golden Death — Gardner Fox; Tesseracts; Top Secret: The Rasmussen Files; 4th Dimension: It's about time; The Seven Magical Planets; Lankhmar: A Fafhrd-Mouser puzzle; A strategy for hostile Magic-Users; From the Sorcerer's Scroll — Gary Gygax; more.

June 1980 ... 60 pages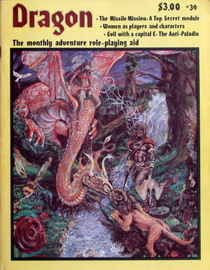 Dragon 39
ARTICLES: Missile Mission (Top Secret module); The Anti-Paladin; Women in gaming; Clerics; Bows; Critical hits and fumbles; Imperium research; Finieous Fingers; Wormy; more.

July 1980 ... 62 pages + 12-page adventure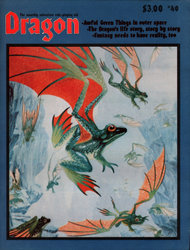 Dragon 40
ARTICLES: Outside the Znutar: Awful Green Things expansion kit (Special Attraction by Tom Wham); Runngus' Game (Special Attraction by Tom Wham); Index for The Dragon and The Strategic Review (Special Attraction); The Dueling Room, by Jeff Swycaffer; Reality in fantasy; Funerals; Thrown flasks; more.

August 1980 ... 68 pages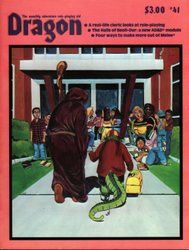 Dragon 41
ARTICLES: The Halls of Beoll-Dur: An AD&D module; Reflections of a real-life Cleric; TFT/The Fantasy Trip: MELEE [Melee I: Playing the numbers • Melee II: All fighters are not created equal • Melee III: Dueling dragons • Melee IV: Ready, aim, firearm!]; Dragon's blood: one interpretation; ...And another; Elves, dwarves & halflings appearance; Minarian Legends: The Trolls; more.

September 1980 ... 60 pages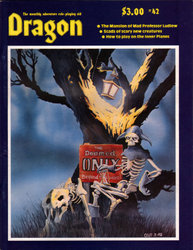 Dragon 42
Articles: The Mansion of Mad Professor Ludlow - A spooky AD&D adventure; Demons, Devils, and Spirits; The Possessors; Patron Demons; The Restless Dead; Day of the Dwarf; Minarian Legends - The history of Pon; Giants in the Earth; Electric Eye - Adventuring by computer.

October 1980 ... 60 pages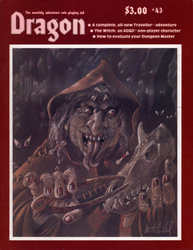 Dragon 43
ARTICLES: CANARD (Traveller centerfold module); a brand-new NPC: The Witch; Survival Tips for the Slave Pits; How do YOU rate as a DM?; Now you see it... but is it really there?; Hate orcs? You'll love this campaign; Leomund's Tiny Hut: Action in the melee round; more.

November 1980 ... 76 pages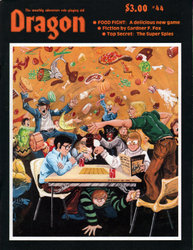 Dragon 44
Articles: Food Fight (centerfold game); Lure of the Golden Godling by Gardner F. Fox; Super Spies; King of the Mountain; Fantasy Genetics - 4 articles.

December 1980 ... Jake Jaquet (editor) & Gary Gygax (publisher) ... 100 pages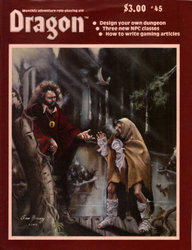 Dragon 45
ARTICLES: Dragon Dungeon Design Kit (centerfold feature); underground air pollution; Dungeon ventilation; The Astrologer; The Alchemist; Magic items arranged by levels; Be a creative game-player & Ways to handle high-level headaches, by Gary Gygax; more.

January 1981 ... 76 pages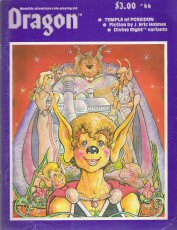 Dragon 46
ARTICLES: The Temple of Poseidon (AD&D centerfold module); Pinsom — A new comic strip; The Sorcerer's Jewel — Fiction by J. Eric Holmes; Mightier than the pen — Super swords of yesteryear; Minarian Variants — Divine Right Section [I: Settling special siege situations. II: An occasional ambush adds flavor to combat. III: ...some rules about treasure. IV: The men are awaiting your command, sir'. V: 'But, sir, they just can't march any further. VI: All Barbarians aren't played the same way]; Minarian Legends — The Black Hand; How to ease the Boot Hill identity crisis; more.

February 1981 ... 76 pages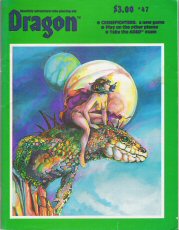 Dragon 47
ARTICLES: CRIMEFIGHTERS — Role-playing rules for pulp heroes & The Case of the Editor's Envelope — A sample Crimefighters scenario (Centerfold Special Attraction); Take the AD&D exam; Ideas for elemental adventuring —
Letters to EGG; Seek, but don't expect to find — Astral & ethereal searches; Creatures from elsewhere — Seven out-of-this-world monsters; Bazaar of the Bizarre — Magic involving other planes; The merry month of...Mirtul? — Design your own calendar; more.

March 1981 ... 76 pages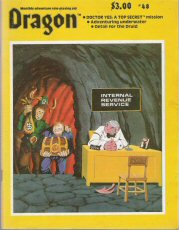 Dragon 48
Articles: Doctor Yes (centerfold Top Secret adventure); Underwater Adventuring - 3 articles; Detail for the Druid - 2 articles.

April 1981 ... 92 pages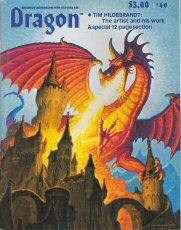 Dragon 49
ARTICLES: A Hildebrandt Brother — Tim talks about his art, his life, and the creation of fantasy (centerfold special attraction); Samurai: An honorable NPC; Getting a world into shape — Polyhedrals with paper; Historical names make for better games; Monster mixing: AD&D creatures adapted for Chivalry & Sorcery; Best wishes — Principles for proper wishing; Travel & threads for DragonQuest; The Alchemist NPC; more.

May 1981 ... 92 pages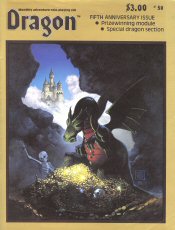 Dragon 50
Articles: Chapel of Silence (centerfold D&D module); Dragons - 3 articles; Kzinti (AD&D stats for Ringworld denizen); Glyphs of Cerilon; Aerial mounts; Gaze weapons.

June 1981 ... 76 pages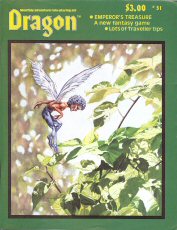 Dragon 51
ARTICLES: SEARCH for the EMPEROR'S TREASURE - A new game from Tom Wham (Centerfold feature); The Future Is Here — Special Traveller section [Make your own aliens • Plotting a course for choosy players • New ideas for old ships • In defense of computers • Planet parameters • Masers & cameras • The Miller milk bottle]; The Winged Folk — A new AD&D character type; The Worshippers of Ratar — RuneQuest variation; A new breed of bug — Expansion for Chitin:1; It's not easy being good — General paladin guidelines; Thou shalt play this way — Commandments for paladins; more.

July 1981 ... 92 pages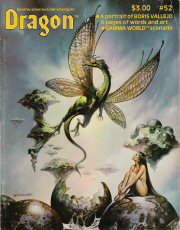 Issue 52
ARTICLES: Cavern of the Sub-Train - A scenario for GAMMA WORLD (Centerfold module); BORIS VALLEJO: A portrait in words - Eight pages of interview, photos and artwork; Clerical Collection [The Role of the Cleric • This land is my land • The sense of sacrifices]; The undercover job guide — TOP SECRET; Knock, Knock: A history of siege warfare; WANTED: Bounty Hunters [I: Not a very nice guy • II: Beware of traps in woods • III: He's on your trail]; Minarian Legends — The Shucassamites; more.

August 1981 ... 80 pages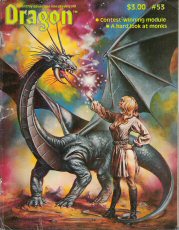 Dragon 53
ARTICLES: The Garden of Nefaron (AD&D centerfold module); MONKS [He's got a lot to kick about • Defining and realigning the monk • Sage Advice]; The Oracle — New NPC; Understanding Armory — What those shields mean; Some universal rules — Designing your own universe; The ways of the Triffids — The monster from John Wyndham's book, adapted for AD&D play; Merchants deserve more, too — Traveller addition; Junta needs more instability — A truly revolting variant (West End Games); The Rasmussen File — More TOP SECRET ideas; more.

September 1981 ... 80 pages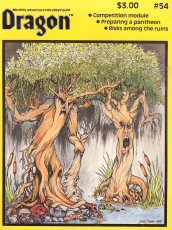 Dragon 54
ARTICLES: Cavern Quest - special competition AD&D module; Down-to-earth divinity - Creating a playable pantheon; Ruins; Damaged weapons; Beware the Jabberwock - AD&D in Wonderland; Boot Hill prices; more.

October 1981 ... 80 pages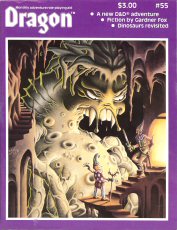 Dragon 55
ARTICLES: The Creature of Rhyl (Centerfold D&D module); The Coming of The Sword — Latest Niall of the Far Travels story from Gardner F. Fox; FIEND FOLIO Findings [Bad taste didn't go away — Ed Greenwood speaks out • A semi-satisfied customer — Alan Zumwalt has his say • Apologies and arguments — Turnbull tackles both]; DINOSAURS [New theories for old monsters • A book even T. rex would like]; Robin Hood — AD&D portraits of Sherwood's men; The many ways of getting away — Escape tactics; Filling in skills — Variant Traveller system; "Da Letter" — From Larry Elmore to you; Minarian Legends — The monuments of Minaria; more.

November 1981 ... 80 pages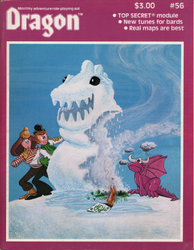 Dragon 56
ARTICLES: MAD MERC: The Alulu Island Mission (Top Secret centerfold module); BARDS [Singing a new tune — Redesigning the bard • Sage Advice — Questions & answers on the class • Songs instead of spells]; Map hazard, not haphazard — "Real" fantasy maps; The Doctor — Fiction by J. Robert Dunkle; Minarian Legends — The monsters of Minaria; more.

December 1981 ... 80 pages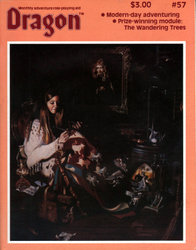 Dragon 57
ARTICLES: The Wandering Trees (AD&D centerfold module); Modern monsters — 20th-century adventuring; In search of James Bond — TOP SECRET variation; Random magic items — Anything can be enchanted; The versatile Magician — New skill for DragonQuest; The history of the shield — Lots of shapes and sizes; Leomund's Tiny Hut — Shield and weapon skills; From the Sorceror's Scroll — Gygax on Greyhawk; more.

January 1982 ... 80 pages






Dragon 58
ARTICLES: SPELLMINDERS - A new AD&D playing aid; Leomund's Tiny Hut - Beefing up the Cleric - new spells for the cleric; Four Myths From Greece - Atalanta, Daedalus, the Sybil of Cumae, and Chiron; The Dwarven Point of View; Bazaar of the Bizarre - two dwarven magical items; Sage Advice - questions on dwarves; The Gods of the Dwarves; In The Bag - a work of fiction by J. Eric Holmes.

February 1982 ... 80 pages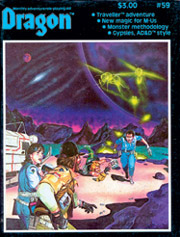 Dragon 59
ARTICLES: Exonidas Spaceport (Centerfold Traveller module); Gypsies; Halflings; Gods of the Halflings; Poison; Monster Creation; Cantrips; more.

March 1982 ... 80 pages






Dragon 60
ARTICLES: Flight of the Boodles game; Several articles about elves; Firearms in AD&D; more.

April 1982 ... 80 pages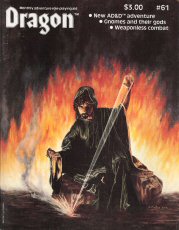 Dragon 61
ARTICLES: Quest for the Midas Orb - centerfold AD&D module; Bare-handed combat; New weapons; Gnome articles; From the Sorcerer's Scroll - Cantrips for illusionists; more.

May 1982 ... 80 pages






Dragon 62
CONTENTS: Chinatown: The Jaded Temple (Top Secret module); New Dragons: Faerie, Steel, Grey; Evil Dragon armors; Gangbusters Designer's Notes; Pages From the Mages; Scribe NPC Class; Half-orcs; Gods of the Orcs.

1982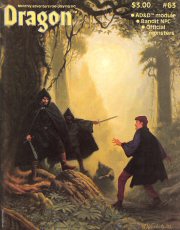 Dragon 63
ARTICLES: Chagmat - centerfold AD&D module by Larry DiTillio; Devas (by Gary Gygax); Bandits in the World of Greyhawk; Bandit NPC; Kobolds, goblins, hobgoblins, gnolls; more.

July 1982 ... 80 pages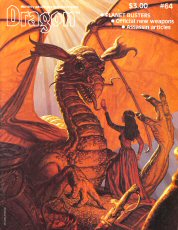 Dragon 64
ARTICLES: Planet Busters (centerfold game); Assassin articles (x2); Robots in Traveller; New creatures - Planetar & Solar; official new weapons; more.

August 1982 ... 80 pages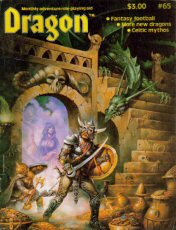 Dragon 65
ARTICLES: Monsters of the Midway - fantasy football game for two players; Star Frontiers - a first look; AD&D weapon proficiency variant system; The Missing Dragons - completing the colors; Timelords - a new NPC; Tuatha De Danann; Law of the Land - campaign development; WAR! - campaign development; more.

September 1982 ... 80 pages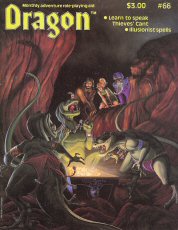 Dragon 66
ARTICLES: Thieves' Cant Pocket Dictionary (centerfold); Weapons for spell-users? Yes & No articles; Elfquest characters adapted to AD&D; Phantasmal Force examined; Languages (4 articles); New Illusionist spells; more.

October 1982 ... 80 pages






Dragon 67
ARTICLES: Fedifensor: A scenario for AD&D adventuring on the Astral Plane (centerfold module); Eleven new arachnids; Deities and Demigods of the World of Greyhawk: Heironeous, Hextor, Iuz, and St. Cuthbert; The Astral Plane [Astral encounters; Astral traveling; Encounter checks and the Psychic Wind; Movement & combat; Magical alterations]

November 1982 ... 80 pages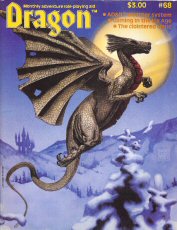 Dragon 68
ARTICLES: Two weapon fighting; Dawn Patrol; Ice Age adventuring; Aquatic encounter tables; High-level magic user spells; Weather in the World of Greyhawk; more.

December 1982 ... 96 pages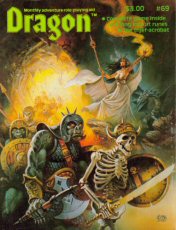 Dragon 69
ARTICLES: Arrakhar's Wand (centerfold boardgame); Runes; Castles by Carroll II: Wawel Castle; More Pages From the Mages; Weapon Statistics (Top Secret); Thief-Acrobat class; more.

January 1983 ... 96 pages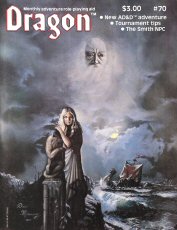 Dragon 70
ARTICLES: Mechica (centerfold AD&D adventure); Smith NPC class; ships, size & speed; Dwarves in Space (mixing fantasy & sci-fi); Second Volley (firearms in AD&D); Castles by Carroll III: Jericho; more.

February 1983 ... 80 pages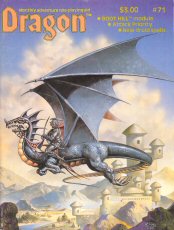 Dragon 71
ARTICLES: Taming of Brimstone (centerfold Boot Hill module); Mind of the Monster - Give creatures credit; Greyhawk's World - Four uncharacteristic characters (Gary Gygax); Who gets the first swing? (Attack Priority; replacement for Initiative); New Druid spells (Gary Gygax); Deities and demigods of Greyhawk (Gary Gygax); more.

March 1983 ... 80 pages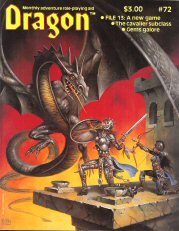 Dragon 72
ARTICLES: File 13 game (centerfold); Ecology of the Piercer; Gems Galore (Early Forgotten Realms article by Ed Greenwood); The Real Barbarians, by Katharine Kerr; From the Sorcerer's Scroll: The Cavalier, by Gary Gygax; more.

April 1983 ... 80 pages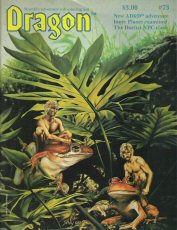 Dragon 73
ARTICLES: Forest of Doom (AD&D centerfold module - early use of the drow as a villain); Duelist NPC; Solo scenario playing; Ecology of the catoblepas; The whole half-ogre (as a PC race); Relief for Traveller nobility; Damage to equipment; Non-violent magic items; Top Secret paraphernalia; The Inner Planes; more.

May 1983 ... 96 pages






| Dragon Accessories |

---
| Adventure Gaming | Challenge Magazine | Different Worlds | Dragon Magazine | Dungeon Magazine | Gryphon | Sorcerer's Apprentice | Stardate | White Dwarf |
---
| 2300 AD | 7th Sea | AD&D | Aftermath! | Albedo | Aliens | Arduin | Alternity | Amazing Engine | Amber Diceless | Ars Magica | Atlantis | Babylon 5 | Battletech | Boardgames / Wargames - Other | Boot Hill | Buck Rogers | Bushido | Call of Cthulhu | Castle Falkenstein | Chill | Chivalry & Sorcery | Conan | Cyberpunk | Cyborg Commando | Dark Conspiracy | DC Heroes | Deadlands | Doctor Who | DragonQuest | Dream Park | Dune | Dungeons & Dragons | Dying Earth | Earthdawn | Elfquest | Elric / Stormbringer | Everway | The Fantasy Trip | Foreign Language Roleplaying Games | Game of Thrones | Gamma World | GangBusters | Gear Krieg | Ghostbusters | GURPS | Harn | High Fantasy | Indiana Jones | James Bond | Jorune | Judge Dredd | Justifiers | Living Steel | Lords of Creation | Man, Myth & Magic | Marvel Super Heroes | Middle Earth Role Playing | Midkemia | Military Roleplaying Stockpile | Millennium's End | Miscellanea | Morrow Project | Mythus - Dangerous Journeys | Nightlife | Pendragon | Phoenix Command | Powers & Perils | Red Sonja | Renegade Legion | Riddle of Steel | Ringworld | Robotech | Rolemaster | Runequest | Shadowrun | Shatterzone | Sovereign Stone | Space 1889 | Space Master | Space Opera - Other Suns | Star Ace | Star Frontiers | Star Trek | Star Wars | Super Hero RPGs | Talislanta | Talisman | Tekumel | Terminator 2 | Thieves' World | Timemaster | Top Secret | Traveller | Tribe 8 | Tunnels & Trolls | Twilight: 2000 | Villains & Vigilantes | Warhammer | Whispering Vault | Willow | Witchcraft | Ysgarth | CAMPAIGN BUILDING | RPG MAGAZINES | Avalanche Press | Avalon Hill | Bard | Chaosium | Columbia Games | Dream Pod 9 | Fantasy Games Unlimited (FGU) | FASA | Flying Buffalo | Game Designers Workshop (GDW) | Gamelords | Gamescience | Games Workshop | Judges Guild | Leading Edge Games | Mayfair Games | Metagaming | Pacesetter | Palladium | SPI | Steve Jackson Games | Tri Tac | TSR | Victory Games | West End Games | White Wolf | Wizards of the Coast | Yaquinto Publications |
---
| Return Home | What's New | Contact WaynesBooks.com |