Weapon, Equipment, Building, & Armor Compendiums


Palladium Weapon, Castle, & Armor Compendiums ~ BTRC Weapons & Equipment ~ Kevin Dockery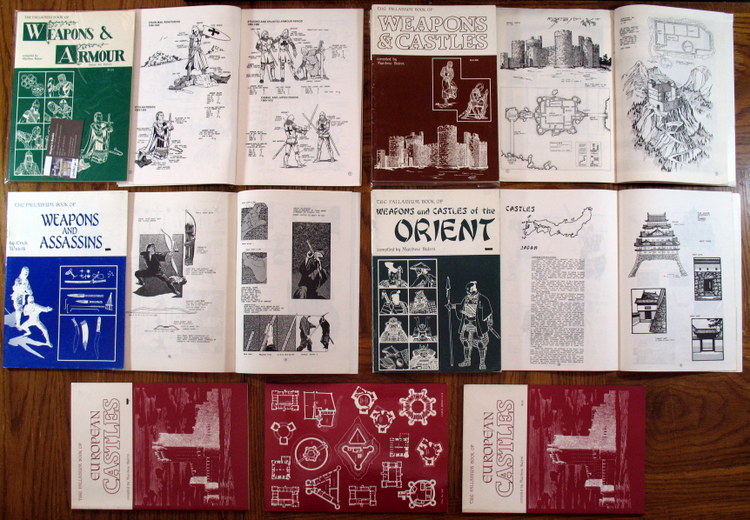 Palladium Weapon, Castle, & Armor Compendiums
In Palladium's early years, they released an interesting variety of RPG supplements. My favorites are the Weapon, Castle, & Armor Compendium series. Each book tackles a particular region and time. They are inexpensive, and contain great background material by Matthew Balent, with line drawings, floorplans, and sketches by Michael Gustovich, Michael Kucharski, Kevin Siembieda, Mary Walsh, and others. There have been numerous editions over the years.
-Wayne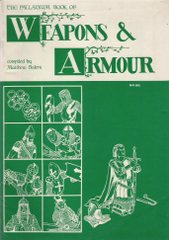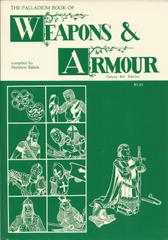 The Palladium Book of Weapons & Armour
"To provide the fantasy gamer with a clear, concise reference book on armour at a reasonable cost is no easy task. For too long has this aspect of the hobby been overlooked, usually with serious side-effects. Often have I heard arguments from mis-informed people as to the weight, flexibility, and appearance of medieval armour; I cannot fault the average gamer however, as it was the designers of the games who should have done the initial research so as not to pass on faulty information."

TABLE OF CONTENTS:
ARMOUR
• FRANKS • BYZANTINE • VIKINGS • SAXONS • NORMAN PERIOD • CHAIN MAIL PERIOD • CHAIN MAIL REINFORCED • CYCLAS PERIOD • STUDDED AND SPLINTED ARMOUR PERIOD • CAMAIL AND JUPON PERIOD • SURCOATLESS PERIOD • TABARD PERIOD • MAXIMILLIAN PERIOD • ASSYRIAN • AZTEC • GREEK • ROMAN • MONGOL • PERSIAN • INDIAN • SOUTH PACIFIC • AMERICAN INDIAN • TEBETAN • CHINESE • JAPANESE

WEAPONS
• HAFTED • KNIVES • MISCELLANEOUS • POLEARMS • SPEARS • SWORDS
• INDEX
• BIBLIOGRAPHY

1981 ... Matthew Balent ... 50 pages ... Palladium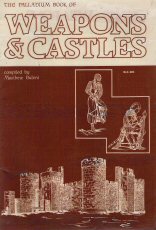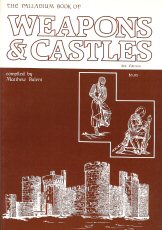 The Palladium Book of Weapons & Castles
TABLE OF CONTENTS:
• BOWS & CROSSBOWS • CASTLES • CASTLE DETAILS • DRAWBRIDGES / WALL RATINGS • MOTTE & BAILEY • RESTORMEL CASTLE • LE KRAK DES CHEVALIERS • ESTAMPES CASTLE • GHENT: CHATEAU DES COMTES • CHATEAU GAILLARD • TRIM CASTLE • HARLECH CASTLE • ROUMELI HISSAR • PIERREFONDS • BODIAM CASTLE • KARLSTEIK BEI REICHENHALL • SIEGES • SIEGE WEAPONS • CASTLE UNDER SIEGE (LAYOUT) • GLOSSARY • BOOK LIST • ARMOUR

1982, 1984 ... Matthew Balent ... 50 pages ... Palladium 405 ... (1984: ISBN 0916211088

1st Edition: Buy at Amazon

3rd Edition: Buy at Amazon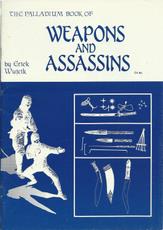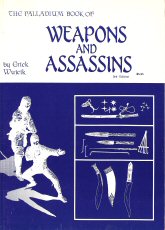 The Palladium Book of Weapons & Assassins
TABLE OF CONTENTS:
• Introduction to Weapons and Assassins • Guilds and Societies of Assassins
THE ORDER OF ASSASSINS
• History of the Order of Assassins • A Mission of Assassination • Costumes of the Order of Assassins
THE THUGS
• Thug History • Thug Background • A Typical Thug Killing • Thug Techniques • River Thugs • Thug Costumes
THE NINJA
• Ninja History • Ninja Winter Techniques • Ninja Training • The Ninja Costume • Ninja Equipment and Supplies • Ninja Weapons • Ninja Climbing Techniques • Ninja Water Techniques • Feudal Japanese Castles • Samurai Warriors • Poisons • Dictionary of Assassin Terms • Bibliography • Chronology

MAPS:
• Middle East of the Order of Assassins • Thugee India • Ninja Japan

1983 ... Erick Wujcik ... 50 pages ... (3rd: 1984 ... Palladium 406 ... ISBN 0916211037)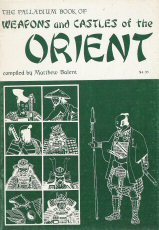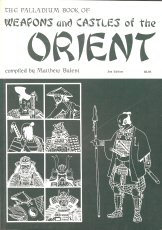 Palladium Book of Weapons and Castles of the Orient
TABLE OF CONTENTS:
• Weapons • Bo Staff • Parrying Weapons • Chain Weapons • Japanese Battle Axe • Sickle Weapons • Swords and Knives • Japanese Grapple • Spears • Japanese Arrow-heads • Iron Smoking Pipes • Iron War Fans • Japanese Armour • Chinese Armour • Korean Armour • Malaysian Armour • Japanese Fortifications • Chinese Fortifications • Map of Eastern Asia • Bibliography

1984 ... Matthew Balent ... 50 pages (2nd edition: 1984 ... Palladium 407 ... ISBN 0916211029)

1st edition: Buy at Amazon

2nd edition: Buy at Amazon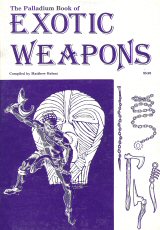 The Palladium Book of Exotic Weapons
TABLE OF CONTENTS:
• Introduction • Axes • Thrown Weapons • Blow-Pipes • Clubs • Maces • Knives • Tiger Claws • Swords • Lantern Shield • Boarsword • Ninjato • Sickle Swords • Shark Tooth Clubs/Swords • Polearms • Staves • Parrying Weapons • Chains and Whips"

1984 ... 48 pages ... Palladium 409 ... ISBN 0916211061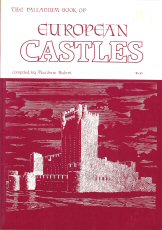 Palladium Book of European Castles
"This book was designed to be used by fantasy gamers who wish to include detailed descriptions of castles in their campaigns. All of the buildings depicted in this book are, or were, actual castles of European origin. They can easily be used in any fantasy game as is or can be modified as the players see fit.

As outlined in my earlier book, Weapons and Castles, the development of the castle in Europe went through distinct phases. Please consult that work for more information. Nearly all castles were situated on sites of some earlier fortification. This was especially true if the castle was located at some strategic spot such as at the bend of a river, atop a lone hill, or at some other important place. Many castles made use of walls which were constructed at an earlier period, sometimes centuries earlier."

1985 ... Matthew Balent ... 50 pages ... Palladium 410 ... ISBN 0916211118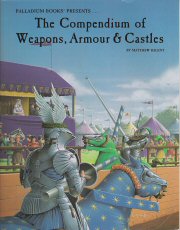 The Compendium of Weapons Armour and Castles
"For use with all role-playing games. Over 700 weapons, 40 types of armour, 40 castles with floor plans. 224 pages!

An ideal source book for the Palladiumฎ Fantasy RPG, TMNTฎ, Heroes Unlimited
or any role-playing game."

1989 ... 224 pages ... Palladium 411 ... ISBN 091621138X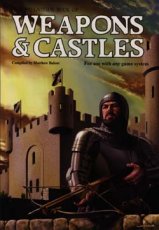 Weapons and Castles
"The bow and arrow, and crossbow weapons from around the world
Castle and design features.
15 different, real world castles. Each illustrated for a castle under siege.
Historically accurate.
For use with any game system. Some adaptation required."
Compiled by Matthew Balent.
Color cover by Scott Johnson

1984 ... 48 pages ... Palladium #? ... ISBN 0916211088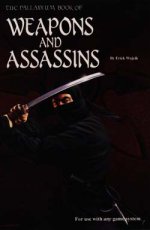 Weapons and Assassins
"Assassin societies such as the Ninja and Thuga.
How deadly were they? What secrets did they hold?
Their weapons and tools.
Special equipment, armor and techniques.
Historically accurate.
For use with any game system. Some adaptation required."
Compiled by Matthew Balent.
Color cover by Scott Johnson.

1984 ... 48 pages ... Palladium #? ... ISBN 0916211037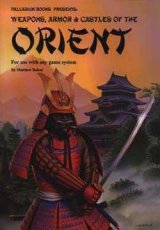 Weapons and Castles of the Orient
"A beautiful, little 48 page, comic book sized reference book packed with real world weapons, armor and data. Designed to be easy to use and easy to carry anywhere.
Presents dozens of famous and obscure weapons of Japan, China and the Orient, plus samurai and other armor and several castles complete with floor plan diagrams. ALL illustrated.

The weapons & armor of Japan, China and the rest of the Orient.
Spears, swords, bow and arrow, and other weapons unique to the Orient.
A look at the Samurai, his weapons and armor.
15 different, real world castles. Each illustrated and with a basic floor plan.
Historically accurate.
For use with any game system. Some adaptation required."
Compiled by Matthew Balent.
Interior Art by Mike Kucharski and others.
Color cover by Scott Johnson.

1984 ... 48 pages ... Palladium 404 ... ISBN 0916211029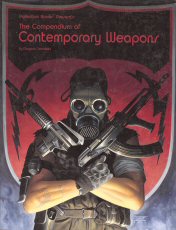 Contemporary Weapons
"Easily adaptable to ALL game systems!!
Over 400 weapons from around the world!
Machineguns, sub-machineguns, bazookas, LAWs, mortars.
Rifles, shotguns, pistols, revolvers, and knives.
EOD equipment, grenades, riot control and pyrotechnic devices.
Tanks, APCs, armored cars, and light artillery.
The first book to include modern body armor.
Scopes, surveillance, special rounds and combat accessaries.
Optional rules for determining damage, shock and blood loss.
Optional hit location tables.
Every weapon is illustrated! Art by Siembieda, Gustovich, Petersen, Miller, and Stalter."
Cover by John Zeleznik.
Written by Maryann Siembieda


1993 ... 176 pages ... Palladium 415 ... ISBN 0916211657






Blacksburg Tactical Research Center (BTRC)
3G: Guns, Guns, Guns - Gun design for any RPG
This handbook by Blacksburg Tactical Research Center (BTRC) lets you design firearms of any time period, with conversions to multiple game systems. (Compare with Fire, Fusion and Steel.)

"Guns!, guns!, guns! (3G for short) lets you design custom firearms for any role-playing game. Design realistic weapons in a universal format, and convert the stats to the system you like best. Choose from conventional weapons, rockets, lasers, particle beams and railguns. Easy to follow directions and step-by-step design sheets guide you through each aspect of custom weapon design.
And, you can design weapons at any Tech Level where they are possible, not just when they historically appeared. Want to give the Romans machine pistols? Or, design lasers for WWII? In 3G, if it could have been done, you can do it!"

1988 ... 48 pages ... BTRC 3G-02 ... ISBN 0943891043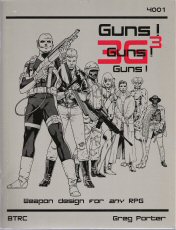 3G3: Guns, Guns, Guns - Weapon design for any RPG (3rd Edition)
"Guns!, guns!, guns! (3G3 for short) lets you design custom weapons for virtually any role-playing game. Design realistic weapons in a universal format, and convert the stats to the system you like best, or even between different systems. In addition to the overall conversion guidelines, there are now detailed conversion notes for CORPS, TimeLords, MegaTraveller, Cyberpunk, TORG, GURPS, Twilight: 2000, and the HERO SYSTEM.
Pick your weapon! You can choose from conventional weapons, rockets, lasers, particle beams, railguns and melee weapons. Detailed directions and step-by-step design sheets help guide you through each aspect of custom weapon design.
Design weapons for any Tech Level where they are possible, not just where they historically appeared. Want to give the Romans machine pistols? Or design lasers for WWII? If it could have been done, or if it might be done, you can do it, in 3G3."

1991 ... 92 pages ... BTRC 4001 ... ISBN 0943891191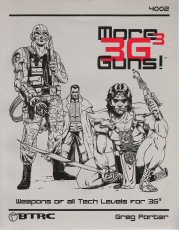 More Guns: Weapons for all Tech Levels for 3G3
"More Guns! takes over where 3G3 leaves off. It does the design work for you, and provides complete stats for over 500 guns and melee weapons for each of eight separate role-playing systems: TimeLords, CORPS, TORG, MegaTraveller, Cyberpunk, Twilight: 2000, GURPS and the Hero System. It truly is a weapon supplement from Hell.
In addition, the conversion rules for each system have been expanded for even more detail, with numerous examples and technical notes to provide inspiration for your own designs and conversions. Now it's even easier to do it all, with 3G3 and More Guns!"

1993 ... 232 pages ... BTRC 4002 ... ISBN 0943891264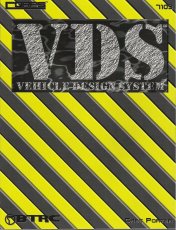 VDS: Vehicle Design System
"...VDS does for vehicles what 3G did for weapons: Provide a comprehensive design tool that can be plugged into any roleplaying system. Covers everything from rowboats to starships, past, present, future and then some. If you can imagine it, you can build it. Whether you can afford it is another matter entirely..."

1996 ... 158 pages ... BTRC 7103 ... ISBN 0943891353






Works by Kevin Dockery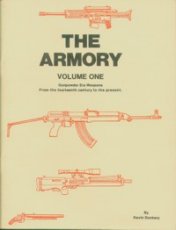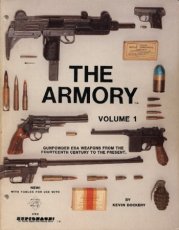 The Armory, Vol. 1
(Published by Firebird, Ltd.) "The Armory is a series of reference books on weaponry written by gamers for gamers. A vast assortment of weapons are listed inside with all entries including illustrations, factual data, and comments on the weapon as well as damage data for use with role playing games.

This first volume of The Armory lists ancient and ultramodern weapons of the gunpowder weapon era. Everything from hand cannons to rocket guns will be found listed. The weapon classes listed include:

* pistols
* submachinguns
* rifles
* machineguns miscellaneous weapons
* grenades
* small arms ammunition"

Kevin Dockery, author of numerous books on small arms as well as co-author of Morrow Project, developed this early firearms reference for gamers.






Compendium of Modern Firearms (Edge of the Sword Vol. 1)
"When your back's to the wall, all you can trust is the Edge of the Sword. R. Talsorian and The Armory's Kevin Dockery present the first in a series of manuals on modern paramilitary subjects. The Compendium of Modern Firearms is a ... book detailing the weapons of paramilitary police, army units, and hostage rescue teams worldwide. A set of comprehensive conversion rules also lets you place these guns inside the majority of modern role-playing systems."

1991 ... 224 pages ... R. Talsorian Games ES4001 ... ISBN 0937279234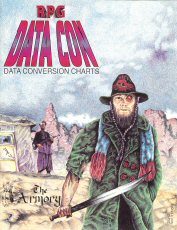 RPG Data Con: Data Conversion Charts
"It's Really Here !
What you are holding in your hands is a complete set of tables and charts, that will allow you to take a character from within one Role-playing game "Genre" and place them into another. Most major game systems are covered, and include: Fantasy Genre, Cyberpunk Genre, Comic Book Genre, Horror Genre, Space Genre, Mech Genre and Multi-Genre. Never before has it been so easy to expand your Role-playing gaming experience. Open new doors and experiences that have only once been a dream. Just imagine, having a Mech in the same adventure setting fighting alongside your favorite Comic Book hero, or having your favorite Fantasy character pitted against the same Mech. The boundaries are limitless. This is the most exciting new product that the gaming world has been introduced to and we are sure you will get countless hours of pleasure using these charts, and converting to and from your favorite game systems. These charts also give you the ability to convert to and from almost any system once you become familiar with the conversion process."

1992 ... 30 pages ... The Armory FG-2








---
| Everyday Life | La Conquista Campaign | Weapon books |
---
| 2300 AD | 7th Sea | AD&D | Aftermath! | Albedo | Aliens | Arduin | Alternity | Amazing Engine | Amber Diceless | Ars Magica | Atlantis | Babylon 5 | Battletech | Boardgames / Wargames - Other | Boot Hill | Buck Rogers | Bushido | Call of Cthulhu | Castle Falkenstein | Chill | Chivalry & Sorcery | Conan | Cyberpunk | Cyborg Commando | Dark Conspiracy | DC Heroes | Deadlands | Doctor Who | DragonQuest | Dream Park | Dune | Dungeons & Dragons | Dying Earth | Earthdawn | Elfquest | Elric / Stormbringer | Everway | The Fantasy Trip | Foreign Language Roleplaying Games | Game of Thrones | Gamma World | GangBusters | Gear Krieg | Ghostbusters | GURPS | Harn | High Fantasy | Indiana Jones | James Bond | Jorune | Judge Dredd | Justifiers | Living Steel | Lords of Creation | Man, Myth & Magic | Marvel Super Heroes | Middle Earth Role Playing | Midkemia | Military Roleplaying Stockpile | Millennium's End | Miscellanea | Morrow Project | Mythus - Dangerous Journeys | Nightlife | Pendragon | Phoenix Command | Powers & Perils | Red Sonja | Renegade Legion | Riddle of Steel | Ringworld | Robotech | Rolemaster | Runequest | Shadowrun | Shatterzone | Sovereign Stone | Space 1889 | Space Master | Space Opera - Other Suns | Star Ace | Star Frontiers | Star Trek | Star Wars | Super Hero RPGs | Talislanta | Talisman | Tekumel | Terminator 2 | Thieves' World | Timemaster | Top Secret | Traveller | Tribe 8 | Tunnels & Trolls | Twilight: 2000 | Villains & Vigilantes | Warhammer | Whispering Vault | Willow | Witchcraft | Ysgarth | CAMPAIGN BUILDING | RPG MAGAZINES | Avalanche Press | Avalon Hill | Bard | Chaosium | Columbia Games | Dream Pod 9 | Fantasy Games Unlimited (FGU) | FASA | Flying Buffalo | Game Designers Workshop (GDW) | Gamelords | Gamescience | Games Workshop | Judges Guild | Leading Edge Games | Mayfair Games | Metagaming | Pacesetter | Palladium | SPI | Steve Jackson Games | Tri Tac | TSR | Victory Games | West End Games | White Wolf | Wizards of the Coast | Yaquinto Publications |
---
| Return Home | What's New | Contact WaynesBooks.com |