Marvel Super Heroes - TSR Hobbies


MA / MH Series | MHAC / MU Series | ME / MLA / MLBA / MSL / MT / MX series | MSH SAGA system | MSH Gamebooks | MSH Miniatures

See Also: Other Super Hero RPGs

BROWSE MY MARVEL SUPER HEROES ITEMS CURRENTLY IN STOCK

A bolt from the blue when it appeared in the mid-80's, MSH came to dominate the "Supers" RPG niche. It petered out in the early 90's, only to see a brief revival combined with the SAGA rules system in the late 90's. [see Dragonlance, 5th Age]. MSH is also known as the FASERIP system.

Here's a suggested link from Clint H.: New Universe

"If you were a fan of Marvel's underrated New Universe, check out this guy's website....he still updates it, and he has actually invested significant time to devise stats for major AND minor NU characters for the Marvel Super Heroes RPG (both 'Classic' and 'Saga' rules)"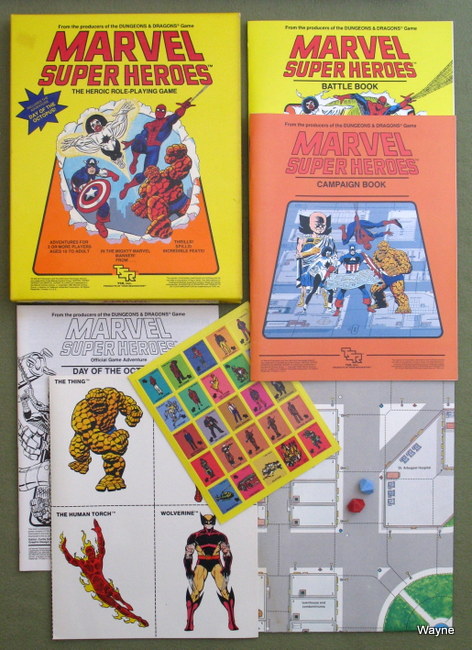 Marvel Super Heroes Basic Set (MH-0) [BOX SET]
CONTENTS:
* Battle Book (16 pages)
* Campaign Book (48 pages)
* Day of the Octopus adventure (16 pages)
* 8 cardstock hero cut-outs (white backround)
* Poster map
* 25 cardboard playing pieces

1984 ... TSR 6850 ... ISBN 0394537998

Check Wayne's Books Inventory

Noble Knight | Amazon










Deep dive into both sets over at my photoblog:

Marvel Super Heroes RPG (1984) and Revised Basic Set (1991) Contrasted + Card Sheet Reference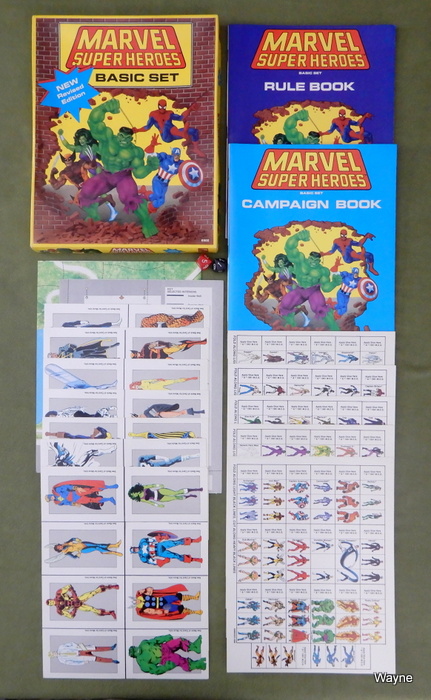 Marvel Super Heroes Basic Set, Revised [BOX SET]
CONTENTS:
• Rule Book (64 pages)
• Campaign Book with over 80 heroes & villains (64 pages)
• Two full-color maps
• 7 sheets of character cards (55 + 1 blank)
• 5 sheets of stand-up playing pieces (100)

1991 ... TSR 6900 ... ISBN 1560760877

Check Wayne's Books Inventory

Noble Knight | Amazon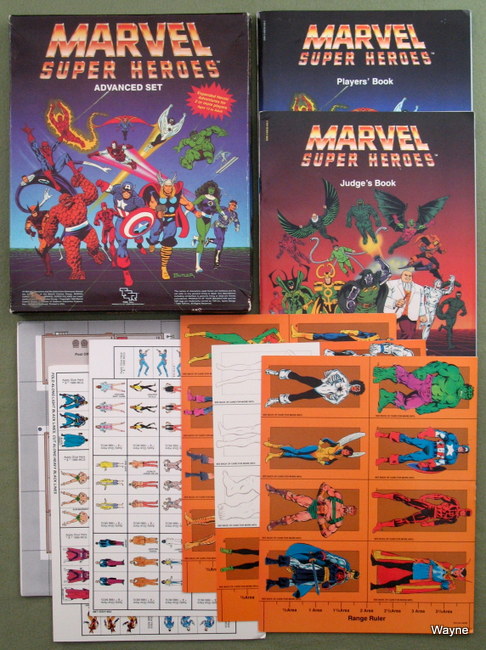 Marvel Super Heroes Advanced Set [BOX SET]
BOX CONTENTS:
• Players' Book: This 96-page book provided the rules to create characters and play the game.
• Judge's Book: This 63-page book provided rules for running campaigns and provided pre-generated characters (from Marvel Comics).
• Game Map: A 21" x 33" map players could stage battles on.
• Stand-Up Figures: 80 Card-stock counters (4 sheets) that when folded into a triangle could "stand-up" and be used with the map.
• Character Cards: 45 + 3 blanks (6 sheets) of the characters detailed in the Judge's Book. Also included a ruler for use with the map.



Lots more photos and collecting info over at my Game Gallery:
Marvel Super Heroes Advanced Set (1986 & 1992 printings) + Card Sheet Reference


1986, 1992 ... Jeff Grubb ... TSR 6871 ... ISBN 0880383682

Check Wayne's Books Inventory

Noble Knight | Amazon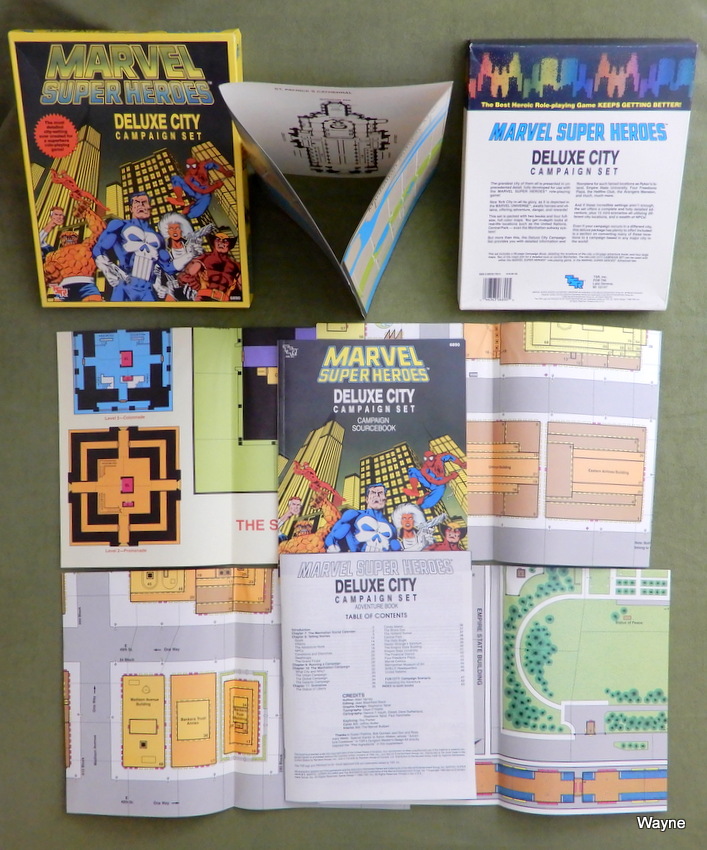 Deluxe City Campaign Set [BOX SET]


"This set includes a 96-page Campaign Book, detailing the locations of the city; a 64-page adventure book (with loose 3-panel cover -- color Manhattan Subway map); and four large maps. Two of the maps join for a detailed look at central Manhattan."

Maps (all single-sided) are:
6890XXX1701: Central Park, United Nations, Empire State Building
6890XXX1702: Midtown West
6890XXX1703: Midtown East
6890XXX1704: Statue of Liberty

1989 ... TSR 6890 ... ISBN 0880387505

Check Wayne's Books Inventory

Noble Knight | Amazon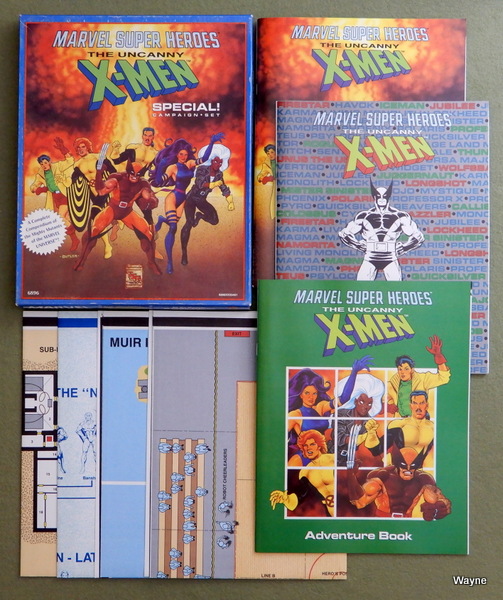 Uncanny X-Men Special Campaign Set [BOX SET]
"They are the children of the atom, possibly the next step in human evolution. They are endowed by a quirk of the genetic code with powers and abilities beyond those of mortal men and women. They can be anyone, anywhere. They can be good or evil. They are a potential resource for the future and a potential threat for the present. They are respected, hated, loved, feared. They are mutants, and they are among us.
This campaign boxed set is the most complete reckoning to date of the mutant heroes of the MARVEL UNIVERSE™ as well as their mutant and non-mutant foes. Within these pages are complete histories and membership rosters of all the super-human teams. Archetypes of mutant hero groups allow you to fit your own mutant heroes into the MARVEL UNIVERSE.
This set includes a 96-page roster book, a 64-page campaign setting book, and a 32-page adventure book. Four large full-color map sheets cover the X-Men Mansion, Excaliber's tower, Madripoor, and blueprints of the major mutant groups of the Marvel Universe."

1990 ... TSR 6896 ... ISBN 0880388889

Check Wayne's Books Inventory

Noble Knight | Amazon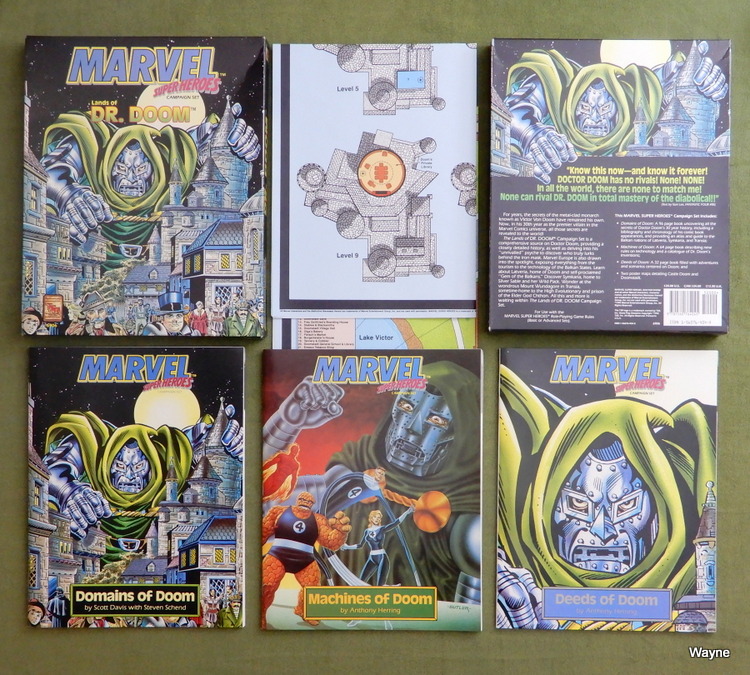 Lands of Dr. Doom [BOX SET]


Photos of a set I unboxed over at the game blog.

CONTENTS:
• Domains of Doom, a 96-page book with Doom's history, a bibliography, a chronology of comic book appearances, an atlas of Latveria, Symkaria, and Transia.
• Machines of Doom, a 64-page book with new rules for technology and Doom's inventions.
• Deeds of Doom, a 32-page book of adventures.
• Two poster maps covering Castle Doom and Doomstadt.

"Know this now—and know it forever! DOCTOR DOOM has no rivals! None! NONE! In all the world, there is none to match me! None can rival DR. DOOM in total mastery of the diabolical!!"
(Text by Stan Lee, FANTASTIC FOUR #85)

For years, the secrets of the metal-clad monarch known as Victor Von Doom have remained his own. Now, in this 30th year as the premiere villain of the Marvel Comics universe, all those secrets are revealed to the world!

The Lands of DOCTOR DOOM Campaign Set is a comprehensive source on Doctor Doom, providing a closely detailed history, as well as delving into his "unrivalled" psyche to discover who truly lurks behind the iron mask. Marvel Europe is also drawn into the spotlight, exposing everything from the tourism to the technology of the Balkan States. Learn about Latveria, home of Doom and self-proclaimed "Gem of the Balkans." Discover Symkaria, home to Silver Sabre and her Wild Pack. Wonder at the wondrous Mount Wundagore in Transia, sometime-home to the High Evolutionary and prison of the Elder God Chthon. All this and more is waiting within The Lands of DR. DOOM Campaign Set."

1992 ... Anthony Herring & Scott Davis & Steven Schend ... TSR 6905 ... ISBN 156076404X

Check Wayne's Books Inventory

Noble Knight | Amazon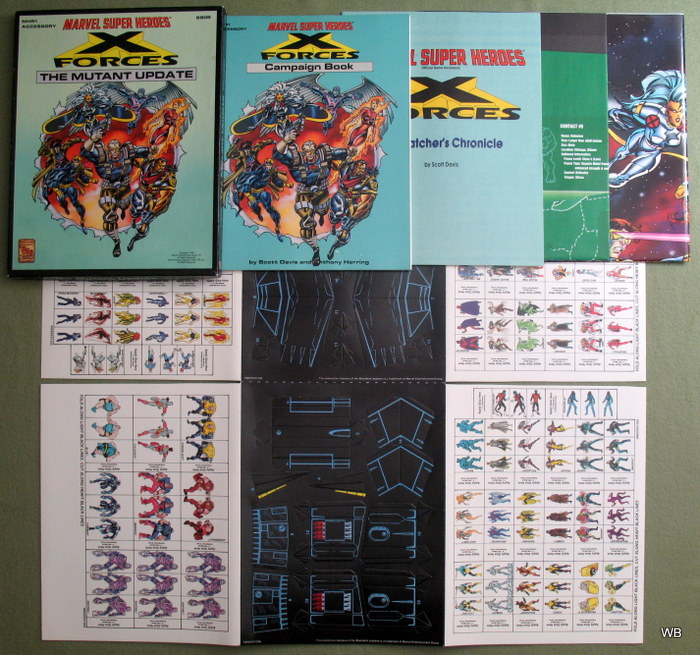 X-Forces: The Mutant Update (MHR1) [BOX SET]


"Welcome to the first Marvel Super Heroes supplement for the, ahem, genetically challenged! Inside you'll find all the information needed to run mutants, er... geecees... in a modern Marvel Super Heroes game campaign. This product presents what fans of X-Force, X-Men, X-Factor, and Excalibur have been looking for!
* First, a full color 32 page Watcher's Chronicle is filled with history updates on all the mutant teams from the Fall of the Mutants to the Mutant Agenda storylines. Filled with art and information straight from the comics, this book will appeal to gamers and comic readers alike.
* X-Forces continues with a 64 page Grandmaster's Log, narrated by Marvel's greatest gamer himself -- the Grandmaster -- with all the game information needed to integrate Marvel's X-Teams into your games. This Log contains more role-playing information on mutants than ever before, and also introduces six new and powerful mutants into your Marvel Super Heroes game universe in exciting adventures.
* Poster maps include a map of Cerebro and the exclusive X-Teams poster by Marvel artist Tom Morgan!
* 3-D character foldups and a foldup model of the Blackbird are also enclosed for your gaming enjoyment."

1992 ... Scott Davis & Anthony Herring ... TSR 6905 ... ISBN 1560764031

Check Wayne's Books Inventory

Noble Knight | Amazon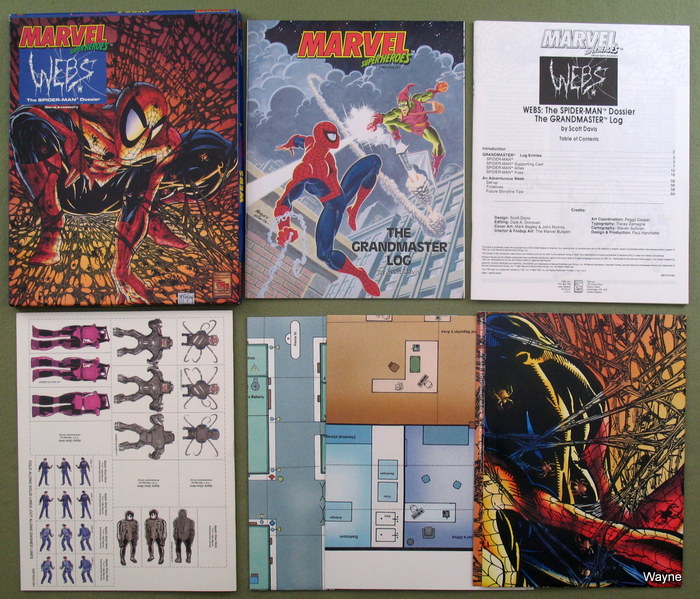 Webs: The Spider-Man Dossier (MHR2) [BOX SET]


Cover by Todd McFarlane.

There was a misprinting in this set. The Grandmaster Log cover is on the Watcher's Chronicle book.

Lots of photos at my blog entry for Webs

-Wayne

CONTENTS:
• 32 page Watchers Chronicle (anecdotes about Spider-Man's life)
• 64 page Grandmaster Log
• two-sided mapsheet
• Spider-Man poster by Todd McFarlane
• 6 pages of 3-D character fold-ups

1993 ... Scott Davis ... TSR 6907 ... ISBN 1560764058

Check Wayne's Books Inventory

Noble Knight | Amazon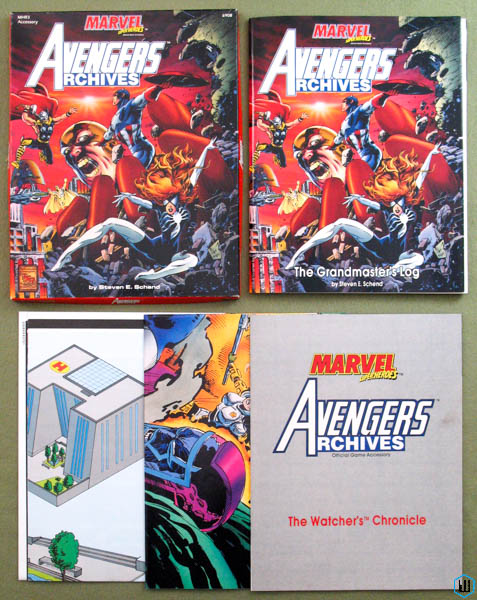 Avengers Archives (MHR3) [BOX SET]
"They are the AVENGERS, proud and powerful heroes and heroines in their own rights, unstoppable when united as the foremost superhero team of the MARVEL UNIVERSE! The latest sourcebox in the MARVEL SUPER HEROES game line covers everything players and Judges need to establish their characters as part of the team in their game campaigns.
The Watcher's Chronicle contains 32 pages of full-color material on the Avengers. The UN Charter and By-Laws are enclosed, as are excerpts from the Avengers' Rogues' Gallery, telling about many of their villains and insights on them by many different heroes. It also provides listings of all the Avengers, past and present, and their current status with the team.
The Grandmaster's Log holds game information on over 80 different heroes and villains involved with the Avengers over years. Avengers' technology is iscussed as well as details on how to establish new headquarters worthy of the Avengers for game campaigns. Most of all, the Log holds hours of exciting adventures which pit the player characters against two Masters of Evil teams!
THE AVENGERS ARCHIVES sourcebox finally contains character foldups, Avengers ID cards for player characters, and a fantastic montage poster of the Avengers and their enemies by Steve Lightle!"

Those Character fold-ups and ID cards are found inside the front & back covers of the Grandmaster's Log, fold-out panels intended for cut-out. Beware these will often be cut/missing in used sets.
-Wayne

1993 ... Steven E. Schend ... TSR 6908 ... ISBN 1560764066

Check Wayne's Books Inventory

Noble Knight | Amazon






MSH Gamebooks
Check Wayne's Books online inventory of MARVEL GAMEBOOKS in stock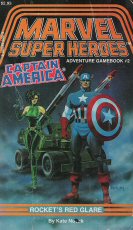 Captain America: Rocket's Red Glare (Marvel Super Heroes Gamebook #2)
"YOU are Captain America, defender of liberty, confronting one of your most deadly adversaries, as you try to keep your country from destruction....
MARVEL SUPER HEROES Adventure Gamebooks are based on TSR, Inc.'s popular MARVEL SUPER HEROES role-playing game, but you needn't know the game to enjoy the exciting adventure in this book. All you need to do is get one standard, six-sided die (not included), grab up your star-spangled shield, and assume the role of the freedom fighting Captain America as he seeks to save the land he loves from the ROCKET'S RED GLARE."

1986 ... Kate Novak ... 192 pages + Stat card bookmark ... TSR 8022 ... ISBN 0880383003

Check Wayne's Books Inventory

Buy at Amazon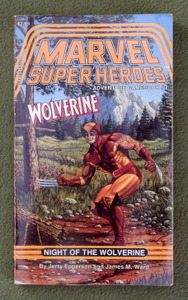 Night of the Wolverine (Marvel Super Heroes Adventure Gamebook #3)
1986 ... Jerry Epperson & James M. Ward ... 190 pages ... TSR 8023 ... ISBN 0880383011
Check Wayne's Books Inventory

Buy at Amazon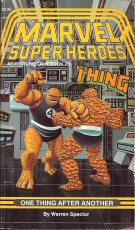 The Thing: One Thing After Another (Marvel Super Heroes Adventure Gamebook #5)
"YOU are the ever-lovin' blue-eyed Thing, rocky orange member of the Fantastic Four, plagued by a deadly enemy you cannot defeat with your monster strength alone.

MARVEL SUPER HEROEStm Adventure Gamebooks are based on TSR, Inc.'s popular MARVEL SUPER HEROES role-playing game, but you needn't know the game to enjoy the exciting adventure in this book. All you need to do is get one standard, six-sided die (not included), ready your huge rocky fists and indefatigable will, and assume the role of the Thing as he seeks to save himself and his teammates from a deadly disease in ONE THING AFTER ANOTHER."

1987 ... Warren Spector ... 191 pages ... TSR 8025 ... ISBN 0880384360

Check Wayne's Books Inventory

Buy at Amazon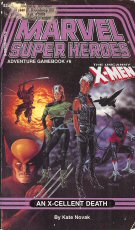 An X-Cellent Death (Marvel Super Heroes Adventure Gamebook #6)
"YOU play the part of not one but FOUR of The Uncanny X-Men™, as Wolverine™, Storm™, Rogue1", and Nightcrawler™ try to save a government think-tank from invading, thinking robots!
MARVEL SUPER HEROES® Adventure Gamebooks are based on TSR, Inc.'s popular MARVEL SUPER HEROES® role-playing game, but you needn't know the game to enjoy the exciting adventure in this book. All you need to do is get one standard, six-sided die (not included), sharpen your mutant powers, and assume the role of the Uncanny X-Men as they try to avoid their diabolical demise in AN X-CELLENT DEATH."

1987 ... Kate Novak ... 192 pages + Stat card bookmark ... TSR 8026 ... ISBN 0880384379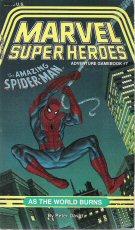 Spider-Man: As the World Burns (Marvel Super Heroes Gamebook, No 7)
"YOU are the Amazing Spider-Man1, sent around the world to retrieve pieces of an ancient amulet which,' when put back together, could send the Earth up in flames.
MARVEL SUPER HEROES Adventure Gamebooks are based on TSR, Inc.'s popular MARVEL SUPER HEROES role-playing game, but you needn't know the game to enjoy the exciting adventure in this book. All you need to do is get one standard, six-sided die (not included), don your Spider-Man suit, and assume the role of the wondrous webslinger in AS THE WORLD BURNS."

1988 ... Peter David ... 192 pages + Stat card bookmark ... TSR 8027 ... ISBN 0880384387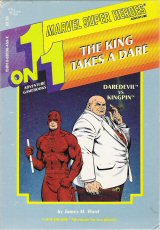 One-On-One Adventure Gamebooks: Daredevil vs Kingpin: The King Takes a Dare
"THE BIG APPLE HAS A ROTTEN CORE...
Midnight in the city of New York. It's raining. Three miles away from each other, two men make exactly the same decision at exactly the same time.
One is Daredevil, the red-costumed fighter for justice, who uses his uncanny senses to fight evil where he finds it.
The other is Kingpin, the pinstripe-clad warrior, who has followed his own code of ethics while fighting and clawing his way to the top of a criminal empire more powerful than many small nations.
Each has decided to eliminate the other in a duel to the death on the streets of New York.
Inside are two books for two players. One of you becomes Daredevil, the other Kingpin. Everything you need to play is provided: two books, Combat Table, and Character Sheets. No dice are required. All you need is a healthy supply of luck and two pencils.
PLAY ANYTIME, ANYWHERE, MANY TIMES!
The game is different every time you play, and your well-being is always at stake in THE KING TAKES A DARE."

1987 ... 160 pages(x2) ... TSR 8469 ... ISBN 088038459X






MSH Miniatures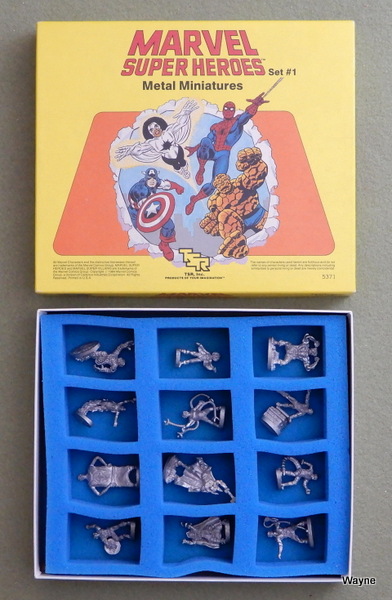 Unpainted Metal Miniatures, Set 1


Set contains 12 unpainted metal miniatures: Spider-man, The Scorpion, Mr. Fantastic, Doctor Octopus, Thing, Captain Marvel, Captain America, Radioactive Man, Doctor Doom, Human Torch, Hulk, and Thor.

-Wayne

1984 ... TSR 5371

Check Wayne's Books Inventory

Buy at Amazon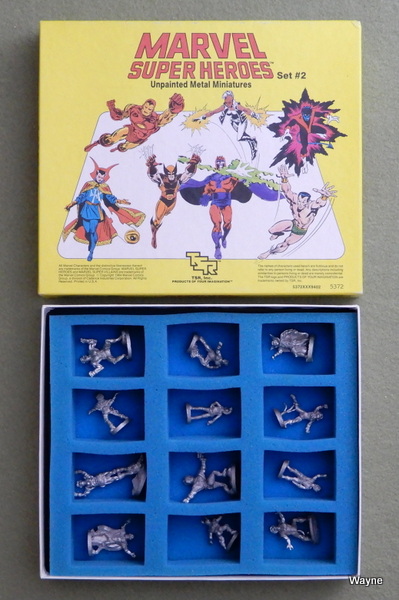 Unpainted Metal Miniatures, Set 2


Set contains 12 unpainted lead miniatures: Storm, Ariel, Iron Man, Wolverine, Nightcrawler, Kang, Dr. Strange, The Leader, Magneto, Colossus, Sub-Mariner, Rogue.

1984 ... TSR 5372

Check Wayne's Books Inventory

Buy at Amazon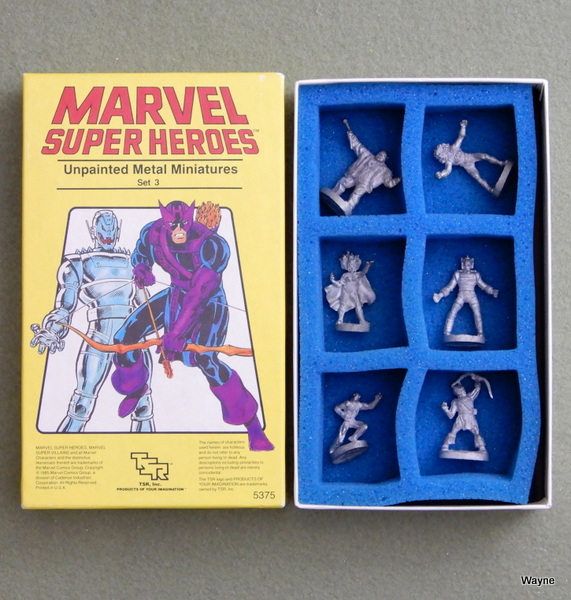 Unpainted Metal Miniatures, Set 3


Contains 6 unpainted figures: Hawkeye, Spiderman (new costume), She Hulk, Scarlet Witch, Ultron, Kingpin.

1985 ... TSR 5375

Check Wayne's Books Inventory

Buy at Amazon






| MA / MH Series | MHAC / MU Series | ME / MLA / MLBA / MSL / MT / MX series | MSH SAGA system |

---
| 2300 AD | 7th Sea | AD&D | Aftermath! | Albedo | Aliens | Arduin | Alternity | Amazing Engine | Amber Diceless | Ars Magica | Atlantis | Babylon 5 | Battletech | Boardgames / Wargames - Other | Boot Hill | Buck Rogers | Bushido | Call of Cthulhu | Castle Falkenstein | Chill | Chivalry & Sorcery | Conan | Cyberpunk | Cyborg Commando | Dark Conspiracy | DC Heroes | Deadlands | Doctor Who | DragonQuest | Dream Park | Dune | Dungeons & Dragons | Dying Earth | Earthdawn | Elfquest | Elric / Stormbringer | Everway | The Fantasy Trip | Foreign Language Roleplaying Games | Game of Thrones | Gamma World | GangBusters | Gear Krieg | Ghostbusters | GURPS | Harn | High Fantasy | Indiana Jones | James Bond | Jorune | Judge Dredd | Justifiers | Living Steel | Lords of Creation | Man, Myth & Magic | Marvel Super Heroes | Middle Earth Role Playing | Midkemia | Military Roleplaying Stockpile | Millennium's End | Miscellanea | Morrow Project | Mythus - Dangerous Journeys | Nightlife | Pendragon | Phoenix Command | Powers & Perils | Red Sonja | Renegade Legion | Riddle of Steel | Ringworld | Robotech | Rolemaster | Runequest | Shadowrun | Sovereign Stone | Space 1889 | Space Master | Space Opera - Other Suns | Star Ace | Star Frontiers | Star Trek | Star Wars | Super Hero RPGs | Talislanta | Talisman | Tekumel | Terminator 2 | Thieves' World | Timemaster | Top Secret | Traveller | Tribe 8 | Tunnels & Trolls | Twilight: 2000 | Villains & Vigilantes | Warhammer | Whispering Vault | Willow | Witchcraft | Ysgarth | CAMPAIGN BUILDING | RPG MAGAZINES | Avalanche Press | Avalon Hill | Bard | Chaosium | Columbia Games | Dream Pod 9 | Fantasy Games Unlimited (FGU) | FASA | Flying Buffalo | Game Designers Workshop (GDW) | Gamelords | Gamescience | Games Workshop | Judges Guild | Leading Edge Games | Mayfair Games | Metagaming | Pacesetter | Palladium | SPI | Steve Jackson Games | Tri Tac | TSR | Victory Games | West End Games | White Wolf | Wizards of the Coast | Yaquinto Publications |
---
| Return Home | What's New | Contact WaynesBooks.com |