RPG Magazines


Adventure Gaming Magazine | Ares Magazine | BattleTechnology | Challenge | Different Worlds | Dragon | Dungeon | Far & Away | Gryphon | Interface | JTAS - Journal of the Travellers' Aid Society | Little Wars | MegaTraveller Journal | Journeys | Pegasus | Shadowland | Sorcerer's Apprentice | Stardate | Tales of the Reaching Moon | Travellers' Digest | Traveller Chronicle | White Dwarf | White Wolf | Wyrms Footnotes




Adventure Gaming Magazine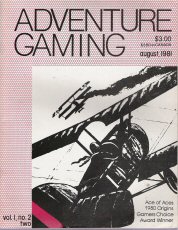 Issue 2
(Aug 1981) Contents include: "ACE OF ACES" by Tim Kask; "Going Down at Sea" (TASK FORCE) by John Prados; "Great Sieges of Medieval History" by Michael H. Kluever; "Winter Campaigning in DIVINE RIGHT" by Glenn Rahman; "Crossbows in FRP Games" by Ronald & Kevin Pehr; "Waging TITAN" designer's notes by Jason McAllister; "RAMSPEED optional variant rules" by Ronald & Kevin Pehr; "The 10 Commandments" of Winning DIPLOMACY" by Lewis Pulsipher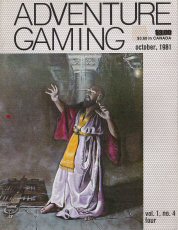 Issue 4
(Oct 1981) Contents include: "THIEVES WORLD review" by Graydon Gorby & Ron Woodrum; INTERVIEW -- Ace of Aces co-designer Al Leonardi; "Feudal DIPLOMACY - Variations On A Theme" by Lewis Pulsipher; "Odd Thoughts From A TRAVELLER Referee" by Richard Williams; "FOX-2 - MIG KILLERS" by J.D. Webster; "PYRAMID OF LIGHT" SRP Module; "The First Romulan War - STAR FLEET BATTLES scenarios" by Rick D. Stuart; Finieous Fingers by JD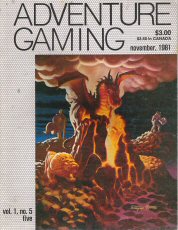 Issue 5
(Nov 1981) Contents include: "Evolving Forces In TITAN" by Dave Trampier; "The History of TITAN" by Jason McAllister; "Waging TITAN -Tactics" by Jason McAllister; "The Chaos of Battle: Partnership Boardgames" by Lewis Pulsipher; "Coming of Age on Cidri -- pre-adventuring experience in THE FANTASY TRIP" by Harry White; "The First Romulan War Pt. II -- STAR FLEET BATTLES scenarios" by Rick D. Stuart; "Everything ... To Know About Atari SPACE INVADERS" by Mark Cummings; "What Our Hobby Needs Is A Yearbook" -- Guest Opinion by Lewish Pulsipher; "INTERVIEW - Al Leonardi, co-designer of ACE OF ACES, Pt II"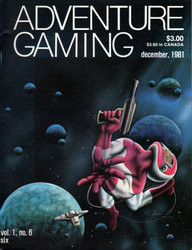 Issue 6
Contents include: "Stranded on Arden" - a short adventure for TRAVELLER by Marc Miller; "Variant Rules for WAR IN EUROPE"
by Steve List; "Table-Top Replay: Speculative History: Mexico vs. Republic of Texas — 1841" by Samuel T. Gill; "The Zentag Connection - close combat in TRAVELLER" by J. D. Webster; "RIPs In The TRAVELLER Universe - rebels, insurgents & partisans: variant NPCs" by Rick D. Stuart; "Beer & Pretzels - Games I Have Loved and Loathed - a paean to games played simply for fun" by Timothy Kask; "ACEing Up RICHTHOFEN'S WAR - combining ACE OF ACES and RW" by Jeffrey H. Simpson

Dec 1981 ... 46 pages ... Manzakk Publishing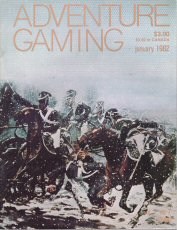 Issue 7
(Jan 1982) Contents include: "A Dragon on his Back - How much of a good thing is too much?" by Rick D. Stuart; "Strategic Options In DIVINE RIGHT - Observations from the designer" by Glenn Rahman; "Armies of the German States During the Napoleonic Wars: The Bavarian Army — Part 1" by George Nafziger; "The Spinner: game fossil deserving of extinction" by Ron Woodrum; "STAR FLEET BATTLES Variant - Andorian Intervention" by Rick D. Stuart; "Fantasy and Science Fiction RISK Variants" by Lewis Pulsipher; "SQUAD LEADER Variant Scenario" by Bryan J. Bullinger; "The Mystery of STALINGRAD" by Lewis Pulsipher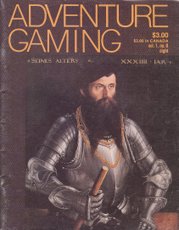 Issue 8
February 1982 ... Timothy J. Kask (editor) ... Manzakk Publishing

Ares Magazine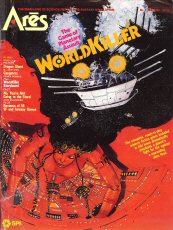 Ares Magazine #1: WorldKiller
CONTENTS:
• WorldKiller: The Game of Planetary Assault (Includes fold-out map and sheet of 100 counters) • Dragon...Ghost, fiction by M. LUCIE CHIN • Gangsters, fiction by HENRIK NORDLIE • WorldKiller Storyboard, fiction by REDMOND A. SIMONSEN • No, You're Not Going to the Stars (SCIENCE FOR SCIENCE FICTION) • more.

March 1980 ... 39 pages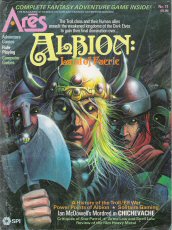 Ares Magazine #11: Featuring Albion, Land of Faerie
Classic wargaming magazine. This issue features "Albion: Land of Faerie" game, including a sheet of counters. Articles: A History of the Third Fomorian War; The Power Points of Albion, + more.

1981 ... 34 pages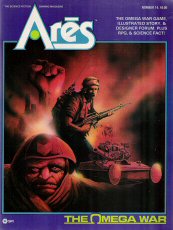 Ares Magazine #14: The Omega War
CONTENTS:
• Omega War game (inc. game mat & sheet of 200 counters), fiction, and Designer Forum • Science Fact: The Troubled Sun • The College of Rune Magics • more.

1983 ... 62 pages






Far & Away
Far & Away, Issue 2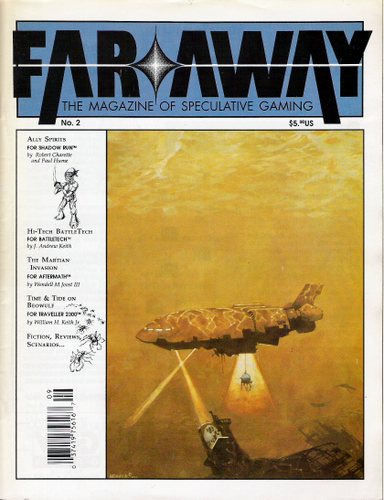 ARTICLES: Time & Tide on Beowulf (2300AD); Call to Arms, Scenario (2300AD); Hi-Tech Battletech; Ally Spirits (Shadowrun); You Are There, Scenario (Aftermath); Beachcomber, Fiction by Mike Resnick; more.

1990 ... 60 pages






Little Wars

See Also: Strategic Review Magazine.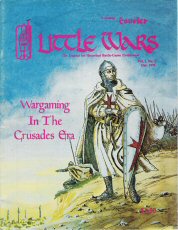 Little Wars Magazine, Issue 3
ARTICLES: The Great Retreat - The Soviet Army (22 June - 1 December 1941); Corps hor Ligne - Westphalia; Battle Surprise in Gaming; Wargaming in the Middle East: Crusades (C. 1095 - 1291); Battle of El Quiti (1099); Solitaire Fight in the Skies; Base Size Incompatibility Solved for WRG Ancients & Class Warfare; more.

Dec. 1976 ... 30 pages ... TSR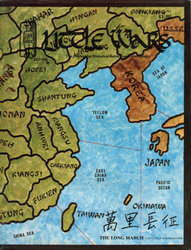 Little Wars Magazine, Issue 7
ARTICLES: The Long March (Complete centerfold game with board and pieces); The Prussian Are Coming — Creating Airfix Prussians; Battle of Hohenlinden — 1800 — Wargame Scenario; Hannibal's Invasion of Rome; Incident at Beni Horrock — 1:76 armor reprise; Japan & China: Ancient Enemies — game background; What If??? — The Importance of Stamford Bridge; Little Warriors — what's new in figures; The Trigger Ship of World War I — the real story behind the Lusitania; Reminiseenses of a Solo Wargamer — Pt. III; Punitive Expedition of the Ostmark — 1608 — Cossacks vs. the Holy Roman Empire; Armies of the Dark Ages — Pt III the Normans.

Fall 1977 (Vol. 2 No. 3) ... T.J. Kask (editor) ... 31 pages + centerfold game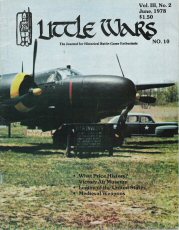 Little Wars Magazine, Issue 10
ARTICLES: What Price History?; Legion of the United States; Armies of the Dark Ages - Figure Sources; Military Polearms of Medieval Europe; Rail Baron - A New Classic; The Two Handed Sword; more.

June 1978 ... 31 pages ... TSR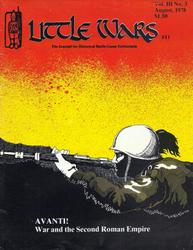 Little Wars Magazine, Issue 11
ARTICLES: Gas at Guadacanal; AVANTI!! - War and the Second Roman Empire; Reviews; Squad Leader: A Case of Deja Vu; A Quiet Day in Russia; Wargamers Reference for the American Civil War: Desperation in the West; more.

August 1978 ... 34 pages






Pegasus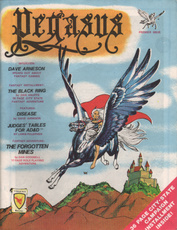 Pegasus Magazine, Issue 1 (Premier Issue)
ARTICLES: Interview - Dave Arneson; The Black Ring (City State Campaign Installment); Disease, by Dave Arneson; Judge's Tables for AD&D, by Lewis Pulsipher; The Forgotten Mines (adventure); more.

1981 ... 96 pages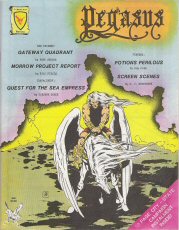 Pegasus Magazine, Issue 5
ARTICLES: Quest for the Silver Empress, a 32-page City State campaign aid; Morrow Project equipment; Gateway Quadrant - Traveller; Hanging Out in the City State - attend a Party at the Slave Master's Guild; Origin of the Black Arts; Potions Perilous; more.

1981 ... 96 pages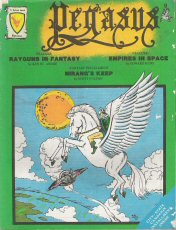 Pegasus Magazine, Issue 9
ARTICLES: Nirang's Keep, a City State of the Invincible Overlord installment; Rayguns in FRP Systems; Empires in Space, a complete Traveller sector; Traveller tips; Vacuum suits in Traveller; The Great Seal, an Aftermath/Morrow Project adventure; more.

1982 ... 94 pages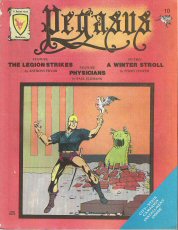 Pegasus Magazine, Issue 10
ARTICLES: Revenge of the Ant God, a City State of the Invincible Overlord installment; The Legion Strikes, a Champions adventure; Ruins; Physicians, new skills for D&D; Divine Intervention; Tower of the Calif; Everyday items; more.

1982 ... 94 pages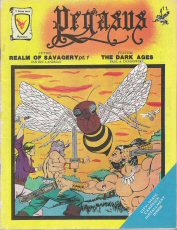 Pegasus Magazine, Issue 11
ARTICLES: Rumors at the Wayfarer's Inn, a City State of the Invincible Overlord installment; Kaissa the Game, the Gor series Game Rules; New arms and armor; Crypt of the Living Dead, a Fantasy Trip adventure; Fantasy Calendars; Rolling against attributes in AD&D; The Dark Ages; more.

1983 ... 94 pages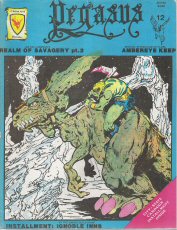 Pegasus Magazine, Issue 12
ARTICLES: Ignoble Inns, a City State of the Invincible Overlord installment; Operation Psychopath, a Champions mini-adventure; Mask of the Faceless Sorcerer, a Stormbringer scenario; Written Languages, fantasy alphabets and their uses; Rumors at the Wayfarer's Inn Addition (errata); Tower of Babel, by Graeme Davis; more.

1983 ... 94 pages






| Challenge Magazine | Different Worlds | Dragon Magazine | Dungeon Magazine | Gryphon | Sorcerer's Apprentice | Stardate | White Dwarf |

---
| 2300 AD | 7th Sea | AD&D | Aftermath! | Albedo | Aliens | Arduin | Alternity | Amazing Engine | Amber Diceless | Ars Magica | Atlantis | Babylon 5 | Battletech | Boardgames / Wargames - Other | Boot Hill | Buck Rogers | Bushido | Call of Cthulhu | Castle Falkenstein | Chill | Chivalry & Sorcery | Conan | Cyberpunk | Cyborg Commando | Dark Conspiracy | DC Heroes | Deadlands | Doctor Who | DragonQuest | Dream Park | Dune | Dungeons & Dragons | Dying Earth | Earthdawn | Elfquest | Elric / Stormbringer | Everway | The Fantasy Trip | Foreign Language Roleplaying Games | Game of Thrones | Gamma World | GangBusters | Gear Krieg | Ghostbusters | GURPS | Harn | High Fantasy | Indiana Jones | James Bond | Jorune | Judge Dredd | Justifiers | Living Steel | Lords of Creation | Man, Myth & Magic | Marvel Super Heroes | Middle Earth Role Playing | Midkemia | Military Roleplaying Stockpile | Millennium's End | Miscellanea | Morrow Project | Mythus - Dangerous Journeys | Nightlife | Pendragon | Phoenix Command | Powers & Perils | Red Sonja | Renegade Legion | Riddle of Steel | Ringworld | Robotech | Rolemaster | Runequest | Shadowrun | Shatterzone | Sovereign Stone | Space 1889 | Space Master | Space Opera - Other Suns | Star Ace | Star Frontiers | Star Trek | Star Wars | Super Hero RPGs | Talislanta | Talisman | Tekumel | Terminator 2 | Thieves' World | Timemaster | Top Secret | Traveller | Tribe 8 | Tunnels & Trolls | Twilight: 2000 | Villains & Vigilantes | Warhammer | Whispering Vault | Willow | Witchcraft | Ysgarth | CAMPAIGN BUILDING | RPG MAGAZINES | Avalanche Press | Avalon Hill | Bard | Chaosium | Columbia Games | Dream Pod 9 | Fantasy Games Unlimited (FGU) | FASA | Flying Buffalo | Game Designers Workshop (GDW) | Gamelords | Gamescience | Games Workshop | Judges Guild | Leading Edge Games | Mayfair Games | Metagaming | Pacesetter | Palladium | SPI | Steve Jackson Games | Tri Tac | TSR | Victory Games | West End Games | White Wolf | Wizards of the Coast | Yaquinto Publications |
---
| Return Home | What's New | Contact WaynesBooks.com |