Call of Cthulhu - Classic Scenarios
Call of Cthulhu Hub
Classic Campaign - Gaslight - Dreamlands - Present Day - D20 Cthulhu - Pagan Publishing (Delta Green) - Unspeakable Oath
Non-Chaosium Publications: TOME | Triad Entertainments | Grenadier
BROWSE MY CALL OF CTHULHU ITEMS CURRENTLY IN STOCK

Call of Cthulhu staplebound scenarios & sourcebooks: All together in a photo.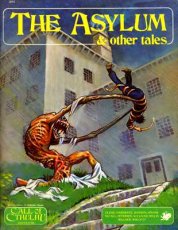 The Asylum and Other Tales
Sections: The Auction (McCall), The Madman (Harmon), Black Devil Mountain (Hargrave), The Asylum (McCall), The Mauretania (Willner), Gate from the Past (Clegg), Westchester House (Wolcott).
Seven Sinister Situations: In every Call of Cthulhu campaign certain situations arise regularly. This book takes seven of those situations and turns them into horrifying adventures. Each story is meant to be used freely by the Keeper (the gamemaster) when he or she needs a quick plot for an impromptu game or as fillers in larger campaigns. Investigators' Information, Keeper's Background, and suggestons for use are provided for each episode. The center four, gray-edged, pages are to be carefully pulled out and handed to players appropriately as per the scenario.
1983 ... 80 pages (including 4 pages of pull-outs included in the page count) ... CHAO 2012, CHAO 2303
Check Wayne's Books Inventory

Buy at Amazon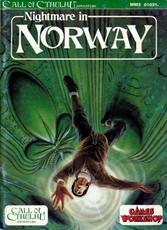 Nightmare in Norway
Pages 11-26 are character standups and pull-out maps. -W

"A Call of Cthulhu adventure for 2-5 moderately experienced player characters, set in Norway in February 1925.

WAR HERO KILLED BY WOLVES

The body of Lieutenant Cleary is found near the village of Vikenberg. It has been badly mutilated. Thejocals say Cleary fell while skiing and was attacked by wolves ... yet Cleary was an accomplished skier, and his cousin, Sir Eustace Cleary, is perturbed ... Behind the tragedy lie blackmail threats, and the hint of something darker in the mountains. Sir Eustace cannot afford any scandal, as he is standing for Parliament. He has heard of your investigative abilities, and offers you a good fee. Will you enter the nightmare in Norway?"

1985 ... Marcus L. Rowland ... 36 pages ... Games Workshop

Check Wayne's Books Inventory

Buy at Amazon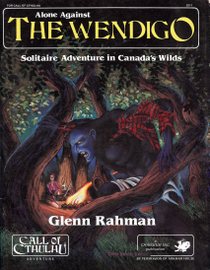 Alone Against the Wendigo: Solitaire Adventure in Canada's Wilds
* Special Fold-Out For Easy Use.
* Modified Investigator Sheets for Your Nadelmanns.
* 654 Entires – Many Sub-Adventures and Final Outcomes.
* Trace Numbers for Convenient Backtracking.

Deep in the Big Woods of Canada, you canoe up the "River of Power," the mysterious North Hanninah, in search of the unknown. An anthropologist, you have brought your best students, and an Indian guide. It will take all of your combined skills, ingenuity, and luck if any of you are to survive after daring the forces of the North.

ALONE AGAINST THE WENDIGO is a deadly solo adventure for CALL OF CTHULHU role-players. In it you become L. C. Nadelmann, dashing young professor from Mistakontic U.

Characteristics for all the expedition members are specified, as are the skills for your player-companions. You allot the skill points for Dr. Nadelmann at the start of each attempt to uncover the secrets of the mysterious valley.

The final tally of your Hanninah Mythos points determines the relative success of each trip to the valley, but the real success is in just surviving – for the fame and fortune so deservedly yours, so tantalizingly out of reach, is sternly guarded by unfathomable entities.

Life is risky, alone against the wendigo.

1985 ... Glenn Rahman ... ?? pages ... CHAO 2311 ... ISBN 0933635257

Check Wayne's Books Inventory

Buy at Amazon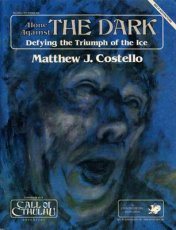 Alone Against the Dark
"ALONE AGAINST THE DARK is a sinister solo adventure for CALL OF CTHULHU roleplayers. Beginning with the theft of a priceless relic, four friends are drawn one by one into a dark design of mystery and terror. As first a quiet linguistics professor from Miskatonic University, you must solve the riddle of disturbing disappearances to forestall grim disasters which threaten the planet.

• Special Pyramid-Search Insert.
• 593 Entries - Many Sub-Adventures and Horrifying Outcomes.
• Trace Numbers for Convenient Backtracking.
• Location System for Free- Will Geographical Movement Between Programmed Story Tracks.
• Calendrical Record-Keeping and Expenditures in a Race Against Time.
• Modified, Removable Investigator Sheets."

1985 ... 78 pages ... CHAO 2312 ... ISBN 0933635265

Check Wayne's Books Inventory

Buy at Amazon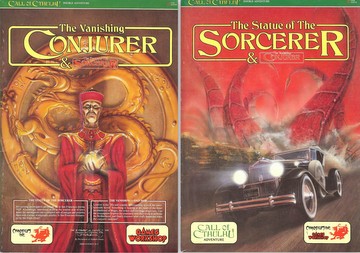 The Vanishing Conjurer and The Statue of the Sorcerer
A double adventure collaboration by Chaosium & Games Workshop for Call of Cthulhu.

"THE STATUE OF THE SORCERER:
An exciting investigative adventure in San Francisco during 1925. A seemingly innocuous death in the seedier side of town draws the investigators into a complex web of intrigue and presents them with a series of enigmatic puzzles. Is San Francisco threatened by the Elder gods? (Chris Elliott & Richard Edwards)

THE VANISHING CONJURER: London in the '20s and scandal threatening to rock the entertainment world. Something is lurking at the heart of the Inner Brotherhood of Magic, the select club for stage magicians. Can the investigators impress the examiners with their tricks to infiltrate the Brotherhood, and finally discover what really happened when the conjurer vanished?" (Mike Lewis & Simon Price)

1986 ... CHAO 2318 ... ISBN 0933635303

Check Wayne's Books Inventory

Buy at Amazon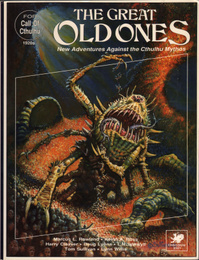 The Great Old Ones
Pages 145 through 176 are detachable handouts.

"Six New and Deadly Adventures Profusely Illustrated by Tom Sullivan.

CTHULHU and his minions plot against the peace and surety of the natural world, but so do a host of Powers distinct from him. Along with Great Cthulhu, these entities comprise the Great Old Ones, awesome beings who came to this planet hundreds of millions of years ago, and who dwell here yet in the dark places, just beyond the reach of man.

THE GREAT OLD ONES consists of a set of six scenarios for Call of Cthulhu: 'The Spawn' is in the Wild West, with Indians, Wobblies, and bad guys; 'Still Waters' is an adventure for people who hate to lend books; 'Tell Me, Have You Seen the Yellow Sign?' makes a symbolic stop-over in New Orleans; 'One In Darkness' features South Boston hoodlums; 'The Pale God' introduces investigators to an unusual contract; 'Bad Moon Rising' is an experience to remember. The adventures can be presented in sequence, as a loose campaign; limited cross-references allow the scenarios to stand independently."

1989 ... Marcus L. Rowland & Kevin A. Ross & Harry Cleaver & Doug Lyons & L.N. Isynwill & E.C. Fallworth (introduction) ... 176 pages ... CHAO 2321 ... ISBN 0933635389

Check Wayne's Books Inventory

Buy at Amazon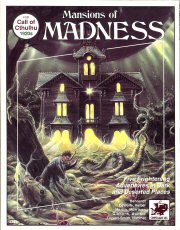 Mansions of Madness
"MANSIONS OF MADNESS is a new collection of five independent tales set in the 1920s. Of varying length and complexity, these adventures can be planted into an ongoing campaign as the keeper sees fit. Some can be played in a single night; others will require several nights to complete. They can readily be used as plot twists, interesting diversions or red herrings."

1990 ... Fred Behrendt & Michael DeWolfe & Keith Herber & Wesley Martin & Mark Morrison ... 128 pages ... CHAO 2327 ... ISBN 093363563X

Check Wayne's Books Inventory

Buy at Amazon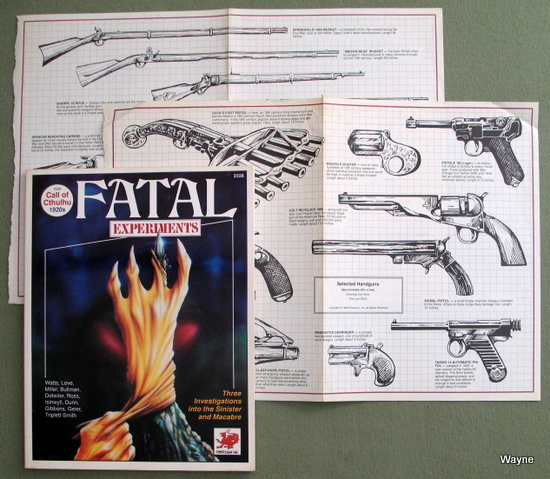 Fatal Experiments


"Three Macabre Mythos Experiments, Unusual Weapons, Weapons Diagram Foldouts.

For the Good of Mankind. Whether in the pursuit of knowledge or of vengeance, man has ever striven to seek greater knowledge of the world around him. Sometimes the seeker learns of things dark and forbidden, things never meant to be discovered. The seeker of knowledge finds that the world is infinitely vaster and more sinister than imagined, and is driven to ultimate despair and insanity. Already of warped mind, the seeker of vengeance inevitably turns his discoveries to corrupt ends.

Fatal Experiments is a collection of three independent 1920s adventures for the Call of Cthulhu roleplaying game. Two of the three scenarios are suitable for both beginning and experienced players, making this book a perfect companion for first-time buyers of the Call of Cthulhu game system. The remaining adventure is unusually dangerous – to be played only by experienced, foolhardy investigators. The article New & Old Weapons for Call of Cthulhu discusses black-powder weaponry, and details many unusual and custom guns that have been created by enterprising gunsmiths, or that might be commissioned by investigators. Two 2-page fold-outs illustrating many of these antique or unusual firearms are provided."

1990 ... 128 pages + 2 fold-out antique firearms displays ... CHAO 2328 ... ISBN 0933635729

Check Wayne's Books Inventory

Buy at Amazon






Blood Brothers: Thirteen New Single Night Adventures
Uncle Timothy's Will, by Keith Herber; Oath of Blood, by Sam Shirley; Nemesis Strikes!, by Kevin A. Ross; The Land That Time Ignored, by Gregory Detwiler & John B. Monroe; The Dollmaker, by Geoff Gillan; Ancient Midget Nazi Shamans, by Barbara Manui & Chris Adams; Honeymoon in Hell, by Marcus L. Rowland; Dead on Arrival, by John B. Monroe; The Swarming, by Tony Hickie & John B. Monroe; Spawn of the Deep, by Michael Szymanski; Trick or Treat, by Scott Aniolowski; Horror Planet, by Fred Behrendt.

1990 ... 144 pages ... CHAO 2329 ... ISBN 0933635699

Check Wayne's Books Inventory

Buy at Amazon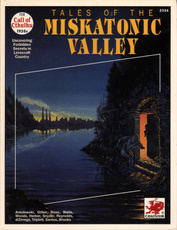 Tales of the Miskatonic Valley
"Uncovering Forbidden Secrets in Lovecraft County
Tales of the Miskatonic Valley is the fourth book in the Lovecraft Country series and contains six adventures set in communities and rural areas along H.P. Lovecraft's Miskatonic River. Although intended to compliment earlier releases - Arkham Unveiled, Return to Dunwich, and Kingsport, City in the Mists - these adventures are wholly independent and can be enjoyed without benefit of the other books in the series. In fact, with only a small amount of keeper ingenuity most scenarios can,be easily transplanted to locations outside the Miskatonic Valley."
1991 ... Kevin A. Ross & Scott Aniolowski & Geoff Gillan & Richard Watts & Keith Herber & Erik Herber & Todd A. Woods ... 128 pages + map ... CHAO 2334 ... ISBN 0933635834
Check Wayne's Books Inventory

Buy at Amazon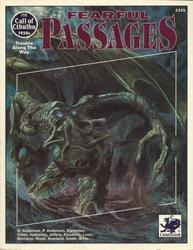 Fearful Passages: Nine Tickets to Terror
"Nine Terrifying Journeys on Various Continents. Use Independently or Within Other Adventures.

Now Boarding.
The Tarrent Tabor Aerial Yacht is a huge triplane made of wood and fabric, with the passengers seated in wicker chairs. Upon boarding, each passenger finds a card baring his or her name on the assigned seat. Captain and co-pilot welcome everyone to the flight, and explain the basic rules for air travellers: wrap up warmly, stay in your seat, and don't open a window and stick your head out. The engines of the aircraft thunder to life, though a series of backfires draw loud curses from the mechanics. Thoughtfully, the airline provides cotton wool earplugs – it is too loud to speak anyhow. Down field, ground crews fire shotguns to scare off birds in the area. The aircraft lumbers down the runway and, with a last bump, the Tabor soars up from the field, pitching from side to side.

Aircraft, Trains, Automobiles, Dirigibles, Diving Suits, Canal Boats, Armoured Cars, Elephants, Siberian Sledges.

The golden age of travel occurred between 1880-1939. As travelling times shrank, destination became more important than the journey, a notion now so common-sensical that we blink to think that the reverse was once truer.

FEARFUL PASSAGES contains nine adventures set in the 1920s, when travel could be by turns long, arduous, luxurious, and debilitating, but always full of incident and meaning."

Fear of Flying (Marcus Rowland) * The Iron Ghost (Geoff Gillan) * Furious Driving (Penelope Love) * Rigid Air (Marion Anderson & Phil Anderson) * Crash Dive (Steve Hatherley) * Slow Boat (Peter F. Jeffery & Mark Morrison) * Armored Angels (Gustaf Bjørksten) * Along the Indus (Sean Branney & Lynn Willis) * Sleigh Ride (Steve Kluskens & Liam Routt) * Automobile Chase Rules (John B. Monroe & Lynn Willis)

1992 ... 128 pages ... CHAO 2335 ... ISBN 0933635877

Check Wayne's Books Inventory

Buy at Amazon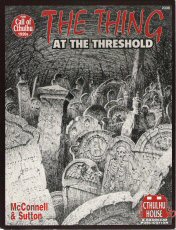 The Thing at the Threshold
"The human brain can be divided into two halves. The left side contains our powers of reason. The right side holds our subconscious, and the potential for madness. A dramatic chain of unsettling events over the past ten years leads to wholesale madness. A complete campaign in three chapters - detailed background for important characters - extensive, deluxe player handouts."

1992 ... Paul McConnell & Neal Sutton ... 96 pages ... CHAO 2339 ... ISBN 0933635907

Check Wayne's Books Inventory

Buy at Amazon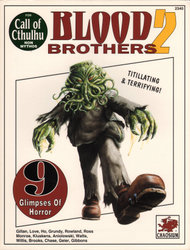 Blood Brothers 2
"9 one-night adventures, a movie poster for each. Special characters are provided."

1992 ... 128 pages ... CHAO 2340 ... ISBN 0933635915

Check Wayne's Books Inventory

Buy at Amazon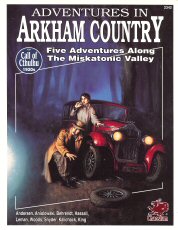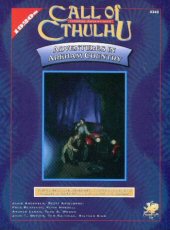 Adventures in Arkham Country
"Lovecraft Country adventures in Bolton, Kingsport & the Dreamlands, Arkham, Dunwich, and the Arkham Sanitorium...

ADVENTURES IN ARKHAM COUNTRY is the sixth book of the Lovecraft Couuntry series of supplements for Call ofCthulhu. This series also includes Arkham Unveiled, Return to Dunwich, Kingsport, Tales of the Miskatonic Valley, and Escape From Innsmouth. This book stands alone and can be used and enjoyed fully without reference to the other volumes. ADVENTURES IN ARKHAM COUNTRY includes five separate adventures, taking the investigators the full length of the Miskatonic Valley from Kingsport on the Atlantic coast to the headwaters of the Miskatonic in the hills surrounding Dunwich."

1993, 1997 ... 128 pages ... Chaosium 2342 ... ISBN 1568820046

Check Wayne's Books Inventory

Buy at Amazon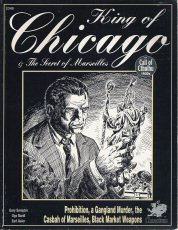 King of Chicago
Prohibition, a Gangland Murder, the Casbah of Marseilles, Black Market Weapons

"The Secret of Marseilles & King of Chicago. Two cities in the 1920s face ruthless gangs, charismatic bosses, an unyielding thirst for vengence, and the malevolence of the mythos."

1994 ... Gary Sumpter & Ugo Bardi & Earl Geier ... 63 pages ... CHAO 2348 ... ISBN 1568820208

Check Wayne's Books Inventory

Buy at Amazon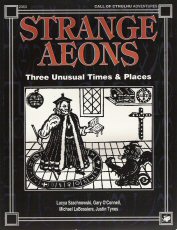 Strange Aeons
"THREE UNUSUAL TIMES & PLACES... • Bizarre Events at a U.N. Moonbase • Pestilence and Plague in Elizabethan London • Secrets of the Spanish Inquisition.

During the month of January, 1603, London is in the grip of a bitterly cold winter. The air is crisp with a heavy frost that is slow to thaw. Rumors abound that the plague is once more abroad in the city -- knowledge that weighs heavily on the populace.
Numerous houses have already been boarded up; people have again taken to slaughtering stray dogs, wearing too-strong perfumes, and applying arsenic under the armpits. The Pest House is filling, and deaths are on the rise.
Now you hear that Queen Elizabeth is unwell, and will probably die before spring. Everyone is wary of others, and foreigners certainly are carriers.
It is a depressing time to be about in the city.
STRANGE AEONS contains three adventures set in unusual times and places: in Renaissance Spain during the logical, dread, and austere Spanish Inquisition, in a twenty-first century lunar outpost, and in Elizabethan England, among certain talented playwrights. Six pre-generated characters are provided for each scenario."

1995 ... 90 pages ... CHAO 2353 ... ISBN 1568820313

Check Wayne's Books Inventory

Buy at Amazon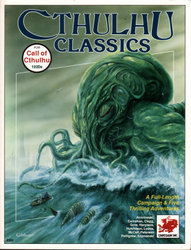 Cthulhu Classics
"A Full-Length Campaign, Five More Heart-Pounding Adventures, and a Full-Color Mythos Gallery! The Rise of Forgotten R'leyh.

Cthulhu sleeps in the corpse city of R'leyh. Through unblinking eyes he has watched mountains grow and empires rise and fall. He has lain quiet, unmoving. Now he stirs. He senses that the stars are once again converging into their proper formations. His worshippers have been plotting for the day when their mightly lord would once again walk the earth. This day is now!

CTHULHU CLASSICS is a collection of the most terrifying adventures for the Call of Cthulhu game that have ever been published. The centerpiece of this book is Shadows of Yog-Sothoth, a monumental seven-part campaign. Shadows reveals details of the Silver Twilight, an international organization dedicated to prematurely forcing the rise of R'lyeh and the release of dread Cthulhu. Five additional tales of terror explore the impact of the Mythos on the natural world. Finally, a gallery of full-color plates vividly depict the Mythos menace and those who understand too deeply its secrets."

1989 ... 152 pages ... CHAO 3301 ... ISBN 0933635613

Check Wayne's Books Inventory

Buy at Amazon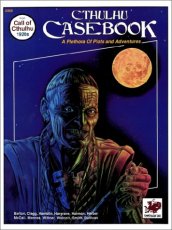 The Cthulhu Casebook
"Nine Sanity-Reducing Adventure; Four Background Articles; Eight Full-Color Plates. Adventurama!

"A new exciting adventure program catering to the most discriminating tastes has just been announced! Travel the seas in the unrivalled splendor of the Mauretania – sister ship to the Lusitania – and one of the two largest, fastest, and most luxurious ships afloat. Visit such diverse and exciting locales as historic Vienna; fashionable New York City: bohemian San Francisco; mysterious Cairo; the rugged coasts of northeast Maine. Battle strange creatures from Earth's distant past! Troubled? Seek asylum from your worries at the comforting Greenwood estate, where a professional staff tends you every (imagined) need. Meet new friends, engage in lively discussion, see unusual sights. Enjoy an experience unlike any you've had before!

"The Cthulhu Casebook contains nine independent adventures set in the 1920s, plus numerous articles and aids generating many other plots. Certain portions of this book are easily included in ongoing tales – "The Mauretania" can expand any ocean voyage; "The Asylum" can make exciting an otherwise uneventful institutionalisation; "The Auction" can be used to introduce various artefacts to aid or hinder the investigators. Other sections contain full independent adventures playable by themselves or useful in filling gaps between campaigns or as subplots within current story lines."
1990 ... 144 pages ... CHAO 3305 ... ISBN 0933635672
Check Wayne's Books Inventory

Buy at Amazon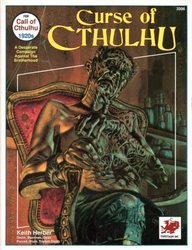 Curse of Cthulhu
"Two Independent Lead-in Adventures, Six Full-Color Pages, Two Optional Scenes. The World Will Be Ours, Again!

Four thousand years ago a dying priest uttered a vengeful prophecy, and now a renowned psychic has disappeared and a gruesome series of child murders terrify Boston. Hired by a concerned relative of the missing psychic, the investigators travel to scenic San Francisco, the remote country of the Andes, the ruins of ancient Egypt, and to a crumbling castle in Romania. They discover an obscure and shadowy group known only as the Brotherhood, who plot a return to power and glory for an ancient king, and for a forgotten way of life.

Curse of Cthulhu presents a 1920s campaign for the Call of Cthulhu roleplaying game. Containing thirteen total chapters, Curse of Cthulhu provides two possible lead-in adventures – each of which can be played independently. A separate concluding tale titled The Haunted House provides the ultimate in haunting adventure!"

1990 ... Keith Herber ... 144 pages ... CHAO 3306 ... ISBN 0933635745

Check Wayne's Books Inventory

Buy at Amazon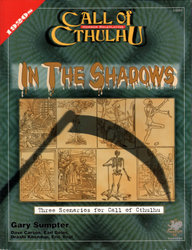 In the Shadows
"Three Scenarios for Call of Cthulhu

A disappearance.
A plea for help.
The strike of sudden madness.

Fear forms where shadows begin. The Cthulhu Mythos hovers at the edges of reason and sanity. With their courage and intelligence, investigators can dare the unknown and the unknowable, and roll back a little of the darkness.

Three new mysteries lure the investigators into the penumbra of the Mythos. Each adventure is sanity- and life-threatening, but also includes much evidence-gathering and serves to promote discussion and generous teamwork. The scenarios are apt for new investigators. Each can be played through in an evening or two.

The many illustrations and maps, and their more than forty handouts make these adventures unusually accessible and easy to present.

Includes the Adventures Devil's Hole, In the Shadows of Death, and Song of the Spheres By Gary Sumpter."

1995 ... Gary Sumpter ... 58 pages ... CHAO 2357 ... ISBN 1568820518

Check Wayne's Books Inventory

Buy at Amazon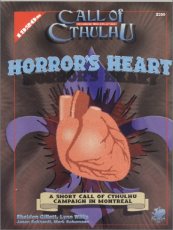 Horror's Heart: A Short Call of Cthulhu Campaign in Montreal
"This dangerous investigation is set in Canada, in the 1920s."

1996 ... 80 pages ... CHAO 2359 ... ISBN 1568820682

Check Wayne's Books Inventory

Buy at Amazon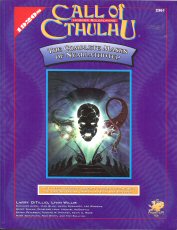 The Complete Masks of Nyarlathotep
"At long last the Stars are almost Right. Soon Nyarlathotep's plans will come to fruition. Then the world will be changed irrevocably — but not quite yet. Pesky human investigators have learned much, but can they survive long enough to make sense of what they know?
This roleplaying classic is a series of linked adventures forming one long and unforgettable campaign. Horrifying deeds and dangerous sorcery dog those who attempt to unravel the fate of the Carlyle Expedition. The non-linear narrative keeps players baffled and on their toes. This new edition is reset and corrected, and features many new illustrations, four new episodes, added keeper support material, and a new version of the lost Australia chapter."

1996 ... Larry DiTillio & Lynn Willis ... 224 pages ... CHAO 2361 ... ISBN 1568820690

Check Wayne's Books Inventory

Buy at Amazon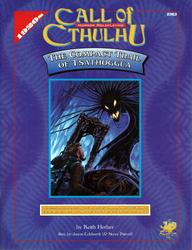 The Compact Trail of Tsathoggua
"When ancient writings are discovered on a floating iceberg, an expedition is formed at Miskatonic University to investigate. What secret lurks on the sterile Greenland icecap? A grim finding in Canada leads investigators to delve into the folklore of the land. What living horror grows behind the sasquatch legend? The Compact Trail of Tsathoggua contains a mini-campaign in two scenarios, seeking for truth in the northern wastes. Tsathoggua's curse awaits the unwelcomed investigators of the occult and the unknown.

This Fright Night scenario pack is suitable for beginning keepers and investigators. It serves well as an introduction to the game and exposes new players to both the Cthulhu Mythos and the occult. The scenarios in this supplement are short, providing two nights of fright!"

1997 ... Keith Herber ... 48 pages ... CHAO 2362 ... ISBN 1568820879

Check Wayne's Books Inventory

Buy at Amazon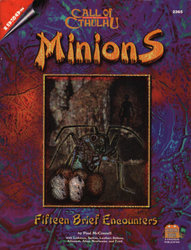 Minions
"Minions is a gestalt of short scenarios and brief encounters designed for one or more intrepid Cthulhu Mythos investigators."

1997 ... Paul McConnell ... 64 pages ... CHAO 2365 ... ISBN 1568820984

Check Wayne's Books Inventory

Buy at Amazon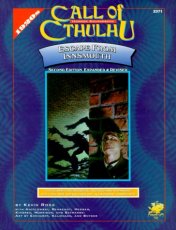 Escape from Innsmouth, 2nd edition
"A century ago Innsmouth was a thriving community on the Massachusetts coast. Then a shadow fell over Innsmouth. There were whispered rumors of heathen religions and blasphemous pacts. Now Innsmouth lies rotting, its harbor choked with sand, the town itself nearly engulfed by salt marshes. Outsiders shun Innsmouth and its sullen, deformed inhabitants. But the secret is still there. Hiding. Festering. Growing. Waiting.

This book recreates H.P. Lovecraft's most haunted locale for the Call of Cthulhu roleplaying game. Herein are described all of the terrible places, brooding characters, evil tomes, and monstrous inhabitants of shadowed Innsmouth. This is a revised, second edition, containing all of the original source material and maps, with corrections. Included for the first time in this edition are an introductory Innsmouth scenario and an entirely new section for the acclaimed 'Raid on Innsmouth' adventure."

1997 ... 172 pages ... CHAO 2371 ... ISBN 1568821158

Check Wayne's Books Inventory

Buy at Amazon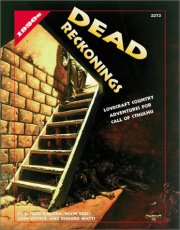 Dead Reckonings
"Nearly every town and village in the Miskatonic Valley shares a shadowy past. Many are still plagued by sinister revenants of those dark days. Yet new mysteries also appear with uncanny regularity. It would seem that Lovecraft Country will always be a haunted landscape.
Dead Reckonings is an anthology of Call of Cthulhu scenarios set in Howard Lovecraft's mysterious New England. Set in Arkham, Dunwich, and the small village of Martin's Beach, these adventures span the spectrum of terror. Herein the dead walk, shadowy cults clash with monstrous forces, and an abomination awaits rebirth into something even worse.
This supplement is part of the Lovecraft Country series of gamebooks, which features
background and adventures for Lovecraft's Miskatonic Valley. Other books in the series
include The Compact Arkham Unveiled, Escape from Innsmouth Second Edition, and Adventures in Arkham Country."

1998 ... 80 pages ... CHAO 2373 ... ISBN 1568821239

Check Wayne's Books Inventory

Buy at Amazon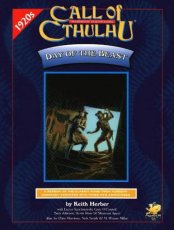 Day of the Beast
"The year is 1927. For America it is a time of growth and prosperity. Lon Chaney, Babe Ruth, and Charlie Chan are celebrities, while the average young American enjoys speakeasies, jazz, and the new "talkies." All that is about to change. A young psychic by the name of Paul LeMond has seen the future, and it is a sight which has driven him insane.
Day of the Beast is an episodic campaign taking investigators from the height of 1927 to the edge of the Great Depression in 1929. A global conspiracy has surfaced, and only the investigators can stop it. Travel to four continents and the planet of Celaeno is required. Can the plans of the Brotherhood of the Beast be stopped before The Stars Are Right?
Day of the Beast was originally published as The Fungi from Yuggoth, and in that form also appeared as part of Curse of Cthulhu. Day of the Beast is a new edition of a classic campaign, thoroughly revised. It contains almost 50 pages of new material, including three totally new adventures."

1998 ... Keith Herber ... 128 pages ... CHAO 2374 ... ISBN 1568821255

Check Wayne's Books Inventory

Buy at Amazon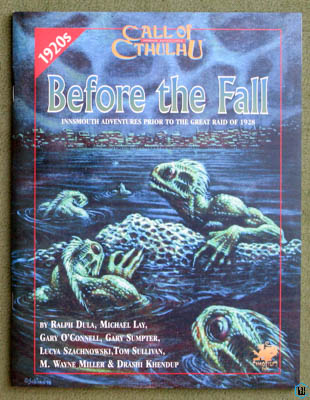 Before the Fall: Innsmouth Adventures Prior to the Great Raid of 1928
"Decadent Innsmouth – it is home to stagnant dreams and lost hopes. Once it was a jewel on the Massachusetts coast, but now it has fallen, its days of glory long gone. Hidden in the fallen buildings, under the silted harbour, and behind the faces of the sullen inhabitants lie secrets, malign and evil."

1998 ... 64 pages ... CHAO 2377 ... ISBN 1568821352

Check Wayne's Books Inventory

Buy at Amazon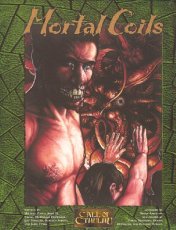 Mortal Coils
Check Wayne's Books Inventory

Buy at Amazon

TOME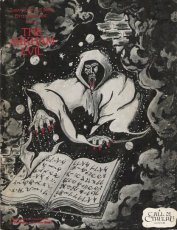 The Arkham Evil
A licensed Call of Cthulhu adventure by Theatre of the Mind (TOME).

Sections: Into the Throat of the Beast, The Wanderer, And the dogs shall know you.

1983 ... John Diaper & Bob Gallagher & Steve Rawling & Ed Wimble ... 60 pages ... TOME T-1

Check Wayne's Books Inventory

Buy at Amazon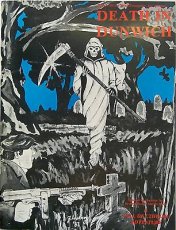 Death in Dunwich
Contents: Scenario, Keeper's screen, 'Keeper's Only' material in envelope at the back of the book.
1983 ... Ed Wimble ... 36 pages + cardstock Keeper's Screen + envelope on back cover ... TOME T-2
Check Wayne's Books Inventory

Buy at Amazon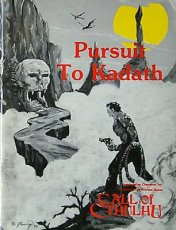 Pursuit to Kadath
Contents: Pursuit to Kadath, The All Seeing Eye of Alskali.
1983 ... 76 pages ... TOME T-3
Check Wayne's Books Inventory

Buy at Amazon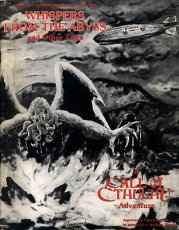 Whispers from the Abyss and Other Tales
Sections: On the Wings of Madness (Bickley), De Schip Zonder Schaduw (Wimble), Whispers from the Abyss (Bailey). Fold-out Zeppelin deckplan.
1984 ... 72 pages + cardstock deck plans in centerfold ... TOME T-4 ... ISBN n/a
Check Wayne's Books Inventory

Buy at Amazon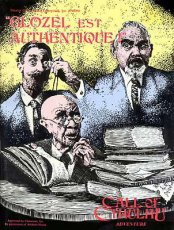 Glozel Est Authentique!
"This volume is designed specifically for use with CALL OF CTHULHU, Chaosium Inc's role playing game of the macabre.

Two Scenarios steeped in the tradition of H.P. Lovecraft await the Keeper of Arcane Knowledge.

GLOZEL EST AUTHENTIQUE leads the adventurers to France where they will try to solve a puzzling archaeological enigma. Strange secret societies watch their every move. The outcome will be totally unexpected.

SECRETS OF THE KREMLIN probes the depths of the ancient citadel and the mysteries of the early Czars. What hidden truth can be crafted by the Bolsheviks and translated into the terror of today?

Illustrations, maps and photocopy-ready props are included to vividly portray these two scenarios."

1984 ... Stephen Rawling & E.S. Erkes ... 64 pages ... TOME T-5

Check Wayne's Books Inventory

Buy at Amazon






Triad Entertainments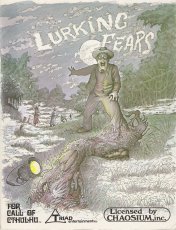 Lurking Fears
"The horrors of the Cthulhu Mythos lurk in the darkest corners of our wholesome world. Sometimes they seek to pour forth from those darkened corners to wreak unimaginable havoc upon the Earth. Within these pages are six such Lurking Fears, which must be faced by those intrepid few who have faced fears before and thwarted them. Can they do so again? From the Everglades of Florida, ío the deserts of Egypt, Lurking Fears pits the Investigators against seldom-before encountered creatures of the Cthulhu Mythos such as Glaaki and the foul Spawn of Abhoth. Contained in this volume are three regular-length scenarios, one short "one-nighter", and a two-part campaign which will take your band of Investigators from the mountains of Carolina to an ancient shrine to the Great Old Ones and a confrontation with a ruthless undead villain. Included here are: * RISE OF THE SLEEPER - IN WHICH AN UNEXPECTED INHERITANCE LEADS TO A NIGHTMARE OF UNDEATH IN THE FLORIDA EVERGLADES. * CALLER IN THE DESERT - IN WHICH A CAREFREE HOLIDAY IN EGYPT BECOMES A LIVING NIGHTMARE FROM THE NIGHTED MISTS OF PREHISTORY. * THE SUNDIAL OF AMEN-TET - IN WHICH A FAMILY CRISIS LEADS TO A TME-TRAVELING MADMAN. * SORROW'S GLEN - IN WHICH A MORBID ARCHAEOLOGICAL SITE CONCEALS AN ABYSMAL HORROR. * THE STAR-SHRINE - IN WHICH A VAMPIRE SEEKS TO FREE THE GREAT OLD ONES. * THE DEVOURER - IN WHICH A STAR-SPAWNED HORROR THREATENS TO CONSUME THE WORLD."

A licensed accessory for Call of Cthulhu by Triad Entertainments. Written by Michael Szymanski & Scott Aniolowski.

1990 ... 122 pages + appendices ... Triad 0001

Check Wayne's Books Inventory

Buy at Amazon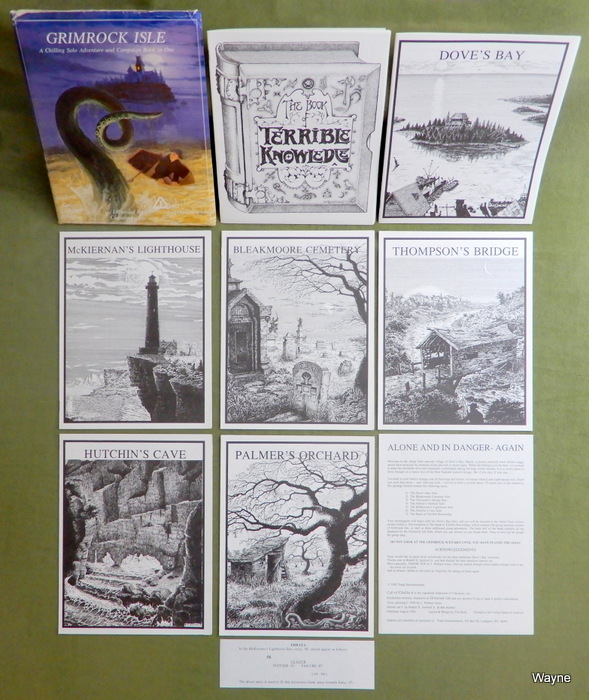 Grimrock Isle


CONTENTS:
One folder & 7 booklets
1) The Dove's Bay Solo
2) The Bleakmoore Cemetery Solo
3) The Thompson's Bridge Solo
4) The Palmer's Orchard Solo
5) The McKiernan's Lighthouse Solo
6) The Hutchin's Cave Solo
7) The Book of Terrible Knowledge

"Journey to the sleepy seacoast town of Dove's Bay, Maine, and investigate what is rumored to be a 'haunted' house - and confront once more the dread Cthulhu Mythos and those twisted souls who serve it.
Grimrock Isle is 3 products in one:

1) A Solo Adventure consisting of a main solo and 5 subsolos, adding up to nearly 1,000 entries!
2) A Group Scenario Book, with all the information needed to adapt the solo for group play, with provisions which allow you to use the subsolos if the party separates!
3) A Campaign Book, with Grimrock Isle and three additional scenarios by Scott D. Aniolowski. This package provides you with an extended campaign in Dove's Bay, complete with hints on how to work all four scenarios into play. Includes over 30 handouts!

Do you dare to learn the truth lurking just beneath the surface? Do you have the courage to face this evil and withstand it? Are you clever enough to survive? The answers to these and many other questions await you on GRIMROCK ISLE."

1990 ... Triad 0002

Check Wayne's Books Inventory

Buy at Amazon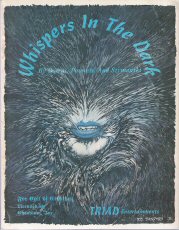 Whispers in the Dark
"The investigator's lot is not an easy one; here are a few more reasons why. From Golden Gate Park to an oil rig in the South China Sea, no place is safe from the insidious tendrils of the Cthulhu Mythos. Here are four opportunities to thwart the horror, and to right terrible wrongs inflicted upon the innocent. A tough job, but only you can do it.

Four scenarios and nearly 30 handouts create hours of gaming and puzzle solving as players travel across the globe to test their mettle against the worst the Mythos has to offer. Within these pages are confrontations with the dread Spider God, a Celtic legend come to life, and a woman obsessed with revenge - who may very well prove the most deadly of all! Also included is a brief bonus scenario that offers a new reason to be terrified of roller coasters..."

1993 ... 78 pages ... Triad 0003

Check Wayne's Books Inventory

Buy at Amazon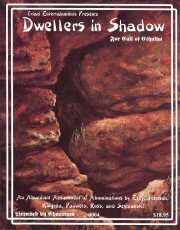 Dwellers in Shadow
"Their place is where the daylight cannot reach, where festered secrets come to tainted fruition. Presented within these pages are six shuddersome selections designed to pierce the veil of shadow and bring forth, if only for a time, the horrid secrets which are contained within their jealous folds. Take care that when you peek into those shadows you are not drawn into their hypnotic voids to be swallowed whole and resigned to those realms where only shadows dwell.

Here are six divers and dire scenarios from known authors for the Call of Cthuthu role playing game. As With all Triad products, a variety of time frames and settings are proided so that the Keeper can always find something to fit his or her campaign, including anything from a one-nighter to an extended case for multi-session play. With an assortment of lesser & known and completely unknown creatures combined with extensive handouts, you hold in your hands the opportunity for hours of touring the realms of H.P. Lovecraft. Good luck to all!!"

1996 ... 116 pages ... Triad 0004

Check Wayne's Books Inventory

Buy at Amazon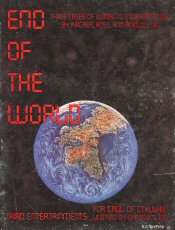 End of the World: Three Cases of Climatic Confrontation
"THIS COULD BE IT!
That's right! This could be the end for your band of investigators as they are faced with three climactic confrontations with the ultimate evil that is the Cthulhu Mythos!
Will it come in a small Georgia town where dark things lurk in the heart of the woods and in the heart of one who should be long dead?
Will it come in the bloody hell of the Honduran conflict, at the hand of bandits and revolutionaries - or in the cindering corruption that but awaits an ancient call?
Or will it come in the cold, abyssal depths of space, on a world infected with an alien virus of such inimical intent that the very fabric of space and time will be threatened?
These questions and more will be answered as you delve into the pages of End of the World, a book of campaign-climaxing scenarios for the Call of Cthulhu role playing game.
These scenarios, written by three of the most prolific Cthulhu writers, will challenge any group of experienced players as they are pitted against threats which will require all their talents, skills, and intelligence to survive and emerge victorious.
The adventures contained in this volume are designed to fit into any campaign of the 1920's or the modern day with minor changes. Each comes complete with necessary handouts, and is once again illustrated by Rodell D. Sanford, Jr.
So load up your shotguns, strap on your running shoes, and keep a constant lookout over your shoulder - the End of the World is near!"

1994 ... J. Todd Kingrea & Kevin A. Ross & Scott D. Aniolowski ... 80 pages ... Triad Entertainments 0005

Check Wayne's Books Inventory

Buy at Amazon






Grenadier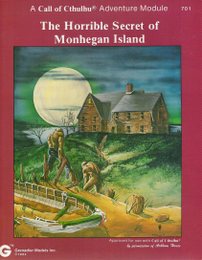 The Horrible Secret of Monhegan Island
"The disappearance of a young girl leads a group of investigators to a small island off the coast of Maine. The people who live there seem so strange and secretive. Why do they hate "outsiders"? What could they be hiding? The investigators will soon come face to face with the Horrible Secret of Monhegan Island!"

1984 ... Gary Pilkington ... 48 pages ... Grenadier 701

Check Wayne's Books Inventory

Buy at Amazon







Chaosium owns (and holds trademark to) the Call of Cthulhu in all forms.
---
| Cthulhu - Classic | Classic Scenarios | Cthulhu - Gaslight | Cthulhu - Dreamlands | Cthulhu - Present Day | D20 Cthulhu | Pagan Publishing | Unspeakable Oath |
---
| 2300 AD | 7th Sea | AD&D | Aftermath! | Albedo | Aliens | Arduin | Alternity | Amazing Engine | Amber Diceless | Ars Magica | Atlantis | Babylon 5 | Battletech | Boardgames / Wargames - Other | Boot Hill | Buck Rogers | Bushido | Call of Cthulhu | Castle Falkenstein | Chill | Chivalry & Sorcery | Conan | Cyberpunk | Cyborg Commando | Dark Conspiracy | DC Heroes | Deadlands | Doctor Who | DragonQuest | Dream Park | Dune | Dungeons & Dragons | Dying Earth | Earthdawn | Elfquest | Elric / Stormbringer | Everway | The Fantasy Trip | Foreign Language Roleplaying Games | Game of Thrones | Gamma World | GangBusters | Gear Krieg | Ghostbusters | GURPS | Harn | High Fantasy | Indiana Jones | James Bond | Jorune | Judge Dredd | Justifiers | Living Steel | Lords of Creation | Man, Myth & Magic | Marvel Super Heroes | Middle Earth Role Playing | Midkemia | Military Roleplaying Stockpile | Millennium's End | Miscellanea | Morrow Project | Mythus - Dangerous Journeys | Nightlife | Pendragon | Phoenix Command | Powers & Perils | Red Sonja | Renegade Legion | Riddle of Steel | Ringworld | Robotech | Rolemaster | Runequest | Shadowrun | Shatterzone | Sovereign Stone | Space 1889 | Space Master | Space Opera - Other Suns | Star Ace | Star Frontiers | Star Trek | Star Wars | Super Hero RPGs | Talislanta | Talisman | Tekumel | Terminator 2 | Thieves' World | Timemaster | Top Secret | Traveller | Tribe 8 | Tunnels & Trolls | Twilight: 2000 | Villains & Vigilantes | Warhammer | Whispering Vault | Willow | Witchcraft | Ysgarth | CAMPAIGN BUILDING | RPG MAGAZINES | Avalanche Press | Avalon Hill | Bard | Chaosium | Columbia Games | Dream Pod 9 | Fantasy Games Unlimited (FGU) | FASA | Flying Buffalo | Game Designers Workshop (GDW) | Gamelords | Gamescience | Games Workshop | Judges Guild | Leading Edge Games | Mayfair Games | Metagaming | Pacesetter | Palladium | SPI | Steve Jackson Games | Tri Tac | TSR | Victory Games | West End Games | White Wolf | Wizards of the Coast | Yaquinto Publications |
---
| Return Home | What's New | Contact WaynesBooks.com |